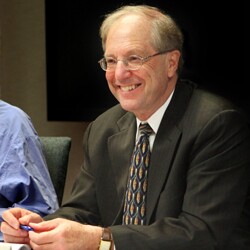 PROVIDENCE – AARP Rhode Island State Director Kathleen Connell today announced the appointment of Alan B. Neville as State President.

"We are delighted that Alan has stepped into this key leadership position," Connell said. "His professional experience, his distinguished history as a volunteer leader and his passion for our mission make him an ideal choice."

A Cumberland resident, Neville joined the AARP Executive Council in 2006 and chairs the state Senior Legislative Council.

"My initial interest in volunteering at AARP was driven by my own concerns surrounding elder issues and AARP's steadfast, reasoned and balanced advocacy for seniors," Neville said. "Volunteering with AARP has provided me with an avenue to support a national advocacy organization, while gaining the opportunity to express my own concerns regarding senior issues. Selection as State President is a tremendous honor. I look forward to the challenges and the opportunities that come with working with a world-class national organization, a top-notch state staff, and a splendid corps of dedicated and tireless volunteers."

Neville worked more than 40 years in the fields of marketing and communications, including 30 years with Bank of America's legacy banks in the in the New England marketplace. He left the bank as Senior Vice President of Community Segments Marketing. Later, he managed marketing and communications along with fundraising efforts for Crossroads Rhode Island, and at United Way of Rhode Island he oversaw marketing & communications. Since 2010, he has served as Development Director at Gateway Healthcare.

He serves as a board member at the Academy for Career Exploration (formerly the Textron Chamber of Commerce Academy), a charter school in the Providence School Public District. He is a former board member of the International Institute of Rhode Island and Bank Marketing Association, New England Chapter.

"Alan is a marketing and communications professional who has been successful by understanding that a big part of marketing and communications is listening to people," Connell added. "At the same time, when he speaks, people listen to what he has to say. His engaging and thoughtful style has been well received among our volunteers for some time. I am certain they all share in welcoming him in his new position."

Neville succeeds Anthony Regine of Middletown, whose six-year term expired earlier this year.

AARPRI