NEWS: AARP announces initiative to enlist poll workers of all ages.

En español | Rhode Island lawmakers expanded early voting this year and made it easier to safely cast an absentee ballot from home amid the coronavirus pandemic:

Election Day is Tuesday, Nov. 3, and polls will be open in most of the state from 7 a.m. to 8 p.m. The state's voter registration portal has more information about where to cast your ballot. Your polling place may be different this year, so check before you leave.
Be prepared for potentially long lines, and remember to take your mask and to follow social distancing measures at the polls. You'll also need to bring an acceptable form of ID.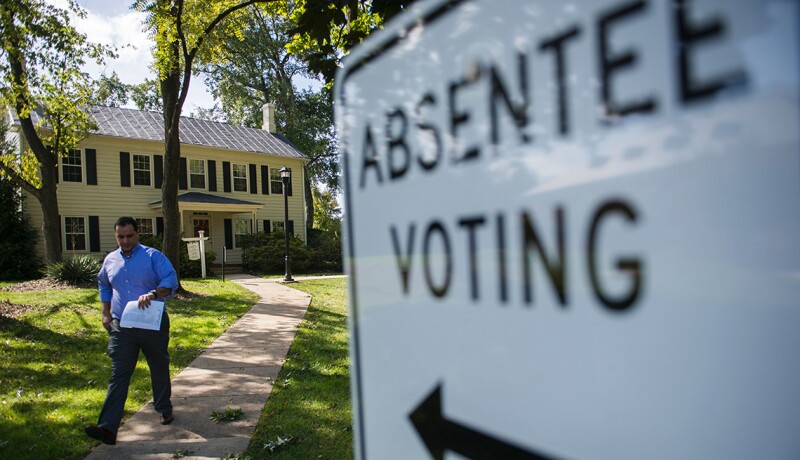 Here's what else you need to know:

How do I register to vote?

The deadline to register in time for the November general election was Oct. 4. You can also register on Election Day, Nov. 3, but you'll only be able to vote in the presidential election.

Can I get an absentee ballot?

The ballot request deadline passed on Tuesday, Oct. 13.

If you applied and received your ballot, you'll need to return it to the state's board of elections by 8 p.m. on Election Day, Nov. 3. The state will also allow you to drop your ballot in 24-hour secure drop box locations maintained by your board of canvassers.

Dropping the witness signature requirement on absentee ballots rose all the way to the U.S. Supreme Court, after the Republican National Committee asked it to intervene, arguing that witness signatures would not be difficult to obtain during the pandemic. But the court in August upheld Rhode Island lawmakers' decision to drop the witness requirement.

How do I know my absentee ballot is secure?

The state uses a two-step signature-matching system to verify your identity: Your board of canvassers will first match your signature to the one they have on file, then the state's board of elections matches the signature on your ballot's oath envelope with the signature on your mail-in ballot application.

Each application also features unique bar codes used to make sure no one votes more than once. Voters can also track the status of their mail-in application and their ballot by using the state's voter information portal.

When is Election Day? When are polls open?

Tuesday, Nov. 3. Polls will be open in most of the state from 7 a.m. to 8 p.m. If you live in New Shoreham, polls will be open from 9 a.m. to 8 p.m.

What form of identification do I need to vote?

You'll need a valid form of ID to vote at the polls, either early or on Election Day. Poll workers will ask you to show a photo ID that has not been expired for more than 6 months. The secretary of state's office maintains a list of acceptable forms of ID.

If you do not bring an acceptable photo ID to the polls, you may cast a provisional ballot. Your vote may be counted by your board of canvassers after they verify your eligibility.

Can I vote before Election Day?

Yes, Rhode Island passed an in-person early voting law this year. Voters may vote at their city or town hall from Oct. 14 through Nov. 2, the day before Election Day. You should contact your board of canvassers for early voting locations and hours.

What is being done to make polling places safe from the coronavirus?

During the June presidential primaries, polling places enforced social distancing and provided personal protective equipment to all poll workers. Hand sanitizer was available for public use, and commonly used surfaces were regularly disinfected. Similar measures are expected in November. If Rhode Island's mask mandate is extended into October and November, you'll be required to wear a face covering if you choose to vote in person.

Will I be able to vote in the same place as I always have?

Not necessarily. There may be fewer polling places because of a shortage of polling workers, so it is possible your regular polling place will change. You can use the secretary of state's polling location tool to determine where to cast your ballot.

What are the key races in my state?

U.S. president
U.S. Senate: Incumbent Jack Reed (D) vs Allen Waters (R)
U.S. House: Both seats
State House: All 75 seats
State Senate: All 38 seats
This guide was updated on Nov. 2 with more information about voting in person. Voting rules and procedures may change before Election Day. We'll update this story if they do, so bookmark this page and check back.


Election & Law Enforcement Leaders Outline Plan for a Safe, Secure Election
Provided by the Office of the RI Secretary of State
This month, Secretary of State Nellie M. Gorbea organized a media briefing with Rhode Island election leaders and top law enforcement officials to clearly outline the roles and responsibilities of the many organizations that work collaboratively to deliver a safe and secure general election.


"We're here today because every single one of us has a role to play in defending our democracy," said Secretary Gorbea. "Clear communication between election officials, law enforcement and media has never been more important."


Secretary Gorbea detailed the duties of her office, which include providing vital information to voters and maintaining the backbone of Rhode Island's elections infrastructure - the Central Voter Registration System.


Attorney General Peter Neronha outlined his office's collaboration with Secretary Gorbea to protect voters' rights. Colonel James Manni spoke of the Rhode Island State Police's efforts to maintain election security.


Bob Rapoza, Executive Director of the Rhode Island Board of Elections, provided updates on Election Day operations and the Board's processing of a record number of mail ballots.


Special Agent in Charge Joseph Bonavolonta of the Federal Bureau of Investigation spoke of the FBI's efforts to fight misinformation and disinformation campaigns. And Jessica Cone, Senior Program Specialist at the Election Infrastructure Information Sharing and Analysis Center (EI-ISAC) detailed how her office collaborates with Secretary Gorbea on election security.


"We also have several more partners on the local, state and federal level when it comes to providing safe and secure elections," said Secretary Gorbea. "Like the Rhode Island National Guard and local boards of canvassers and the Cybersecurity and Infrastructure Security Agency (CISA). They have been integral in this unusual election year, and we're grateful for all their hard work ensuring Rhode Islanders can cast their ballots safely and securely."

AARP is urging older Americans to ask the candidates 5 key questions:

Just over half of all older Social Security beneficiaries rely on the program for at least 50 percent of their income. If elected, how will you ensure that current and future Social Security benefits are not cut as part of deficit reduction?
Half of the people with traditional Medicare spend at least a sixth of their income on health care. If elected, how will you protect Medicare from benefit cuts, as well as lower health care costs and ensure seniors continue receiving the affordable health care they have earned?
COVID-19 has caused death and suffering for too many older Americans who require long-term care. If elected, how will you make sure seniors can access safe and affordable long-term care at home, as well as in facilities like nursing homes and assisted living?
Also of Interest