Mayors urge the General Assembly to reform payday lending this year
AARP Rhode Island Supporting the Wednesday Rally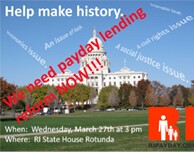 The RI Payday Lending Reform Coalition will host a Press Conference at the State House Rotunda on March 27, 3:00 p.m. Mayors Avedisian of Warwick, Diossa of Central Falls, Fung of Cranston and Fontaine of Woonsocket will join the Coalition along with the bill sponsors, Senator Juan Pichardo (D-2) and Representative Frank Ferri (D-22).

At the conference, the Mayors will talk about the effects of payday lending on the residents of their cities, the economic drain on their communities, and their support for H5019 and S0260, which would reform payday lending by capping the annual interest at 36% APR. "It's time to take action," urgred AARP Rhode Island Advocacy Director Deanna Casey. "People who believe the status quo -- lending at up to 260% APR -- is unacceptable should follow the mayors' example and encourage lawmakers to do the right thing."

One way to show your support is to sign a petition online at http://signon.org/sign/rhode-island-eliminate.

The RI Payday Lending Reform Coalition is comprised of over 80 individuals and organizations including AARP Rhode Island, AFSC-SENE, Amicable Congregational United Church of Christ, Capital Good Fund, CCRS, Black Political Action Committee of RI, City of Central Falls, City of Providence, City of Woonsocket, CommunityWorks RI, Dorcas Place, George Wiley Center, Gloria Dei Lutheran Church, Hassenfeld Family Foundation, Housing Action Coalition of RI, Housing Network of RI, International Union of Painters and Allied Trades, DC 11, LU 195, Jewish Federation of RI, Macremi, Ministry of Justice, MMM, NAACP, National Coalition of 100 Black Women, NeighborWorks Blackstone River Valley, NRI Community Services, Ocean State Action, Office of the General Treasurer, Onleyville Housing, Providence Community Action, Providence En Español, Rhode Island AFL-CIO, Rhode Island Progressive Democrats, Rhode Island Building and Construction Trades Council, RI Chapter of the National Assoc. of Consumer Bankruptcy Attorneys, RI Coalition for the Homeless, RI Latino PAC, RI Latino Civic Fund, RI State Council of Churches, Society of St. Vincent de Paul, Voice of the Poor, St. Michael's Church, The Economic Progress Institute, The Fund for Community Progress, ULMAC, United Way of RI, West Elmwood Development Corporation, and Working RI.



###