Rhode Island legislators make national "Capitol Caregivers" list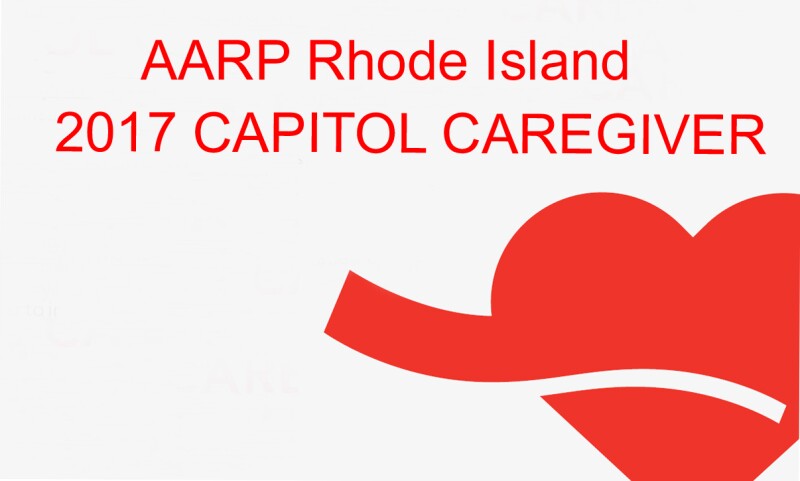 PROVIDENCE, RI – To recognize their work to support family caregivers in Rhode Island, AARP has honored Senator Maryellen Goodwin and Representative J Aaron Regunberg for their work in passing Earned Paid Sick Leave legislation. This employee benefit helps provide the workplace flexibility that caregivers need to care for their loved ones.

Goodwin and Regunberg join state-level lawmakers and other officials from around the country as 2017 AARP Capitol Caregivers.

PBN: Read the Providence Business News Q&A with our 2017 Capitol Caregivers honorees.
"AARP thanks these members of the General Assembly for championing passage of Earned Paid Sick Leave," said AARP Rhode Island State Director Kathleen Connell. "They provided integral leadership to pass the legislation in 2017 and helped make the huge responsibilities of family caregivers in Rhode Islanders a little bit easier."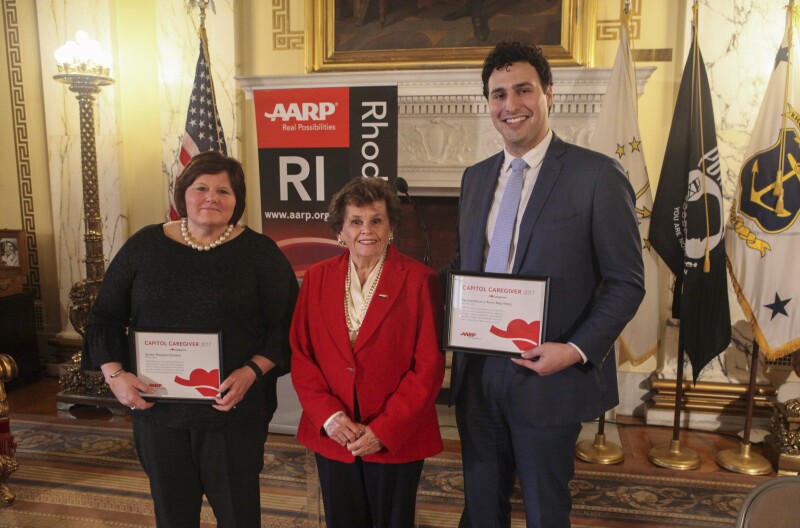 View the Event Photo Slideshow
Past Rhode Island Capitol Caregiver honorees include then-Senate President Teresa Paiva Weed, Speaker Nicholas A. Mattiello, Senators Gayle L. Goldin, Joshua Miller and Roger Picard; and then-Representative Eileen S. Naughton and Representatives Joseph M. McNamara and Brian Patrick Kennedy. AARP Rhode Island, our state advocacy volunteers and tens of thousands of the state's family caregiver owe thanks to all you who have supported our efforts.

Family caregivers carry a huge responsibility. According to AARP's Public Policy Institute, at any time during the year, an estimated 134,000 Rhode Island caregivers step up to provide nearly 150 million hours of care for an aging parent or loved one, helping them to live independently in their own homes. The care that these family caregivers provide is valued at nearly $1.8 billion per year.

"Family caregivers are the back bone of Rhode Island's care system," added Connell. "And they need our support. Thanks to the General Assembly, working caregivers qualify for temporary paid leave, similar to temporary disability insurance (TDI), but under the law, qualifying employees must plan their leave.

"Earned Paid Sick Leave allows caregivers, under a number of circumstances, to use accrued paid time off to address an emergency. This provides peace of mind for caregivers who often struggle to balance their jobs and their caregiving responsibilities."

AARP's 2017 class of Capitol Caregivers recognizes 91 state legislators, five governors, one lieutenant governor, and one justice from more than 30 states, who advanced policies that:

A list of AARP's 2017 Capitol Caregivers and the legislation they championed can be found here.
More work to do
In 2018, AARP will continue to work with elected state leaders across the country to fight for the issues that matter to you and your families. To stay up-to-date on our progress, or get involved, sign up here.

Every day,  40 million Americans help parents, spouses and other loved ones live independently at home, where they want to be. Family caregiving is a labor of love, to be sure, but it can also be a challenge. Care responsibilities can include providing transportation, cooking meals, managing finances, performing complex medical tasks, helping with bathing and dressing, and so much more. Sixty percent of family caregivers juggle full- or part-time jobs with their caregiving duties, and many are still raising their families.

Caregiving Resources: