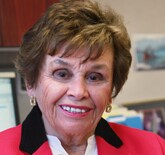 Please join the AARP Executive Council, the State Legislative Committee and the State Office staff in congratulating State Director Kathleen Connell, honored on March 8 as an Extraordinary Woman in the field of health advocacy and education. The award was presented as part of International Woman's Day celebrations nationwide.
She joins previous Extraordinary Woman winners, AARPRI Executive Council member Donna Policastro and AARPRI Director of Community Outreach, Deborah Miller.
Watch Kathleen's very gracious acceptance speech.
AARPRI

AARPRI