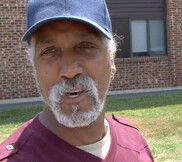 The West End of Providence is the city's -- and the state's -- most economically distressed neighborhood. The jobless rate among its largely Hispanic population tops 20 percent; it is by most estimates the most dangerous part of the city. Hidden in the West End are the elderly hungry, whose "food insecurity" is reflected in the number of people who rely on the federal SNAP program (formerly food stamps) to Meals on Wheels, congregate meals sites at senior centers and neighborhood food pantries.

With funding provided by AARP Foundation's Drive to End Hunger, the Rhode State Office has spent the past seven months investigating the problem. Hungry in the West End debuts here, on the AARP Rhode Island state Web page, on January 4, 2013.

WATCH THE PREVIEW



Hungry in the West End, reported by former Providence Journal reporter Jody McPhillips and produced and directed by AARP Rhode Island Director of Communications John Martin, gives voice to elderly people in need and to those who are working to make their lives better. The stories and videos -- which will appear here at www.aarp.org/ri, measure the depth of the problem and what needs to be done to address what, too often, is an invisible problem.

The hardest hit of all ages line up daily at food pantries and soup kitchens. But absent are the elderly who are isolated or immobile. Many remain hungry and suffering from poor nutrition. Please plan to visit this site and learn more about what it is like to be Hungry in the West End.