Senior Hunger Film Will be Screened August 10


AARP Rhode Island's award-winning documentary Hungry in the West End is an Official Selection of the 2013 Flickers: Rhode Island International Film Festival, where it will debut in its long-form documentary version.

The film, which will be screened as a "work in progress," will be shown Saturday, August 10, at 6 p.m., at the Bell Street Chapel, 5 Bell Street, Providence.

"This is another tremendous honor for this enlightening look at a serious problem facing America," said AARP State Director Kathleen Connell. "The film joins a world-class lineup of documentaries assembled for this year's festival. We are especially excited about the public screening, the first big-screen look at a new version of the project."

Funded by AARP Foundation and the Drive to End Hunger, Hungry in the West End is the story of seniors struggling with food insecurity, the challenges and obstacles they face and the dwindling resources available to supplement their nutritional needs. It also highlights the role of food banks and pantries, and the vital contribution of community volunteers.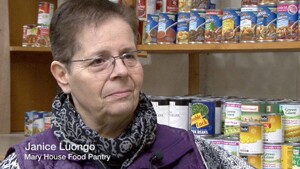 Hungry in the West End won Best Documentary Producer honors at this years Los Angeles International Web Series Festival and was an Official Selection at last month's Melbourne Interntional Web Festival. The project premiered as an eight-part Web series in January. It will be re-launched as a traditional full-length documentary later this year.

Saturday's screening will be followed by two other festival Official Selections: Guy Benoit & William Smyth's 17-minute Guitar #1711, is described as "a beautifully filmed experience of one guitars construction. From raw materials to finished performance this film explores the tools, relationships and skills that go into building fine guitars." The third film, Gene Pina's student film Mediacare, focuses on "the politics of media manipulation in the 21st century."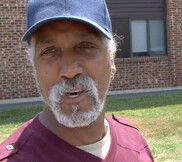 "The West End is in our backyard," said director and narrator John Martin. "But senior hunger is a problem that goes way beyond just one tough neighborhood. We are focused on an issue that is all too common and, in fact, growing. And it comes at a time when, as we say in the documentary, the question America is facing has come down to, 'Can we afford old people?'

"We are thrilled that we are getting this great new exposure," Martin added. "RIIFF is one of the most respected festivals of its kind and we are extremely grateful that George Marshall and his team have inlcuded us.

Learn more about Hungry in the West End at www.aarp.org/hungry