Hungry in the West End addresses senior hunger in Providence's West End community -- an area of hard-core poverty burdened further by the recession. This series attempts to put a face on the problem of senior hunger in the West End and throughout America, and to give voice to those who are responding to the challenge of feeding the hungry. This is Part 6 of the series. Start here to begin with Part 1.

En español

By Jody McPhillips

Gene Parsons's doctor has told him that if he can lose enough weight, he can get the knee surgery he needs next spring. The 60-year-old has been dieting strenuously, but after losing 30 pounds, the needle on his scale has started creeping back up.

So he shows up 15 minutes early for a free lesson on nutrition at the Cathedral Square low-income housing complex in Providence. It's part of the SNAP Outreach Project, a series of efforts funded by the US Department of Agriculture through the University of Rhode Island's Feinstein Center for a Hunger-Free America.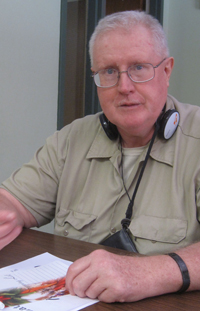 "I want to know what works, and what is healthy—and not just for weight loss," Parsons says. He would like to form better eating habits so that he wouldn't keep gaining weight, but notes ruefully, "I'm not a cook."

By the time URI nutritionist Melissa Holmes and a team from Farm Fresh Rhode Island begin their spiel, about 30 people have filtered into the community room. They listenattentively as Holmes talks about the different kinds of locally grown fruits and vegetables available each Friday at the nearby farmer's market at Kennedy Plaza.

With the help of brightly colored charts, she shows them which fruits and vegetables contain what vitamins, and which are nutritional powerhouses.

The crowd perks up noticeably when the team begins to pass out the day's demonstration snack: fresh corn and tomato salsa in corn-chip scoops. The snacks vanish amid chatter and appreciative lip-smacking.

"Food is social," Holmes says later. "Food samples bring the crowd together. People can be reluctant to try new things, especially if they are on a low-income budget, because they might not like it."

The nutrition program is part of a series of efforts aimed at teaching people about the Supplemental Nutrition Assistance Program (SNAP), the new name for food stamps. Many low-income seniors qualify for SNAP, but studies indicate that fewer than a third of those eligible receive SNAP benefits. Holmes' work complements the efforts of her Feinstein Center colleague, Maria Cimini, featured in Part 2 of our series.

Holmes and her team teach six classes between July and September at each of five locations, chosen for their proximity to farmers' markets. Anyone who attends three of the six sessions receives $15 in Fresh Bucks, paper money they can exchange at the markets for real fruits and vegetables. We visited a farmers' market in the West End last summer where SNAP Outreach had a table. The market was well attended.


However, we saw few older seniors and, at the time, wondered about homebound or disabled seniors who could not take advantage of the discounts.

Few states do more to encourage SNAP recipients to buy more-nutritious foods. Sen.Jack Reed, D-RI, says URI's SNAP outreach programs are "probably a national model. They're doing an excellent job."

Rhode Island's social service agencies are good at communicating with each other and collaborating, he says, and that's important in an era of dwindling resources. "You have to make people aware—do you want to be smart, and provide good nutrition to people? Or do you want to pay a huge amount of money to treat people who have all sorts of health conditions that are either brought on or exacerbated by poor nutrition?"

Older people face specific nutritional challenges, says Holmes. "Many don't cook much. Many live alone, and they're used to cooking for more people—they may not know how to downsize recipes.

"It's also a question of time, and desire—many don't have the desire to prepare meals. Or it can be a lack of money, or transportation to the stores, or dental issues."

It's true that people need fewer calories as they age, but they still need an average of 1,600 per day, Holmes says.

Many aren't getting enough.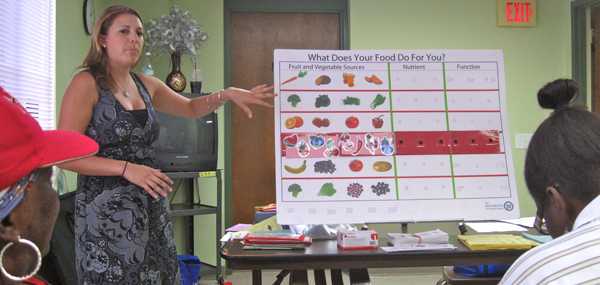 "A lot don't get the calories they need because they don't cook at home, or have the foods they need," Holmes says. "A senior center may be providing their big meal of the day, while they have snacks in the morning and evening."

Seniors can easily become malnourished, she says, "particularly if they are eating the same foods over and over again, or if they are not eating the right amounts."

Nutritionists talk about the "tea and toast" syndrome, which staves off hunger but doesn't provide much nutrition.

Bart Rocco, a 75-year-old who lives in Huntington Towers in the West End, says that sometimes he just doesn't have the energy to cook a healthy meal. "I don't like cooking for myself, it's very difficult to cook for one person," he says. If he does cook, it's likely to be baked chicken and something like a cucumber salad.



But many times, he says, he gets by with cereal in the morning and a Meals on Wheels lunch. "Then it depends on how I feel at night, whether I'm going to cook or not," he says. "Sometimes I just have another bowl of cereal."

The nutrition program encourages people to try new things and offers simple recipes to show the way. "We tell them, 'As much as you can, keep variety in your food, and make it fun, because it is. Don't think of it as something you have to do but as something you can enjoy.'"

Parsons says the program was helpful. "I thought it was good," he says. "Here in low-income housing, we're kind of limited." Lacking a car, he takes the bus to the nearest supermarket, where he buys whatever he can fit into his backpack. The whole process takes at least 90 minutes, and he usually has to do it at least twice a week.

He says he thinks he'll walk over and check out the market at Kennedy Plaza. "I've never been to a farmers' market," he says. "I do love vine-ripened tomatoes."

SPACE

Hungry in the West End
AARPRI

Explore Jody McPhillips' Web series
Part 1: The Problem is Simple, But Not the Solution
Part 2: Feeding People Too Ashamed to Ask for Help
Part 3: Meals on Wheels Feeds the Homebound
Part 4: Food Pantries Feed All Comers
Part 5: Food & Friendship Served Up at St. Martin de Porres
Part 6: Nutritionists Help Seniors to Eat Right
Part 7: At 88, Theresa Gives Food Stamps a Second Try
Part 8: Volunteers Serve From the Heart, Get Back More Than They Give



Watch John Martin's Hungry in the West End documentary series
Episode 1: The Growing Problem
Episode 2: Doing More with Less
Episode 3: Food for the Soul
Episode 4: Emergency
Episode 5: What Is Affordable?
Episode 6: It's Okay
Episode 7: Abundance
Episode 8: "It's Good Work"



Hunger news

The Postal Service's "Stamp Out Hunger" day is May 11. Watch the video.
RI Monthly: Interview with John Martin on Hungry in the West End
TakePart.com: America's Grandparents Are Hidden Victims of Hunger Crisis
Enid Borden: Ending Senior Hunger Must Begin Today
Hunger News From TakePart.com
Ezra Klein on senior isolation: "Call Your Grandmother."
Governor Chafee Releases Report on RI SNAP, Welfare Fraud. Download the Report.
Washington Post: Food Stamps Put Rhode Island Town on Monthly Boom-and-Bust Cycle
RI Farmers Markets Growing...with Some Pain
Chaffee Kicking Off March for Meals Campaign
New York Times: More to Meal Delivery Than Food
Drive to End Hunger Launches 2013 Season in Daytona
US Conference of Mayors: Slow Recovery Keeps Pressure on Emergency Food and Shelter Services
AARP Announces Million Dollar Partnership to Fight Older Adult Hunger
Drive to End Hunger's Jeff Gordon Leads Pack of Celebrity Hunger Advocates.

Hambre en America: ¿Que podemos hacer?