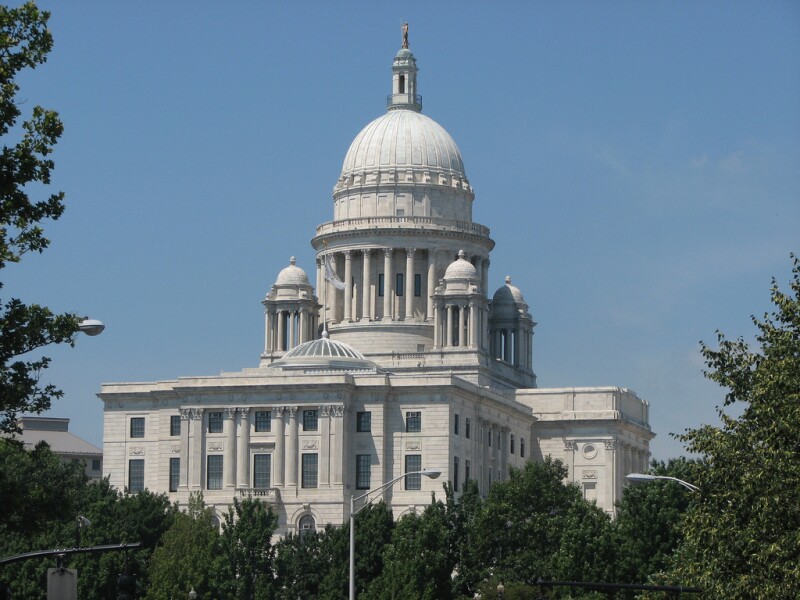 UPDATE: Thursday night, the Senate passed the budget; the pension payment is secure!

Wednesday night, the House passed the FY2014 state budget that provided for the $12.9 million sales tax surplus to be deposited into the state pension fund. This is a big victory for all who pressed members to uphold the state's responsibility and abide by pension reform legislation passed in 2011. The budget was subsequently approved by the Senate Finance Commitee and awaits final approval by the Senate today.

Tuesday night, the House voted down Article 5 of the state budget, defeating the plan to sweep the sales tax surplus into the general treasury rather than its lawful deposit in the state pension fund.

As the night wore on ...and it became evident House leaders would lose a battle over a promised $12.9 million bonus pension payment that had been diverted to other spots in the budget, House leaders called a recess — and then proposed a compromise.

Instead of permanent repeal, (Finance Committee Chair Helio) Melo suggested a onetime suspension. But at 11:47 p.m., upset lawmakers voted 39 to 36 to defeat the diversion of the money, leaving a $12.9-million hole in the leadership spending plan -- Providence Journal

AARP Rhode Island yesterday sent copies of the letter (see below) to the legislative leaders to each member of the House as well as the Senate. The House recessed just after 1:40 Wednesday morning and is scheduled to reconvene at 2 p.m. today to resume the budget debate. We will be watching as developments unfold today as anything can happen.

FROM OUR POST HERE TUESDAY Read AARP Rhode Island's letter to legislative leaders below and take action today. Contact your State Representative NOW and make it clear that the state should fulfill its obligation to pay into the retirement system.

Thank you to those who sent emails or made calls. It made a difference!

BUT we need to continue the pressure on each legislator in the House.

Those legislators who voted to defeat the plan must stay that path – THANK THEM FOR THE SUPPORT.
Those who voted to eliminate the $12.9 million into the pension fund must be convinced to keep the promise made as part of pension reform and change their vote to defeat the plan.


Every vote is IMPORTANT! There will be a lot of pressure from the leadership to pass Article 5 TODAY.

The message is to make the $12.9 million deposit to the state pension fund!

Below is how the House members voted.

We need the "N" voters to hold their ground.

We need the "Y" voters to change their position and uphold the law requiring the deposit into the pension fund.

Please call or email as many representatives as you can and give them our message!

Contact info: http://webserver.rilin.state.ri.us/Email/RepEmailListDistrict.asp













Y Abney




Y Ackerman




Y Ajello




N Almeida




N Amore




Y Azzinaro




N Baldelli-Hunt




Y Bennett




Y Blazejewski




Y Canario




N Carnevale




N Casey




N Chippendale




N Cimini




Y Coderre




Y Corvese




N Costa




N Costantino




N Craven




N DeSimone




N Diaz




N Dickinson




Y Edwards




N Fellela




Y Ferri




Y Finn




Y Gallison




N Giarrusso




N Guthrie




Y Handy




Y Hearn




N Hull




N Jacquard




N Johnston




Y Kazarian




Y Keable




Y Kennedy




Y Lally




N Lima




N Lombardi




N MacBeth




Y Malik




Y Marcello




Y Marshall




Y Martin




Y Mattiello




N McLaughlin




Y McNamara




Y Melo




N Messier




N Morgan




Y Naughton




N Newberry




N Nunes




N O'Brien




N O'Grady




N O'Neill




Y Palangio




N Palumbo




N Phillips




Y Ruggiero




N San Bento




N Serpa




Y Shekarchi




Y Silva




Y Slater




N Tanzi




N Tomasso




N Trillo




Y Ucci




N Valencia




N Walsh




Y Williams




Y Winfield




Y Mr. Speaker




June 24 letter to Speaker of the House Gordon Fox and Senate President Teresa Paiva Weed

AARP Rhode Island is writing to respectfully urge that you reconsider forgoing the State of Rhode Island's obligation to deposit the $12.9 million states sales tax surplus into the state pension fund as a means of balancing the FY2014 state budget.

While we understand the difficulties you face, this is an unsuitable solution.

The repetitive argument in favor of pension reform legislation passed in 2011 was that the measure was a one-time fix of a system that was dangerously underfunded. We heard again and again that "kicking the can down the road" must now and forever cease. Here we are, two years later and Assembly leaders, with the Governor's apparent acquiescence, have reverted to kicking that same can as a convenient means of solving the latest budget dilemma.

Two years ago, lawmakers apologetically told retirees that their promised retirement benefits would be reduced in order for the state to put its house in order once and for all. The suspension of annual cost-of-living adjustments for as long as 19 years was presented as a necessary and unavoidable sacrifice that would ensure the pension fund's future and spare the state from financial calamity. There was no alternative -- no flexibility as far as reducing the burden of reform thrust on retirees. Without pension reform, the money simply won't be there, retirees and everyone else in the state were emphatically warned.

What we can say for sure is that $12.9 million and any interest it might have earned won't be there for retirees if you proceed with your plan made possible by repealing the portion of the state law mandating that the sales tax surplus be deposited into the pension fund.

Not complying with the provisions of the Pension Reform Law represents another broken promise to retirees. Is there no moral obligation to fulfill a covenant with retirees that, in effect, said "you must accept these conditions, just as the State of Rhode Island will obey the terms set down by law and uphold its end of the deal"?

Throughout the pension debate we heard over and over that the retirees put their contributions into the fund as required but, the state and municipalities often failed to make their payments. The current strategy looks like more of the same.

Your plan is wrong in many ways and its consequences could further negatively impact the retirement security of employees who did their jobs, made the pension payments they were obligated to make and planned their retirement based on the pension benefits they were promised.

Therefore, AARP requests that you do the right thing and fulfill your responsibility to deposit the surplus sales tax into the state pension fund.

Sincerely,

Kathleen Connell
State Director
AARP Rhode Island

Alan B. Neville
State President
AARP Rhode Island

AARPRI