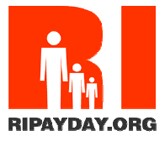 Press statement by the RI Payday Lending Reform Coalition, of which AARP Rhode Island is an active partner and advocate.
AARPRI
Providence, RI – On the last day of session, the Rhode Island General Assembly once again bowed to the powerful Payday Loan Industry and gave them veto power over legislation that would have benefitted thousands of Ocean State families. After months of hearings and advocacy from a broad base of supporters, the bills put forward by Rep Frank Ferri (D-Warwick) and Senator Pichardo (D-Providence) have yet to be called for a vote. These bills would cap interest on short-term Payday Loans at 36%, down from the current 260%.
"Its clear that the more than $100,000 the Payday Loan industry spent to hire the former Speaker and former Senate Finance Chair was money well spent. Once again insider deals and longstanding political relationships have trumped good policy and common sense consumer protection," said Margaux Morisseau, co-chair of the Rhode Island Payday Lending Reform Coalition. She continued, "We're going to continue to grow this grassroots coalition and fight back against companies that continue to thrive on the backs of seniors and working families"
This bill has been introduced three years running and has yet to be called for a vote in committee or on the floor of either chamber. Rhode Island is the last state in New England and the second to last in all of the northeast to cap this abusive practice. A recent economic impact study showed the industry, controlled by two multi-million out-of-state organizations, results in a net loss of $1.6 million annually in Rhode Island.
"More than 70 legislators signed on to Rep. Ferri and Sen. Pichardo's reform bills because they heard and understood the stories of working families trapped in the crippling cycle of debt these companies perpetuate. It is clear that the votes exist in both chambers to send these bills to the governor - making leadership's last-minute efforts to block them an example of State House politics at its worst," said Morisseau.
The 2013 session was notable in that there were months of discussion and many high-level meetings about compromise.
"We stand firm that Representative Ferri's solution of a 36% rate cap is the most effective solution, but we were open minded to a variety of approaches. We had multiple conversations with legislative leadership about the many ways we could find common ground and we were supportive of an innovative solution brought forth by House staff. However the final proposed watered-down version of a compromise did nothing to reform and only propped up a predatory industry that is bleeding money from our state." said Rev. Don Anderson, Co-Chair of the Coalition and Executive Minister of the Rhode Island State Council of Churches.
AARPRI
The RI Payday Lending Reform Coalition is comprised of 80 individuals and organizations including AARP, AFSC-SENE, Amicable Congregational United Church of Christ, Capital Good Fund, CCRS, Black Political Action Committee of RI, City of Central Falls, City of Providence, City of Woonsocket, CommunityWorks RI, Dorcas Place, George Wiley Center, Gloria Dei Lutheran Church, Hassenfeld Family Foundation, Housing Action Coalition of RI, Housing Network of RI, International Union of Painters and Allied Trades, DC 11, LU 195, Jewish Federation of RI, Macremi, Ministry of Justice, MMM, NAACP, National Coalition of 100 Black Women, NeighborWorks Blackstone River Valley, Northern RI Community Services, NRI Community Services, Ocean State Action, Office of the General Treasurer, Onleyville Housing, Providence Community Action, Providence En Español, Rhode Island AFL-CIO, Rhode Island Progressive Democrats, Rhode Island Building and Construction Trades Council, RI Chapter of the National Assoc. of Consumer Bankruptcy Attorneys, RI Coalition for the Homeless, RI Latino PAC, RI Latino Civic Fund, RI Progressive Democrats, RI State Council of Churches, RI Young Democrats, Society of St. Vincent de Paul, Voice of the Poor, St. Michael's Church, The Economic Progress Institute, The Fund for Community Progress, ULMAC, United Way of RI, West Elmwood Development Corporation, and Working RI.
###