AARP Rhode Island Recognizes Norma Santaniello for her
Dedication and Commitment to Community Servic with its Most Prestigious Volunteer Award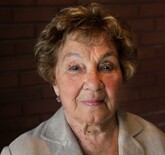 Providence, RI – Norma Santaniello of North Providence has been selected by AARP, the nonprofit organization for people 50 and older, to receive the 2013 AARP Rhode Island Andrus Award for Outstanding Community Service -- the Association's most prestigious and visible state volunteer award for community service.
AARP Rhode Island selected Santaniello for her remarkable service, which has greatly benefited her community, supported AARP's vision and mission, and inspired other volunteers.
The award was presented at a luncheon ceremony on Dec. 6 at the West Valley Inn, West Warwick. Photos / Video / Herb Weiss Column.
"This award acts as a symbol to the public that we can all work together for positive social change," says AARP State Director Kathleen Connell. "AARP has long valued the spirit of volunteerism and the important contributions volunteers make to their communities, neighbors, and the programs they serve."
Santaniello's legacy of service began when she was invited to join the State Legislative Committee some 18 years ago. She serves as the liaison to the AARP North Providence Chapter. As recording secretary, she has written numerous letters to Washington on advocacy issues and has testified many times before the General Assembly on long-term care, Social Security, and fair market pricing for prescription drugs.
"Norma has been working with the chapters and our community partners to reinforce AARP's strategic priorities and to act as a public voice," Connell added. "She is a strong advocate for community service and works with the volunteers on projects such as the RI Community Food Bank and at various health and fitness fairs."
Santaniello joins a distinguished group. Previous Andrus Award winners are Sarah Gauvin, Virginia Tierney, Anna Prior, Ann Gardella, Melvoid Benson, John O'Hara, Rita Wood, Ed Drew, Richard Ryan, Jorge Cardenas and Catherine Graziano.
Recipients across the nation were chosen for their ability to enhance the lives of AARP members and prospective members, improve the community in or for which the work was performed, and inspire others to volunteer.
AARPRI