Alan B. Neville has been honored by AARP, the nonprofit organization for people 50 and older, as its 2019 AARP Rhode Island Andrus Award for Community Service -- the organization's most prestigious and visible state volunteer award for community service.

AARP Rhode Island chose Neville for his remarkable service, which has greatly benefited Rhode Islanders, supporting AARP's vision and mission, and inspiring other volunteers. He served AARP Rhode Island as volunteer State President from 2013-2018.

"We are pleased to provide this recognition to Alan," said AARP State Director Kathleen Connell. "He has dedicated many years of volunteer service to AARP and many other organizations in Rhode Island that have benefited from his dedication and expertise.

"This annual award is a symbol to the public that we can all work together for the greater good," added Connell. "AARP has long valued the spirit of volunteerism and the important contributions volunteers make to their communities, neighbors, and the programs they serve. Alan's service embodies the words of our founder, Ethel Percy Andrus, whose motto was, 'To serve, not to be served.'"

AARP Rhode Island presented the award at a luncheon ceremony on Friday, December 13, at the Kirkbrae Country Club in Lincoln. Some 100 guests attended, including Sen. Sheldon Whitehouse and staff representatives for Sen. Jack Reed and Congressman David Cicilline.

The award was presented by Marc Boyd, State President, AARP New Hampshire.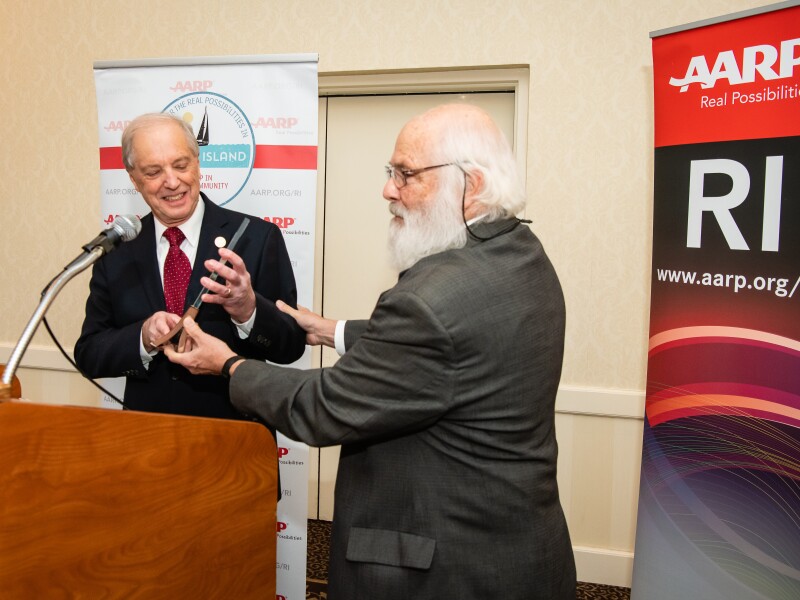 More Photos From the Awards Luncheon
Neville, who resides in Cumberland, has held numerous volunteer positions with AARP since first volunteering with the association as a member of Rhode Island's AARP Executive Council in 2006. He later chaired AARP's State Legislative Committee and was the organization's Rhode Island Volunteer President for six years from 2013-2018. Today, he continues to serve as President Emeritus and is involved in AARP's advocacy and community outreach activities in the state.

"I am humbled to have received this year's Andrus Award," said Neville. "In my 13 years of volunteer work with AARP, I have come to appreciate the vital role AARP plays in advocating for the well-being of those of the 50+ generations. Here in Rhode Island, hundreds of AARP volunteers devote thousands of hours each year advocating for legislation, providing resources to caregivers, and engaging stakeholders in discussions aimed toward making our communities more age-friendly and livable for the state's residents.

In his role as state president, Neville represented Rhode Island at meetings at the national and regional levels. "Alan's leadership skills were apparent to me from the start," said Boyd, who nominated Neville for the Andrus Award.

"Alan contributed meaningfully to our discussions at the regional and national level, was instrumental in our strategic planning efforts, and was consistently a sincere and vociferous advocate for AARP's mission," Boyd added. "He is richly deserving of this honor."
Click image to watch Alan Neville's acceptance speech
Neville was employed by Bank of America and its legacy banks in Massachusetts and Rhode Island, where he held positions of increasing responsibility over a 30-year career. He retired as Senior Vice President of Marketing & Communications in the company's Community Banking Division in 2004.

He left banking to pursue opportunities in the non-profit sector, first serving as Vice President of Marketing and Development at Crossroads Rhode Island and later as Executive Vice President of Communications at United Way of Rhode Island. His other volunteer roles over the years have included board positions at the International Institute of Rhode Island, the Academy for Career Exploration Charter School and the New England Bank Marketing Association. Today Alan serves as Board Chair of the Cumberland Youth Activities Council and is Chair of Cumberland's Parks and Recreation Commission.

Neville is a graduate of Somerset High School, Somerset, MA. He holds a BS in Business Administration and an MBA from Northeastern University. He is a member of Beta Gamma Sigma, the national business honor society.

Andrus Award recipients across the nation were chosen for their ability to enhance the lives of AARP members and prospective members, improve the community in or for which the work was performed, and inspire others to volunteer.