Thanks to all who visited the AARP Age-Friendly Home! And additional thanks
to the some 40 AARP volunteers who met and helped so many Home Show visitors.





AARP can help make where you live a lifelong home that's comfortable, and a great fit! Visit the Home Show's AARP Age Friendly Home to learn smart solutions for making your home right for you. From simple modifications to large design projects, we'll share solutions aimed at serving you for a lifetime.

2019 RI Home Show Announcement_


Learn about a Rhode Island Livable Home Modification Grant, which offers qualifying (homeowners and renters) up to $5,000 for home modifications benefiting people with disabilities or are aging into disability. This grant program, championed by AARP, aims to make homes safer and easier for caregivers and people with disabilities.

Read the Official Home Show Announcement

Visit http://ribahomeshow.com/ to purchase tickets and see all that the show has to offer.
#AARPRI

Come Lend A Hand – Volunteer Training
Miss our March 21st training? We can get you up to speed in time to take part
The 2019 RI Builders Association Home Show at the Rhode Island Convention Center will feature as its main attraction, a four-room Age Friendly model home, sponsored by AARP Rhode Island. The display will include multiple Age Friendly home improvements and conveniences. It also will serve as a venue to tell the public how AARP supports the state's 134,000 caregivers through our State House advocacy, implementation of the CARE Act and AARP's voluminous Age Friendly, Caregiving and HomeFit home modification resources.
To engage attendees and to tell our story, we are seeking volunteers who will sign up for a shift (minimum one 3-3/1/2 hour shift), be trained to serve as hosts and guides, and distribute materials throughout the April 4-7 event. To volunteer, email or call Darlene Reza Rossi at 401-248-2674.
Watch as Sylvia Shows off Her Age-Friendly Home!
#AARPRI



#AARPRI

There's No Place Like Home
By Kathleen Connell, AARP State Director

As winter recedes, baseball spring training is under way which means we'll be talking about batters stepping up to home plate, taking home run swings. They'll trot into home or slide into home. Once in a blue moon someone steals home. We root root-root for the home team, which has nothing to do with whether your team is home or away -- Red Sox at Yankee Stadium, for instance. Or not.

On most every Website on the Internet, the Home Page welcomes you and it's where you feel most comfortable as you move forward. It's a place to go back to if you're lost. It is most important.

The American Dream starts with owning a home. We joke (and/or worry) about "ending up in a home."

Though our kids eventually leave home it will always be home for them, even when they have one of their own. We're excited every time they come home. Although coming home sometimes is a time to mourn. And some day the kids will come home one last time to bid us goodbye.

So, what makes a home? There are many answers but one we focus on at AARP is that a home remains a home as we grow old by becoming an Age-Friendly home. That's why we have been working with the Rhode Island Builders Association to create an Age-Friendly demonstration home at the 2019 RIBA Home Show, April 4-7 at the RI Convention Center.

Read Herb Weiss's RI Senior Digest story below for details and, then please, do visit the Home Show. We have more than a score of volunteers trained as guides and ready to answer questions. We're also offering free copies of AARP's 24-page HomeFit Guide (downloadable from AARP), a handy tool that illustrates Age-Friendly home improvement options that might be the right fit for your home.

AARP's mission is to improve people's lives as they age. In a sense, your home needs improvements – not just as it ages – but as you age. Sometimes, modifications are needed immediately to address an unanticipated change in health. But there are certain things that can be anticipated if you are looking to remain in your home for as long as it is practical and safe.

And when it comes to our family caregivers, Age-Friendly modifications can make a big day-to-day difference for everyone in the home. Please stop by to see if you qualify for up to matching construction funds of up to $5,000 in under Rhode Island's Livable Homes Modification grant program.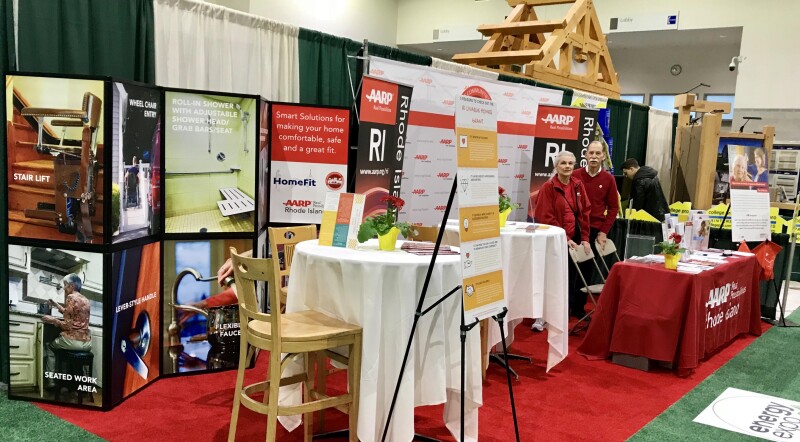 AARP Rhode Island at the 2018 RIBA Home Show



AARP Rhode Island Comes to the Rhode Island Home Show
By Herb Weiss

This article is excerpted from the March issue of Rhode Island Senior Digest

Kicking off its 6th consecutive year at this annual show, this year AARP Rhode Island brings you the AARP Age-Friendly home, showcasing accessible designs by Rhode Island Kitchen & Bath, gorgeous interiors by Blakely Interior Design, Unilock's Outdoor Liv­ing Experience and the Connected Home Ex­perience sponsored by Mulholland Audio and Video. At this exhibit you can also learn more about the state's Livable Home Modification Grant program available to make your home "age-friend­ly."

John Marcantonio, the CEO of the Rhode Island Build­ers Association, says "Having AARP and their Age Friend­ly Home feature involved in the RI Home Show brings some very interesting experiences to the show. This fea­ture makes you learn about, and think about, your interior home design and how a few relatively simple changes can make a big difference in how you live in that space over a lifetime!"

"Our relationship with the Rhode Island Builders As­sociation has led to the ambitious collaboration that is the AARP Age-Friendly Home," said AARP Rhode Island State Director Kathleen Connell. "We were absolutely thrilled when we were asked to get behind creating a mod­el home featuring adaptations that accommodate people of all ages and abilities. It also provides an opportunity for a second year at the show for AARP to promote the State of Rhode Island's Livable Homes Modification Grant Pro­gram. AARP worked with several partners, including the Builders Association, to help create this fund that provides matching grants of up to $5,000 for qualifying home im­provements. It's been a win-win for people with disabilities or aging into disability, as well as their family caregiv­ers. These modifications add to comfort as well as safety. Most important of all, they allow people to age in place for longer than they might otherwise stay in their homes without these features."

"The AARP Age-Friendly Home also will inspire thou­sands of Home Show attendees to think about home improvements that will enhance their futures. AARP will distribute our popular HomeFit Guide, a helpful road map to age-friendly living and a handy tool for working with a contractor to develop a plan and get work started," Connell added.


Connell says, "We could not take this on without the very strong Home Show team," she continued. "This is a big deal and the scope of the opportunity requires dozens of our volunteers, who have been trained to answer questions about the Age Friendly Home as well as provide useful information about caregiving – an AARP top priority in both our State House advocacy and our outreach and support to some 134,000 Rhode Island family caregivers.

"A broader aspect of AARP's work, supporting Livable Communities, also will be on display at the Home Show. We work with volunteers, neighborhood associations and community leaders to address transportation, open space, safety, civic engagement and access to healthcare and oth­er human services that improve the way of life for people of ages. Rhode Island is a great state, but healthy, vibrant communities are its lifeblood," notes Connell.

"We're confident that the AARP Age-Friendly Home experience will help raise family caregiver awareness," Connell concluded. "As the population ages, we're all go­ing to have to pull together. The collaborative work that's gone into creating this Home Show feature is an example of how, working together, we can move forward," she says.

Janelle Blakey Photopoulos, Owner and Creative Direc­tor of Blakely Interior Design, says that her company was brought into the AARP-Age-Friendly Home project to cre­ate a cohesive interior with a fresh, modern, approachable aesthetic while accommodating today's multi-generation­al lifestyle. "The home was designed with functionality in mind, featuring washer and dryer on pedestals for easy access and chairs positioned for seating during everyday tasks," she says.

Photopoulos adds, "all furniture is arranged to allow for clear passage - a simple change that does not require costly modification. The design allows for flexibility; so, it can meet the needs of the homeowners now, but also in the future."

This year, the Warwick-based Rhode Island Kitchen & Bath joins Blakely Interior Design bringing its exper­tise in designing kitchens and bathrooms to the AARP Age-Friendly Home project. "We have designed the kitch­en and bathroom, creating spaces that are universally ac­cessible for all ages and abilities," states Prudence Stod­dard, Director of Design.

"We have specifically designed the kitchen to provide wheel chair access, says Stoddard, noting that age-friendly products in the kitchen include a motion activated faucet, lower countertops, and appliances, and a wall cabinet that lowers down to counter level. "The bathroom includes a roll in shower with touch pad digital controls, seat and hand shower, motion activated faucet, and a smart mirror with Bluetooth connectivity," she says.

The 69th Annual Rhode Island Home Show is the largest and longest-running exhibition of its kind in New England and is the only locally organized home show in the State. The 2019 Show includes the return of the rising RI Flower & Garden Show themed "Dream, Discover, Design" – featuring a floral design competition and 10 thousand sq. ft. of gardens. Additional show features include a Connected Home Experience featuring the latest in home automation and security, the AARP Age-Friendly Home showcasing 2019 interior design trends, 6th Annual Energy Expo powered by National Grid, over 300 exhibits, a home décor store, seminars and more. Career and Technical Education (CTE) students from across the state will, once again, partner with the Show to build several features. Attendees can expect a unique marketplace and educational experience. Tickets are good for all 4 days with re-entry wristband. For more information about the Show visit ribahomeshow.com or facebook.com/RIBAHomeShow.

#AARPRI

AARP IS INVESTED IN COMMUNITIES IN RHODE ISLAND AND NATIONWIDE