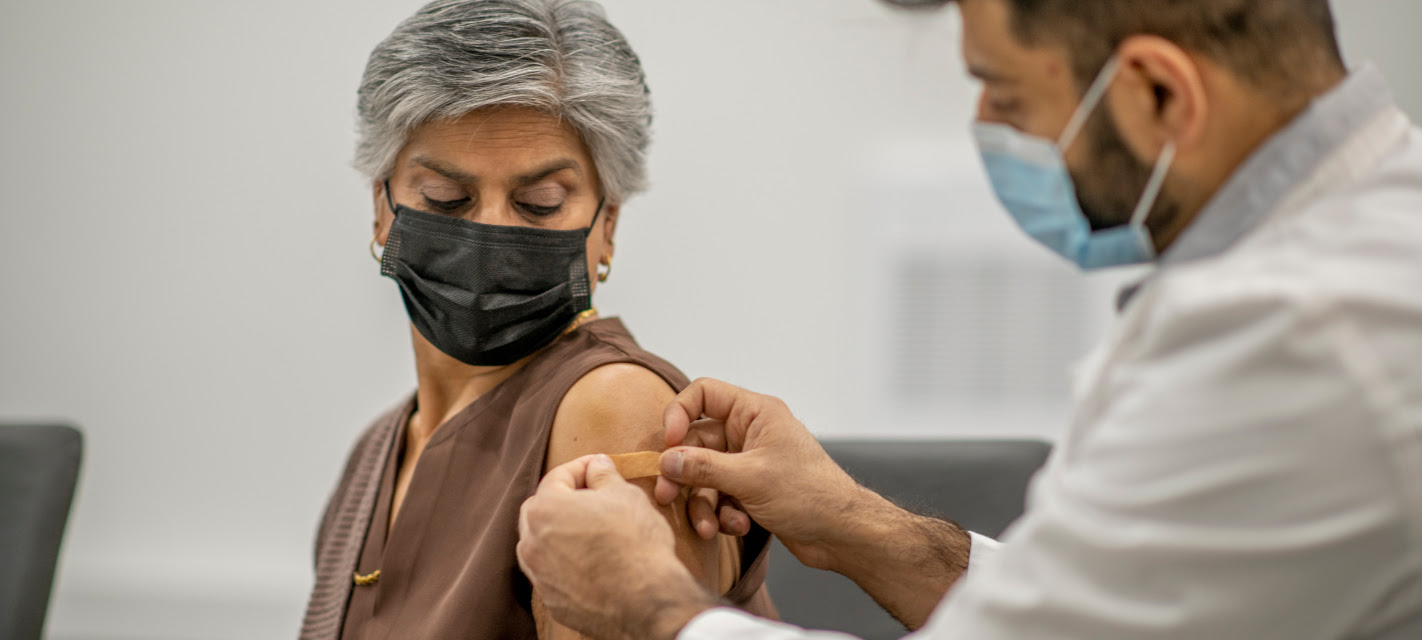 Failure Will Cost Lives
PROVIDENCE, RI – AARP Rhode Island today called on Governor Dan McKee to prioritize delivery of COVID-19 booster shots in order to reach the state's oldest and most vulnerable population, warning that failure to do so will lead to avoidable loss of lives.

In a letter, State Director Catherine Taylor wrote that, according to the state's November data, 52 out of the 55 COVID-19- related deaths in Rhode Island were people 50 and over. "AARP Rhode Island urges you to prioritize any future booster rollout to the general public based on the rate of mortality in that age bracket. Failing to prioritize people 50+ for booster shots will cost more lives in a population that already makes up 98% of all COVID-19-related deaths and 74% of hospitalizations in Rhode Island."

In addition, Taylor urged McKee to take immediate steps to:

Ensure that there is a well-maintained, centralized, equitable, and accessible vaccination system that works for all Rhode Islanders.
Expand public education campaign to provide clear information about how people who do not have internet access or cannot navigate an online system can make a vaccine appointment through a fully staffed call center or other means.
Address concerns in that municipalities do not have the same capacity as the state, by supporting cities and towns with resources, including staffing, so that they can ensure Rhode Island's vaccine effort is successful.
Utilize ARPA funding to bolster the Rhode Island COVID-19 testing program so that in times of surge we have the capacity to keep PCR results to no more than 48 hours, ideally 24 hours, as they were during the summer months.
Ensure that the state's vaccination-related data, including booster shots, are publicly available, easily accessible and include enough granularity to allow for the identification of populations that are still struggling to access COVID-19 vaccines.
Taylor also pledged AARP's support in carrying out these objectives. "By working together, we can ensure that any Rhode Islanders who wants to be vaccinated has that opportunity," she wrote. "As you update your outreach plans, and as more information is available about how people can sign up for booster vaccines, you can count on AARP Rhode Island to share that information broadly."

Below is the full text of the AARP Rhode Island letter to the Governor

Dear Governor McKee,

I am writing on behalf of our more than 132,000 members in Rhode Island and all 50-plus Rhode Islanders about the urgent need to prioritize older residents, especially those who are homebound or living in congregate settings, in the administration of COVID-19 booster shots.

Rhode Islanders have been eager to put this pandemic behind us, with 76.9% of eligible citizens already fully vaccinated according to the RI Department of Health Data Hub (RI DOH). We at AARP RI understand this eagerness; however, we must not lose focus on the fact that it is the 50+ community that continues to bear the brunt of this devastating virus. In total, 1.4% of the entire 60+ population of Rhode Island has died as a result of COVID-19 and its variants.

The data clearly show that the older someone is, the greater the risk of serious illness or death from COVID-19. Again, according to the RI DOH Data Hub in November, 52 out of the 55 COVID-19- related deaths in Rhode Island were people 50 and over. AARP Rhode Island urges you to prioritize any future booster rollout to the general public based on the rate of mortality in that age bracket. Failing to prioritize people 50+ for booster shots will cost more lives in a population that already makes up 98% of all COVID-19-related deaths and 74% of hospitalizations in Rhode Island.

The initial vaccine rollout encountered numerous challenges. Many older Rhode Islanders could not access or navigate the online system, called into poorly staffed hotlines, and were left confused and frustrated. We need to continue to ensure that there is a well maintained, centralized, equitable, and accessible vaccination system that works for all Rhode Islanders. We urge you to expand your public education campaign to provide clear information about how people who do not have internet access or cannot navigate an online system can make a vaccine appointment through a fully staffed call center or other means.

The state's recent decision to put vaccinations in the hands of local authorities and pharmacies raises concerns in that these municipalities do not have the capacity that the state sites benefit from. We urge you to support these municipalities with resources, including staffing, so that they can ensure Rhode Island's vaccine effort is successful.

We are currently experiencing among the fastest growth in COVID-19 cases in the entire country. While Rhode Island boasts that we perform more tests than almost anywhere else in the country, testing is of no benefit if results are not returned in an expeditious manner. Currently, there is at least a 3-4 day wait to obtain PCR results for work attendance. As you mentioned in your recent press conference, this delay in results directly effects our workforce in many industries – particularly in health care and long-term services and supports. We urge you to utilize ARPA funding to bolster the Rhode Island COVID-19 testing program so that in times of surge we have the capacity to keep PCR results to no more than 48 hours, ideally 24 hours, as they were during the summer months.

Lack of appointments from local pharmacies has left many older Rhode Islanders scared and without booster appointments. Vaccination appointments should be prioritized for those most vulnerable to hospitalization and death. The 50+ community cannot wait to compete for appointments with hundreds of thousands of other Rhode Islanders.

For those individuals most at risk, such as people living in nursing homes or other congregate facilities, homebound individuals, and other hard-to-reach populations, we once again --- as we did in our September 7 letter to you -- urge the state to develop and communicate specific plans to ensure boosters are delivered quickly and effectively. The CDC has provided guidance [1] on vaccinating homebound individuals and their caregivers, and federal funding may be available from FEMA and the American Rescue Plan Act to facilitate vaccinations for homebound individuals. This funding could be used to establish or improve systems to safely transport homebound people to vaccination sites or to bring the vaccine, including boosters, to the person's home.

Finally, we strongly urge you to ensure that the state's vaccination-related data, including booster shots, are publicly available, easily accessible, and include enough granularity to allow for the identification of populations that are still struggling to access COVID-19 vaccines. The availability of such data will help ensure that no population is overlooked.

By working together, we can ensure that any Rhode Islanders who wants to be vaccinated has that opportunity. As you update your outreach plans, and as more information is available about how people can sign up for booster vaccines, you can count on AARP Rhode Island to share that information broadly. Please contact me at 401-248-2654 if you have any questions or concerns.

Sincerely,

Catherine Taylor
State Director, AARP Rhode Island

[1] https://www.cdc.gov/vaccines/covid-19/clinical-considerations/homebound-persons.html