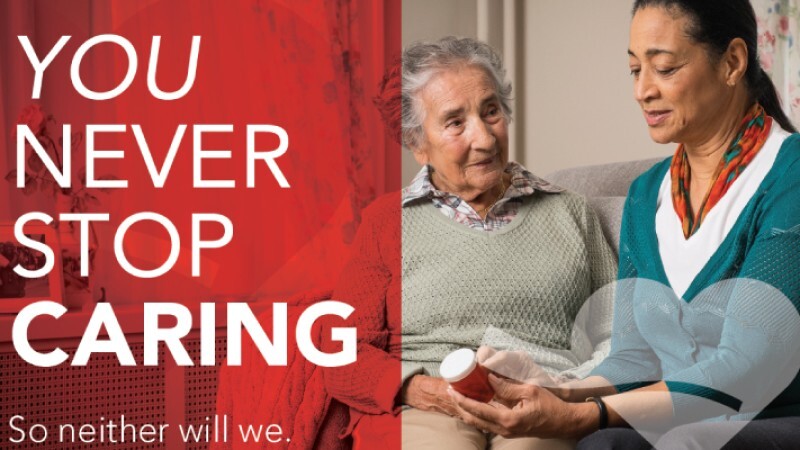 Need Caregiving Help?
NEW! Check out the AARP Rhode Island "Guide for Caring for Older Adults in Rhode Island."
Free printed copies are available. Please call the AARP Family Caregiving Line at 1-877-333-5885 to order your copy today!


Caregivers to Vietnam-Era veterans and earlier are now eligible for VA benefits. Learn more.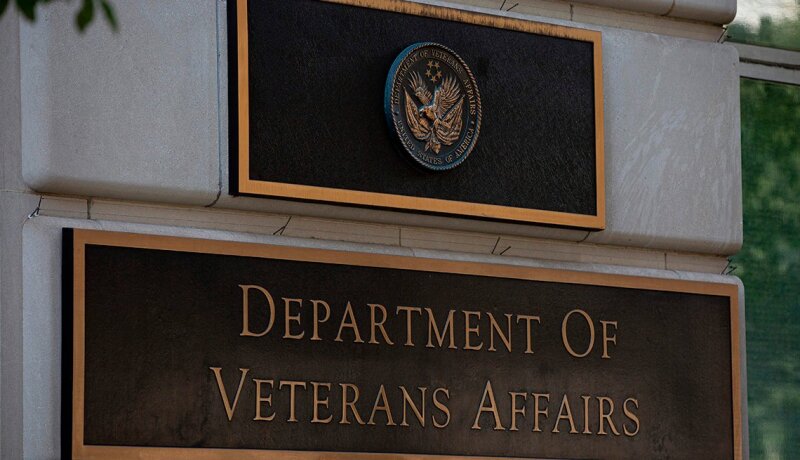 The Capitol Caregivers Class of 2019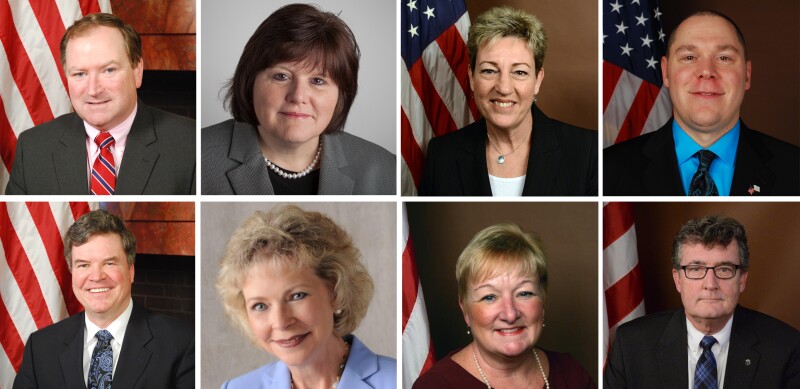 With State House access restricted, AARP held its annual Capitol Caregivers awards ceremonies via Zoom on July 8. Please join me in congratulating (above, top left to right) Senators Michael J. McCaffrey, Maryellen Goodwin, Cynthia Armour Coyne, Adam J. Satchell and Walter S. Felag, Sr., and House members Patricia Serpa, Julie A. Casimiro and Robert. E. Craven, Sr.

Honored across the country, Capitol Caregivers represent a bipartisan group of elected officials who made a difference for family caregivers. The 2019 class of Capitol Caregivers includes 74 elected officials from 30 states. They are primary sponsors or integral to the passage of Caregiving legislation or other tangible result to support family caregivers in 2019.


COVID-19: It's a Worrisome Time for Caregiving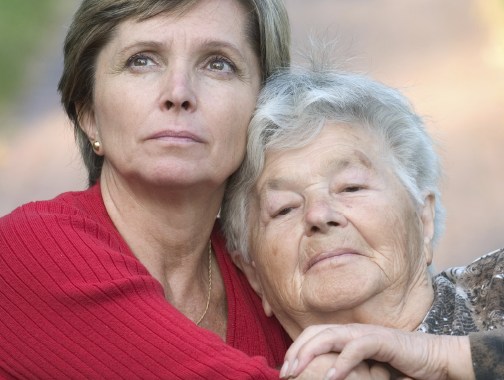 "It goes without saying the everyone has been through a lot since the coronavirus entered the picture and totally consumed our lives," writes AARP State Director Kathleen Connell. She turned to an expert to learn how to best manage coronavirus worries. Read her RI Senior Digest essay.

NEWS! In Rhode Island, the estimated total value of 114 million unpaid hours of work by the state's 136,000 family caregivers is $1.8 billion. Read all about it.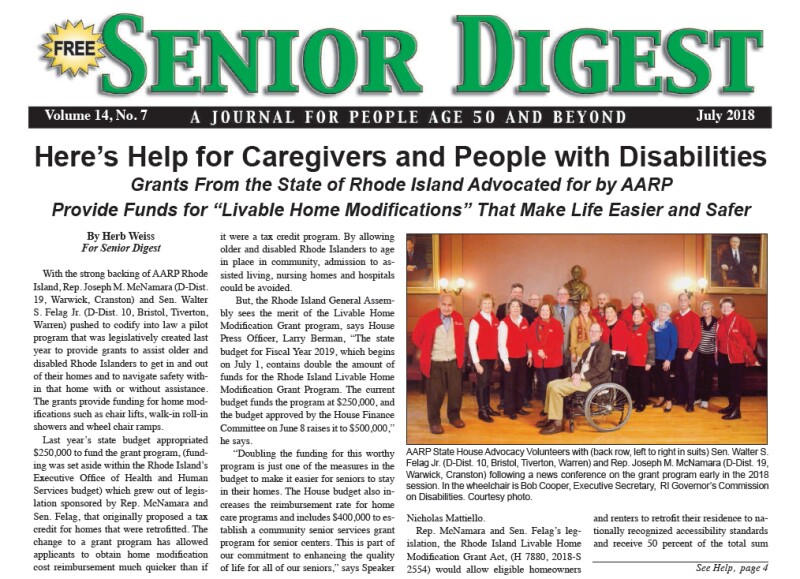 #AARPRI

Available Now! A Helping Hand for Caregivers

The Rhode Island Livable Home Modification Grant Program offers qualifying applicants (homeowners as well as renters) up to $5,000 for home modifications benefiting those in need of care, as well as the disabled. The program, created in part through advocacy efforts by AARP Rhode Island and its legislative volunteers, the Governor's Commission on Disabilities and a coalition of community partners, helps the disabled as well as both caregivers and those family members and loved ones they care for.

RI Livable Home Modification Application
"This grant program allows many people to remain in their home," said AARP Rhode Island State Director Kathleen Connell. "Sometimes, installing wheelchair ramps, widening a doorway or converting a bathtub to a walk-in shower can make all the difference for the caregiver and the person they assist. Unfortunately, many families are already financially stressed by out-of-pocket caregiving expenses.

"It also is important to emphasize that all taxpayers benefit when people with chronic illness or aging disabilities can stay in their homes, rather than move into state Medicaid-supported nursing homes. We all win when we support caregivers.

"We thank legislators who made this possible. We know it will make a difference for many Rhode Islanders."


RI Earned Paid Sick Leave Is the Law
Caregivers in particular will benefit by the new law that requires businesses employing 18 or more workers to provide earned paid sick leave. This includes time off to care for family members or loved ones. Accrual of qualifying hours worked began July 1 2018. The law, championed by AARP Rhode Island and a determined statewide coalition of advocates, was passed by the General Assembly last year. An earlier RI workplace infographic final draft provided a strong impetus for approving the bill.

Employees accrue one hour of paid sick leave for every 35 hours worked. Workers can begin to accrue paid sick leave July 1, or the first day after they start employment, if hired after July 1. If you believe you qualify, you should consult with your employer. The HR/payroll company Paylocity.com has posted clear and informative guidelines, which you can review here.

MORE NEWS!

RI Senior Digest Senior Digest July 2018
Provide Funds for "Livable Home Modifications" That Make Life Easier and Safer
PBN: Read the Providence Business News Q&A with our 2017 Capitol Caregivers honorees.
NPR: Family Caregivers Finally Get A Break — And Some Coaching
AARP honors State House lawmakers with 2017 Capitol Caregiver awards. Details and photos...


We CARE! In 2021, we mark an important AARP advocacy milestone – the seventh anniversary of the enactment of the very first CARE Act! Oklahoma was the first state to pass the CARE Act in 2014, and since then, another 40 AARP state offices have sought and won passage in their states or territories. In July 2018, Missouri passed the CARE Act, making the Show Me State the 40th state or territory to enact the CARE Act, and already this year people across the country are seeing some amazing successes and promising movement towards passage by additional state offices.

The CARE Act in Rhode Island
Passed in 2015 and put into effect in March of 2017, the CARE (Caregiver Advise, Record and Enable) Act requires hospitals to identify caregivers in three clear steps.

Upon admission, a hospital must provide patients with the opportunity to designate a caregiver and have that caregiver's contact information entered into the patient's medical record.
The hospital then must notify and alert the family caregiver if his/her loved one is being discharged home or transferred to another facility.
The CARE Act requires hospitals to, prior to the patient's discharge, provide the family caregiver with instructions on how to perform after-care medical and nursing tasks that the patient will need once they return home.
When accompanying a loved one being admitted to the hospital, caregivers should ask about these new responsibilities. As a reminder, download AARP Rhode Island's free CARE Act Wallet Card and carry it with you.


Download and print your card / En Espanol









AARP Statewide survey finds a vast majority of registered voters in Rhode Island 45-plus support (strongly or somewhat) a proposal to help working family caregivers care for their loved ones and continue to work. Read more, explore a new RI Caregiving infographic...Study: Hospital use reduced when caregivers are involved


VICTORY for America's 40 million family caregivers! The RAISE Family Caregivers Act (not to be confused with the CARE Act, below) is now the law of the land. This bipartisan bill will focus on the needs and values of America's greatest support system, family caregivers. Read more...


Rhode Island legislators
added to list of "Capitol Caregivers"
AARP Honors State Elected Officials for Helping Family Caregivers
To recognize their work to support family caregivers in Rhode Island, AARP names Senator Roger Picard and Representative Brian Patrick Kennedy 2016 "Capitol Caregivers." These elected officials have advanced policies to help family caregivers who are making it possible for older Rhode Islanders to live independently at home—where they want to be.

"AARP thanks these members of the General Assembly for championing passage of legislation that supports caregivers," said AARP Rhode Island State Director Kathleen Connell. "They provided integral leadership to pass bills in 2016 and helped make the huge responsibilities of family caregivers in Rhode Islanders a little bit easier."

Sen. Picard and Rep. Kennedy join former Senate President Teresa Paiva, Weed House Speaker Nicholas A. Mattiello, Senators Gayle L. Goldin and Joshua Miller and Representatives Eileen S. Naughton and Joseph M. McNamara who were named 2015 Capitol Caregivers last March.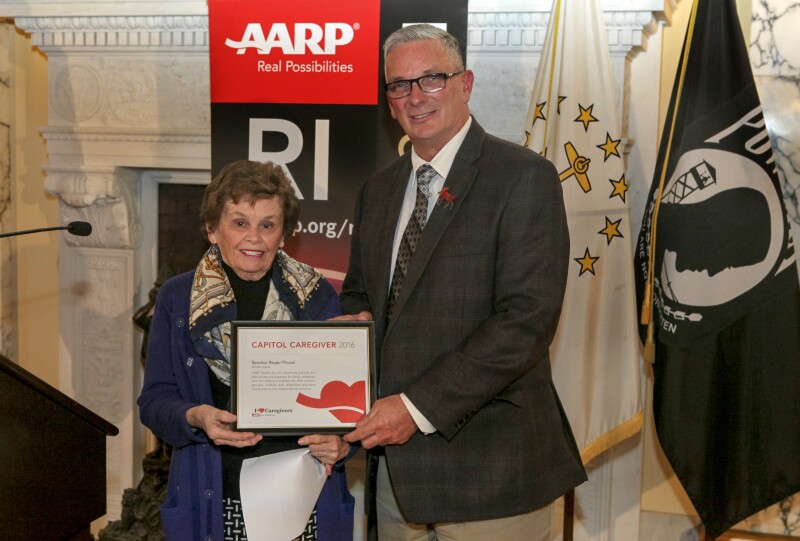 Senator Picard is honored for his sponsorship of 2016 legislation formally known as "An Act Relating to Towns and Cities – Zoning Ordinances." The new law allows the owner of an owner-occupied single family home to build an accessory dwelling unit to accommodate a family member who is 62 or older without obtaining a special permit from the town or city in which the property is located. The owner will still need to meet setback and other local requirements.

The legislation addresses the projected shortage of housing for senior citizens. Supporters believed that accessory dwelling units could be a good and affordable alternative to assisted living residences or nursing homes but local zoning ordinances imposed too many barriers for families to build this type of housing. The new law streamlines the requirements and makes them more consistent.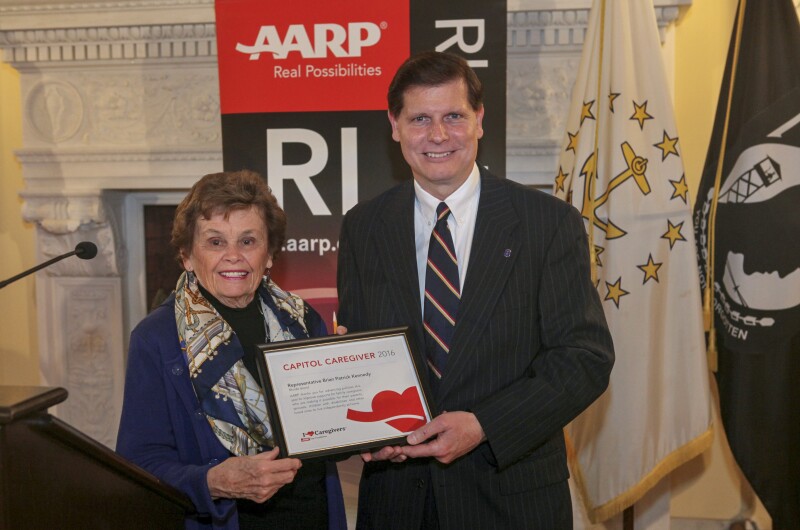 Rep. Kennedy is recognized for his sponsorship of the Telemedicine Coverage Act, which paves the way to easier access to the medical help that caregivers need while at the same time letting doctors dispense proper medical assistance, through the use of technology, without leaving their location.

The Act will allow doctors and patients to use technology, where appropriate, to see and talk to each other even though the patient is not in the doctor's office. Telemedicine can be another tool that a doctor can use to help patients to stay healthy, recover from illness, or continue to live in the best way that is medically possible.

Telemedicine holds the promise of allowing all of us to get help for ourselves and our loved ones in ways that we have not been able to in the past.

Family caregivers carry a huge responsibility. According to AARP's Public Policy Institute, at any time during the year, an estimated 148,000 Rhode Island caregivers step up to provide 142 million hours of care for an aging parent or loved one, helping them to live independently in their own homes. Based on this 2009 data, the care that these family caregivers provide is valued at nearly $1.9 billion per year.

They help with bathing and dressing, meal preparation, managing finances, transportation, grocery shopping and more. Today, many family caregivers even perform medical tasks like wound care, injections, and complex medication management.

"Family caregivers are the backbone of Rhode Island's care system," added Connell. "And they need our support. And a very important component of meeting their needs stems from legislative leaders who seize the opportunity to make a difference."


#AARPRI
Rep. McNamara, Sen. Felag join AARP
in announcing introduction of Livable Home Tax Credit Act
STATE HOUSE — Rep. Joseph M. McNamara (D-Dist. 19, Warwick, Cranston) and Sen. Walter S. Felag Jr. (D-Dist. 10, Bristol, Tiverton, Warren) joined with representatives of AARP Rhode Island at the State House today to announce the introduction of the Rhode Island Livable Home Tax Credit Act.

The legislation ( 2017-H 5778/ 2017-S 0477) would provide a tax credit against the state's personal income tax for taxpayers who purchase new residences or retrofit residences which meet or are modified to meet standards that make the residences more accessible for elderly and disabled persons.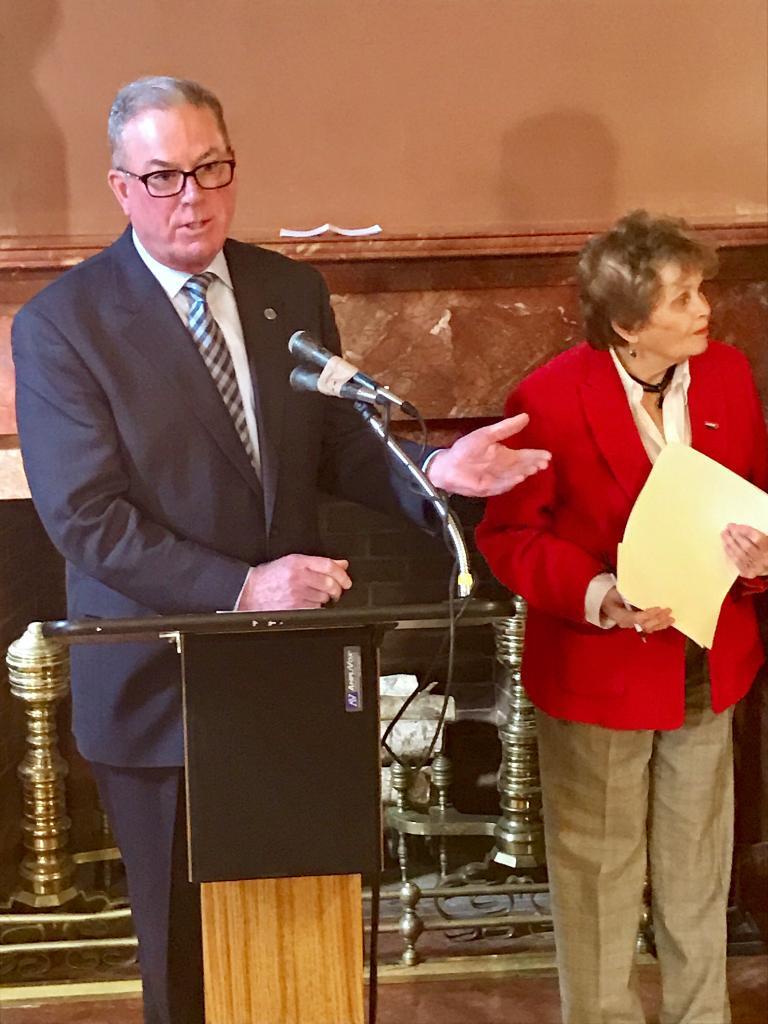 "As Rhode Island's population ages, it's important for us to do what we can to ease the burden of those who have shouldered the burden all their lives," said Representative McNamara. "From building our country to fighting our wars, senior citizens have made the investment in time, money and untiring devotion to their families, their employers and their country. The least we can do is to make things a little easier at tax time and by helping to accommodate their needs in their later years."

The act is aimed at helping Rhode Island's aging population stay safely in their homes longer rather than overburdening the state's nursing homes, which costs taxpayers millions of dollars each year in Medicaid costs. With the state's aging population rising each year, there is a distinct need for housing that is safe and adapted to the needs of the elderly.


"The elderly and disabled population in our state have specific needs within their homes that can unfortunately be extremely expensive for themselves and their caregivers. This tax credit would help alleviate the costs to keep our aging and disabled populations in their homes and communities while also saving the state's taxpayers millions of dollars in nursing home Medicaid costs," said Senator Felag.

The tax credit would apply for family members and caregivers who spend thousands of dollars out of pocket to care for and adapt existing homes for elderly family members. Adaptations to homes that would qualify pertain to fixes that would help reduce elderly falls within the home and other changes that would keep the elderly and disabled in their communities for longer periods of time.

"AARP works hard to support caregivers, and the family and loved ones they care for," said AARP Rhode Island State Director Kathleen Connell. "The General Assembly has a track record of sharing this responsibility and demonstrated its commitment with passage of Paid Family Leave and Uniform Guardianship legislation, the CARE Act, implemented just this month, and other key legislation. We believe the Livable Homes bill will win wide support among lawmakers and, upon passage, add to the Assembly's legacy of helping caregivers and their families.

"A recent AARP Public Policy Institute study found that, nationally, 68 percent of family caregivers say they have to use their own money to help provide care to their relative. Some 39 percent said they feel financially strained," Connell added. "As costs increase, we must continue to address this challenge. As we hope to demonstrate with this bill, when we work together we can make a difference for caregiver families."

Click on the image below to watch the news conference on Capitol TV





The House version of the bill is cosponsored by Representatives Julie Casimiro (D-Dist. 31, North Kingstown, Exeter), Lauren H. Carson (D-Dist. 75, Newport), Camille F.J. Vella-Wilkinson (D-Dist. 21, Warwick) and Joseph J. Solomon Jr. (D-Dist. 22, Warwick)

The Senate version of the bill is cosponsored by Sen. Michael J. McCaffrey (D-Dist. 29, Warwick), Sen. Joshua Miller (D-Dist. 28, Cranston, Providence), Sen. Paul V. Jabour (D-Dist. 5, Providence) and Majority Whip Maryellen Goodwin (D-Dist. 1, Providence).



AARP Honors "Capitol Caregivers" at State House Presentations
To recognize their work to support family caregivers in Rhode Island, AARP names Senate President Teresa Paiva, Weed House Speaker Nicholas A. Mattiello, Senators Gayle L. Goldin and Joshua Miller and Representatives Eileen S. Naughton and Joseph M. McNamara as 2015 "Capitol Caregivers," a bipartisan group from 25 states. These elected officials have advanced policies to help family caregivers who are making it possible for older Rhode Islanders to live independently at home—where they want to be. Click the image below to watch members of the House being honored.
During ceremonies in the Senate Lounge, Senate President Teresa Paiva Weed praised the CARE Act and the support and benefits it brings to caregivers and their families.





View photos from the event. 

The CARE Act, AARP's signature state caregiving advocacy effort, made a significant impact in 2015 with 16 states and Puerto Rico passing the bill, bringing the total number of CARE Act enactments to 19 since 2014. In addition, a total of 22 states are expected to engage in CARE Act efforts in 2016. So far this year, a CARE Act bill has been introduced in Nebraska and Washington, and CARE Act bills were held over from 2015 in DC, Massachusetts, Michigan, Pennsylvania, Wisconsin, the Virgin Islands, and other states.

NEW! AARP Rhode Island testifies before the General Assembly, urging passing of a Telemedicine Coverage bill which would remove barriers to accessing appropriate healthcare for patients as well as serve as a useful tool for family caregivers helping loved ones stay in their homes. Read more...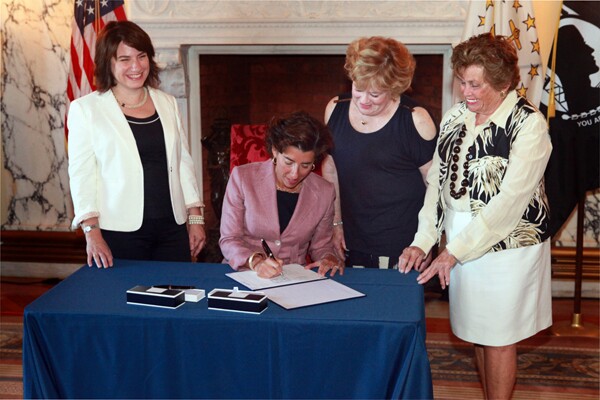 August 12, 2015, Gov. Gina Raimondo signs the CARE Act, with bill sponsors Sen. Gayle Goldin and Rep. Eileen Naughton looking on with AARP State Director Kathleen Connell.



Rhode Island Family Caregivers Provide $1.78 Billionin Unpaid Care According to AARP Study



New report reveals stress on family caregivers' healthand finances;identifies policies to help support caregivers


Family caregivers in Rhode Island provided 124 million hours of care—worth an estimated $1.78 billion —to their parents, spouses, partners, and other adult loved ones in 2013, according to AARP Public Policy Institute's new report, Valuing the Invaluable: 2015 Update. The total estimated economic value of uncompensated care provided by the nation's family caregivers surpassed total Medicaid spending ($449 billion), and nearly equaled the annual sales ($469 billion) of the four largest U.S. tech companies combined (Apple, Hewlett Packard, IBM, and Microsoft) in 2013. Read our news release...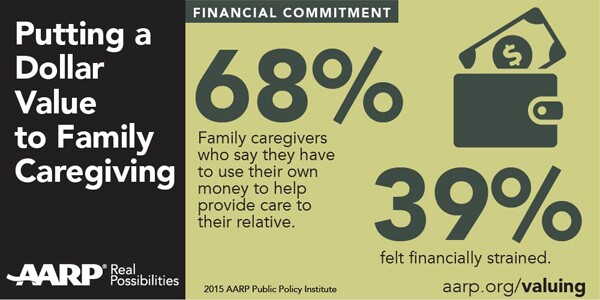 Click to get started




WE DID IT: The General Assembly passes the CARE Act!


"We are delighted that – upon the CARE Act becoming law – Rhode Island will join 12 other states that have enacted CARE Act legislation, with bills in three other states awaiting their respective Governor's signatures," said AARP State Director Kathleen Connell.

After winning approval earlier in the Senate, the Act was unanimously passed by the House on June 10. Governor Gina Raimondo signed the bill into law on June 19.

"Together, AARP worked with a strong coalition of stakeholders, as well as the House and Senate sponsors, Representative Eileen Naughton, and Senator Gayle Goldin, and the members of the House's Health, Education and Welfare Committee and the Senate's Health and Human Services Committee," Connell said.



"The passage of the CARE Act dovetails with the release of Caregiving in the United States 2015, which presents a portrait of unpaid family caregivers today. It specifically addresses vulnerable groups of caregivers who face complex, high burden care situations. They tend to be older caregivers, who had no other option but to take on caregiving duties.



"It is sobering to conclude that in Rhode Island, with its above-average older population, we risk seeing more and more of old sick people caring for older sicker people. Clearly, that's not a good thing and it needs addressing sooner than later," Connell added.

RI Caregiving Research Report


"One thing we noticed as the CARE Act made its way through the General Assembly was that a number of lawmakers shared their own personal caregiving stories. Some issues are harder to personally identify with than others, but when it comes to caregiving, it's good to know we have this kind of attention. The report adds data and statistics that should help frame solutions."