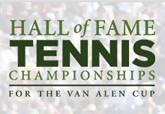 Join Us For AARP Day and Throughout
International Tennis Hall of Fame Tournament Week

Attend the "Life Reimagined" Hall of Fame panel discussion



PROVIDENCE – If tennis is, as the International Tennis Hall of Fame says, "The sport for a lifetime," it makes sense that AARP Rhode Island sees associating with tennis as an opportunity to encourage people to stay at the very top of their game.

An official Hall of Fame Championships sponsor, AARP Rhode Island is busy planning to deliver the message that the organization is a resource for people who want to stay fit in a variety of ways, make self-satisfying moves and continue to enjoy active, healthy and productive lives. AARP will be in Newport July 7-13 with a booth and more.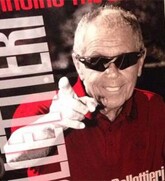 On Friday, July 11, AARP Day activities will include a free 50+ tennis clinic led by legendary coach Nick Bollettieri, followed by a book signing and Q&A session. Life Reimagined is the theme of a planned Friday panel discussion.

Like you, Hall of Fame tennis champions reach a "What's Next?" moment. AARP's "Life Reimagined invites you to attend a panel discussion featuring two members of the Hall of Fame and an AARP Rhode Island member who has made tennis a big part of his retirement. Take a break and join us in the air-conditioned comfort of the Hall of Fame Theater. (You must be a tournament ticket-holder to attend.)

When: Friday, July 11
When: 2 p.m.
Where: Tennis Hall of Fame Theater

The Panel:

Tennis coaching legend Nick Bollettieri
Twelve-time Grand Slam doubles champion Owen Davidson
Charles Dress, Warwick RI, retired HR executive
AARPRI
Hosted by Barbara Hannah Grufferman ("The Best of Everything After 50") with an introduction by Todd Martin, a former pro whose "What Next?" this year is his new job as Executive Director of the Tennis Hall of Fame.

THE NICK BOLLETTIERI TENNIS CLINIC IS SOLD OUT The Tennis Hall of Fame is taking ONLY waiting list RSVPs at this time. Call 401-849-6053.

Leading the AARP Rhode Island effort is an AARP Tennis Week Committee chaired by Jamestown's Phil Zarlengo that includes Charles Norman (Jamestown); Ruth Thumbtzen, Barbara Peters (Newport); Marie Kerr, Paula Silvia (Middletown); Charles Dress (Warwick) and Ruth Bucci (North Providence).

"We are extremely excited about the sponsorship, and the committee already is generating many fabulous ideas," said AARP Rhode Island State Director and Middletown resident Kathleen Connell. She says AARP will have staff and volunteers on hand from Monday, July 7 through the tournament finals on Sunday, July 13, stationed at an AARP Life Reimagined booth, answering questions and distributing copies of AARP Magazine and other materials.

"We also are pleased to announce a new AARP member benefit -- a year-round discount for AARP members who visit the International Tennis Hall of Fame Museum," Connell added.

"Tournament week draws people from all across the country, a majority 50 and older," said Zarlengo, who also is immediate past-chair of AARP's national board of directors. "Many are tennis players, all are active, and hopefully each will take home with them some aspect of the 'Real Possibilities' AARP offers its members as well as having learned more about our state legislative advocacy and grassroots community work. It's a perfect fit and a splendid opportunity to showcase all that AARP Rhode Island is doing for people." AARPRI



"Whether it's a job transition, career change, starting a dream business, adapting to being an empty nester or making the switch to a retirement lifestyle, AARP Life Reimagined provides online assessment tools, guidance and resources to help people explore new opportunities, identify adaptable skills and set new goals," Connell explained. "We're looking forward to sharing Life Reimagined as well as introducing thousands of people to many other opportunities and services AARP provides."

AARPRI

Tournament Week News
International Tennis Hall of Fame Class of 2014
2014 Tournament field announced, Mahut returns to defend title
Tracy Austin, Monica Seles, Gigi Fernandez & Jill Craybas will be featured in Hall of Fame Exhibition Match

Fan Guide
Frequently Asked Questions
Parking, Travel & Lodging
Ticket Policy / Rain Policy
Guide to Grounds
Concessions
About Newport

AARPRI