Thinking of downsizing? Hoping to be near family, caregivers and community as you grow older? Accessory Dwellings Units (ADUs) are an underutilized and affordable housing option.

Get expert answers to your questions: what they are, what's involved in adding one, design concepts, the permitting process and more. Watch our ABCs of ADUs webinar.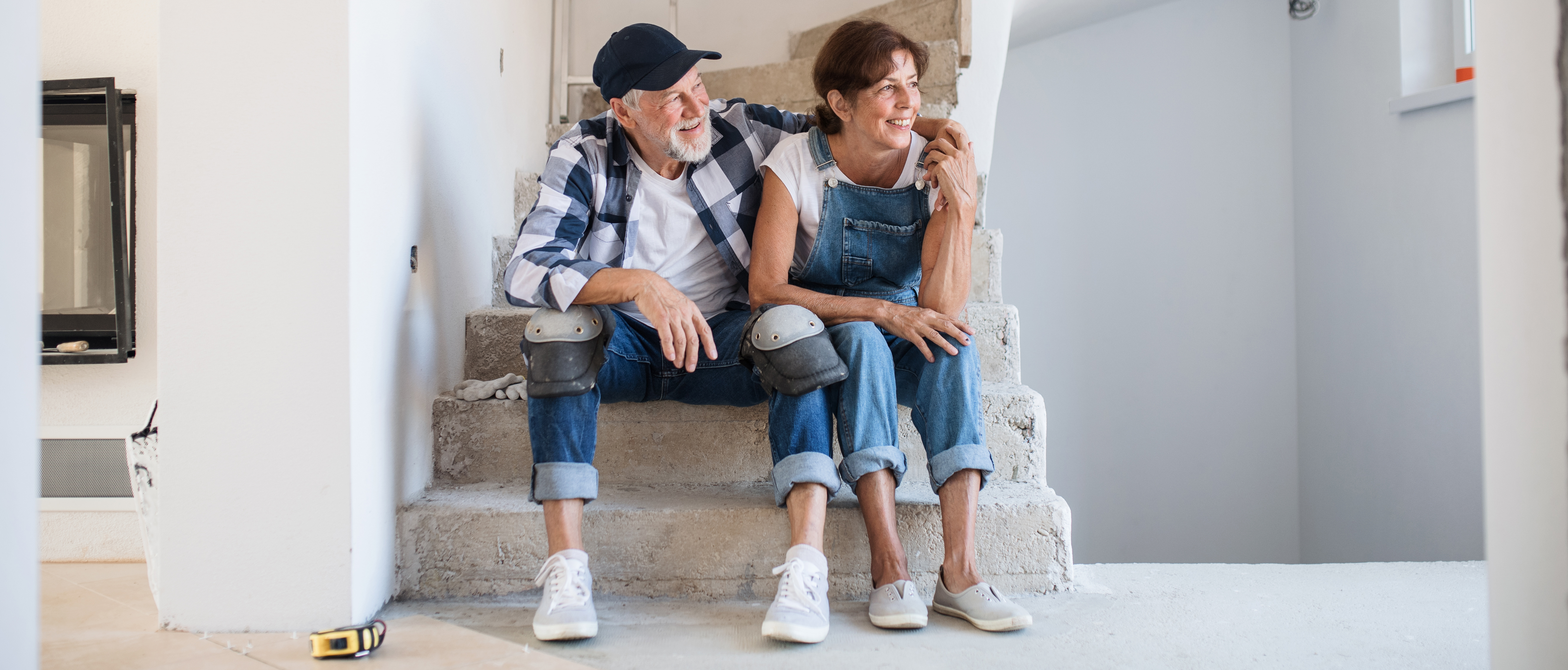 The ABCs of ADUs
By Catherine Taylor, AARP Rhode Island State Director

They are commonly known as "in-law apartments" or "granny flats." These downsized housing options, which became popular in the years following World War II, have made a comeback in recent years. Technically, and at your local zoning office, they are known as Accessory Dwelling Units – ADUs, for short.

No matter what you call them, they are urgently needed by aging Rhode Islanders and demand is certain to grow. In fact, I might be talking about your future home. Click the image below for a short tutorial.

Largely speaking, people prefer to remain in familiar communities where they have lived comfortably. But their homes, especially older homes, were designed without mobility considerations. Many have multiple levels, and many built up from street level. Or they're just too big, with too many steps and requiring exhausting upkeep of space no longer needed.

Too often, smaller homes or apartments that might better serve your needs can't be found in your community or are simply beyond your means. ADUs can fill that gap.

The people have spoken. A recent AARP Vital Voices Survey revealed that more than 54% of Rhode Islanders age 45 and older said they would consider building an ADU. In fact, 7 percent surveyed said they have already added an ADU. And a strong majority (84%) said they strongly support or somewhat support town ordinances that make it easier for property owners to create an ADU.

ADUs come in many forms you may one day consider, including a detached backyard cottage, an attached addition to an existing home with its own entrance and kitchen, as well as interior units added to a basement, the attic over a garage, or a renovated attached or detached garage converted into an apartment.

You may weigh other options. You can rent your existing home to a grown child and his or her family, and then move into an ADU on the property. An ADU can be living quarters for a live-in caregiver you may need. You may even be able to rent the ADU to anyone as a source of retirement income.

Some of these options depend on where you live in Rhode Island. That's why AARP will submit legislation to open up as many choices as possible. We believe that true Livable Communities include an array of accessible, affordable housing options that makes it easier for people to age in place.

Here's the challenge: Some Rhode Island communities apply the same regulations to ADUs as they would other homes. But other cities and towns have special rules for ADUs. Frankly, many zoning regulations are designed to discourage ADUs. Resistance comes from homeowners who worry that visible additions will create crowding, parking issues or otherwise conflict with existing aesthetics. Others are concerned that ADUs will someday revert to ordinary rental units that will change the character of their neighborhood or lower surrounding property values.

These issues can be addressed by height and size caps that require ADUs be shorter and smaller than the primary dwelling; requiring external units be behind the house and/or a minimum distance from the front curb; and imposing design standards so that external ADUs architecturally match the primary dwelling or otherwise blend with the neighborhood aesthetic.

Some communities have responded to these homeowner concerns by encouraging creation of internal ADUs, which are often unnoticed from the street. But that may not be enough. Some tough zoning regulations need to go.

The shortage of affordable, accessible, right-sized housing is a critical issue in the state that has been declared a looming crisis. The truth is it's a crisis now for too many older Rhode Islanders who wish to age in place. Maybe it is a crisis for you.

From April 2022
"Thinking Outside the Four Walls: Age-Friendly Housing Ideas for How and Where You Want to Live" drew an enthusiastic live audience. Keynote speaker Danielle Arigoni from AARP Livable Communities and a local expert panel discuss your options for aging in community in ways you choose. Catherine Taylor hosts. Watch the recording.

AARP Rhode Island State House Advocacy

Building on the new ADU laws passed during the 2022 Legislative Session, the Rhode Island General Assembly is looking to further expand access to accessory dwelling units in 2023.

AARP Rhode Island supports House Bill 6082 from Rep. June Speakman and an impending bill from Sen. Victoria Gu aimed at improving state ADU laws. The 2023 ADU bills would allow the creation of ADUs "by right" on residential lots that are 20,000 sq ft or larger as well as on lots smaller than 20,000 sq ft that fit within the footprint of an existing main or secondary dwelling.

The 2023 bills also move to regulate the use of ADUs as short-term rental units. AARP Rhode Island has once again prioritized ADUs during this legislative session and looks forward to working with both chambers to pass these important bills.



RESOURCES
GET THE GUIDE

A Step by Step Guide to Design and Development features ADU policies and projects from Austin, Texas; Denver, Colorado; Oakland, California; and Washington, D.C., this 113-page Accessory Dwelling Units design catalog contains information about financing and budgeting for an ADU project as well as visuals that show how ADUs can be easily designed to serve people of differing ages and abilities.


THE BIG PICTURE

Livable Lesson Videos: Eli Spevak on Accessory Dwelling Units

Accessory Dwelling Units: An Animated Tour

ADU Initiatives Throughout the Nation

ADUs and the AARP Community Challenge

ADUs and Family Housing Needs

ADUs Allow Homeowners to Choose Where They Live

Backyard Dwellings Get a Pandemic Push

Two Houses in One: A Home Within a Home


STATE-SPECIFIC AARP ARTICLES AND GUIDES

Illinois (Chicago): Make Room for Family

Kentucky (Lexington): Homeowner's Guide to Accessory Dwelling Units

New Hampshire: The State Says Yes to ADUs


ADDITIONAL RESOURCES

AARP Future of Housing

AccessoryDwellings.org

American Planning Association: Knowledge Base About Accessory Dwelling Units

BuildingAnADU.com