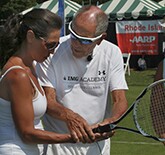 Nick Bollettieri, who has reimagined his life more than once in 82 years, taught folks at a recent AARP tennis clinic a lot about the game and a lot about living life to its fullest.

Enjoy this short video shot during Tournament Week at the International Tennis Hall of Fame, sponsored by AARP Rhode Island and Life Reimagined.

Nick, a 2014 Hall of Fame inductee, is credited with developing many of pro tennis's elite players, including Andre Agassi, Jim Courier, Monica Seles and Mary Pierce. In addition he has worked with Maria Sharapova, Daniela Hantuchová, Tommy Haas,Venus Williams, Serena Williams, Martina Hingis and Anna Kournikova and he was Boris Becker's coach for two years. He is colorful, tireless and admired as one of the great ambassadors for the sport of tennis. He also recently married -- for the eighth time -- as referenced in an introduction by Todd Martin, the former pro tour player and new head of the Hall of Fame.