Our award-winning (Best Documentary, 2013 Los Angeles International Web Series Festival) multimedia exploration of senior hunger in Providence's West End community includes an eight-part video documentary series produced, directed and narrated by AARP Rhode Island's John Martin and Web-based stories by Jody McPhillips.
Hungry in the West End, made possible by a generous grant from AARP Foundation Drive to End Hunger, is part of AARP Rhode Island's wide-ranging community engagement effort. The video series is closed-captioned in Spanish.
AARP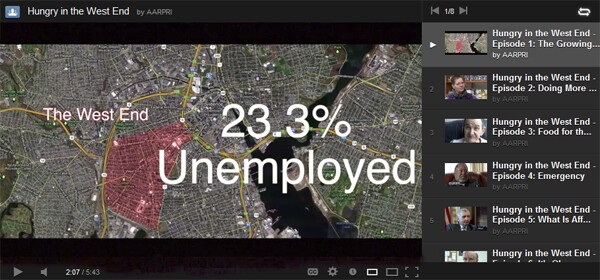 RI
Hungry in the West End

AARPRI
Episode 1: The Growing Problem
Episode 2: Doing More with Less
Episode 3: Food for the Soul
Episode 4: Emergency
Episode 5: What Is Affordable?
Episode 6: It's Okay
Episode 7: Abundance
Episode 8: "It's Good Work"
Explore Jody McPhillips' Web series
Part 1: The Problem is Simple, But Not the Solution
Part 2: Feeding People Too Ashamed to Ask for Help
Part 3: Meals on Wheels Feeds the Homebound
Part 4: Food Pantries Feed All Comers
Part 5: Food & Friendship Served Up at St. Martin de Porres
Part 6: Nutritionists Help Seniors to Eat Right
Part 7: At 88, Theresa Gives Food Stamps a Second Try
Part 8: Volunteers Serve From the Heart, Get Back More Than They Give
AARRI I
AARPR
En Espanol
Hambre en America: ¿Que podemos hacer?
AARPRI