By John Martin

I never quite loved Tom Brady.

I loved being a Patriots fan and Brady, perhaps the GOAT, deserves my gratitude. But I have had the most affection for special teams playmaker Matthew Slater and fearless receiver Julian Edelman. Who didn't love, however briefly, Super Bowl goal-line hero Malcolm Butler? And, oh, let us not forget Vince Wilfork. Or Tedy Bruscki. Guys you'd love to sit down with for a cold one.

I admired Brady, but I always had the feeling if I ran into him he might glance at his Rolex and, faster than you can say "Sam Adams," politely say, smiling warmly, "Hey, nice to meet you but I need to get back to studying game films because, you know, I'm Tom Brady."

When he shipped out to Tampa Bay I was okay with that. Nice knowing you, Tom. Toodle-loo, TB12.

Except…okay I'll watch his first game. Ha. Drew Brees and the Saints pirated Brady's Buccaneers debut 34-23.

Since then, Brady has been racking up wins. And I have not missed a game.

Why is that?

Let me step back. What makes a sports hero? Record-breaking, winning performances. Late-game magic. Chiseled good looks. Sportsmanship. Multiple championships.

Brady has all those qualities. But he also is 43 and I have to love that.

Working for AARP for a decade now, I have an enlightened take on aging. It's my job to, as we say, Disrupt Aging. As I myself age. As I have talked the talk I have been steadily walking the (aging) walk. Distinctively silver-haired, I wait to cross a busy street and drivers stop to wave me on. I hate that. I shouldn't. But I do. I could dash across Orms Street like Cam Newton slicing through the line and dodging hapless linebackers.

If I wanted to. Whippersnappers and their misplaced courtesies. Thanks just the same.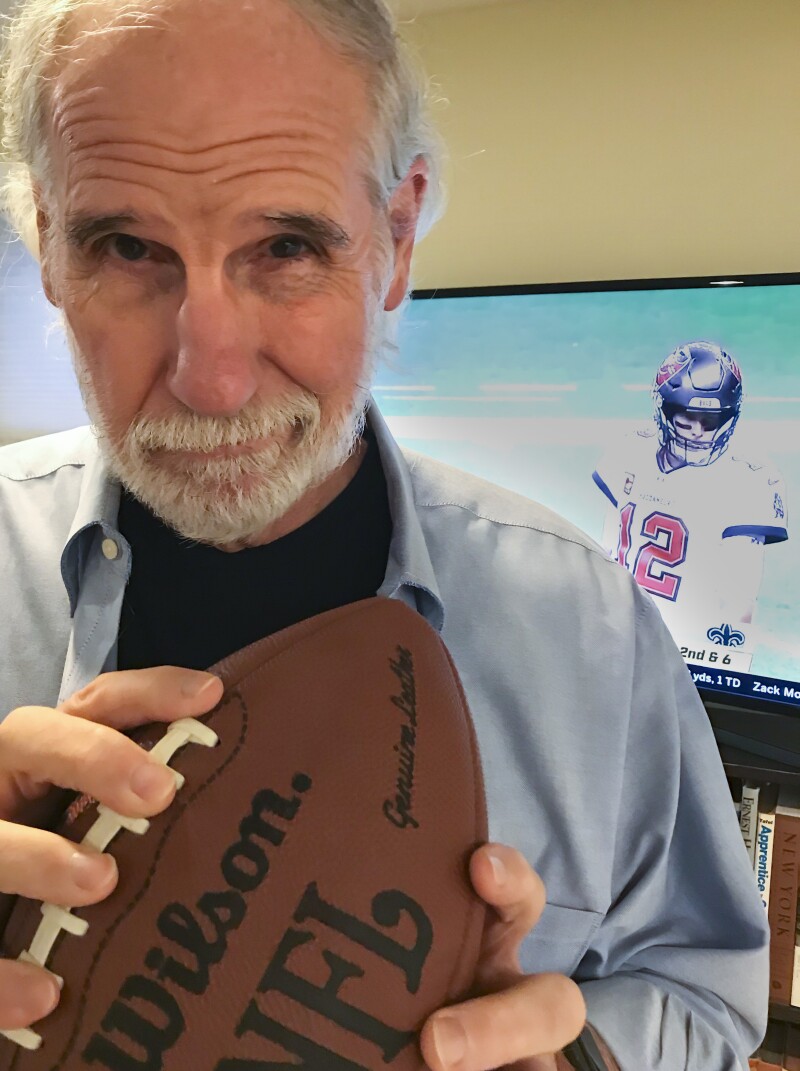 The Walter Mitty in me as always wanted to be a Super Bowl hero, if not winner of a World Series or a US Open.

Now I have settled on just being like Tom Brady. I want to stay in the game, remaining as fit and sharp and fundamentally healthy as I can be for as long as I can. Egotistically, I want to always look better than younger men. Realistically, I want a life that that is better than one otherwise diminished by neglecting a healthy diet, regular exercise and preventative healthcare. I have chosen to avoid a life dampened by inactivity or dimmed by isolation.

I have made big lifestyle changes in the past few years and they are paying off. I have promised myself not to rest, but to try harder. As they say in Foxborough if I do my job, I put myself in a position to win.

These are not aspirations to defeat "old age" as society defines it. It is simply to expand the number of my great years left – an extra season or two, hopefully many more, before I hang up my spikes.

Ageless heroes, by the way, are all around us. They are members of your family, they are in your office, they live on your street. You can spot them at the gym. They are on the tennis courts and softball fields. They light up senior centers. They are among energetic volunteers. Many are leaders in their fields and leaders in their communities. Some have broken records you don't know about.

Each one of these heroes deserves our respect and our admiration.

And that, I suppose, is why I am still watching Brady. Fair to say it's not to see whether he wins or losses, only how he plays the game. For as long as he can for as long as he wants.

I want to see him blow by limits arbitrarily defined by age. I have to watch Tom Brady Disrupt Aging.

John Martin is Communications Director at AARP Rhode Island.