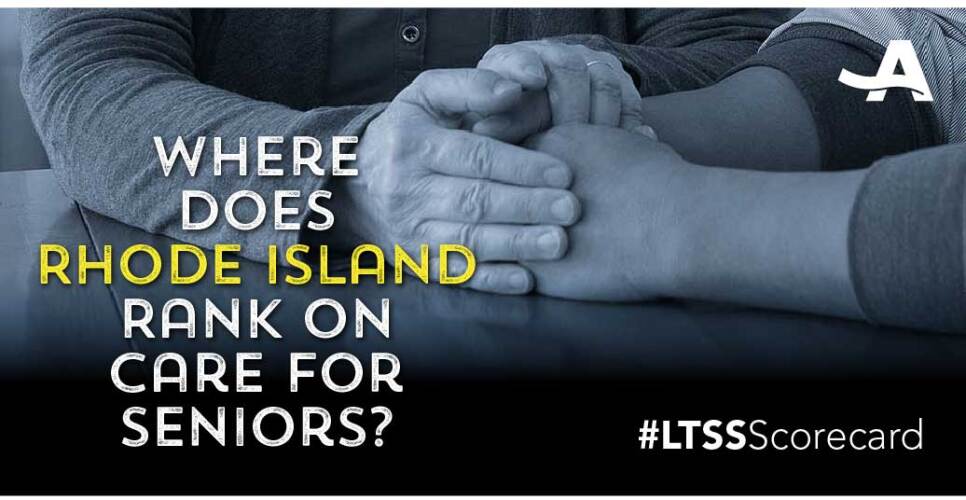 By Catherine Taylor
AARP Rhode Island State Director

AARP's 2023 Long-Term Services and Supports (LTSS) Scorecard finds that more than three years after the COVID-19 pandemic began, care provided in the United States for older adults and people with disabilities is painfully inadequate.

Ranking 12th overall in the country, Rhode Island has made some progress to improve care options for older adults, including enrollment in the Program of All-Inclusive Care for the Elderly (PACE), as well as the availability of Adult Day Services.

However, the report finds that major gaps persist in every state, including Rhode Island, especially related to Housing for Older Adults, Home Care Costs and Home Health Aide Supply.

In fact, the Scorecard comes down especially hard on where we stand on housing choices for older Rhode Islanders. The number jumps off the page.

The pandemic reinforced the need to strengthen long-term care for countless loved ones across the country, including here in Rhode Island. AARP's Scorecard shows that there are many roads to meet the needs of all Rhode Islanders who deserve the very best care, including the 121,000 family caregivers in our state. The overwhelming majority -- 87% -- of Rhode Islanders age 45+ would prefer to receive care for themselves or loved ones at home with caregiver assistance. Yet, our low rankings in Housing for Older Adults (51st), Home Care Costs (43rd) and Home Health Aide Supply (41st) underscore how difficult it is for them to age the way they choose. It's time to accelerate our efforts, for the sake of saving more lives.

Rhode Island's dismal ranking for Housing for Older Adults – dead last in the country – points to the urgent need to increase the supply of affordable, accessible housing. We can do that by passing legislation early in 2024 to strengthen homeowners' ability to build an accessory dwelling unit (ADU) to allow them to age in place, support a family member, or house a caregiver. This legislation is a top AARP Rhode Island State House priority. Expanding housing options for older Rhode Islanders cannot wait.

Here are other key findings from the report and where Rhode Island stands:

Twelve states, including Rhode Island, have enacted paid family leave laws and eighteen states have paid sick-day laws, which can be used for caregiving. Only six states provide a tax credit for family caregivers' out-of-pocket expenses. Rhode Island does not provide a tax credit.

Dozens of states experienced declines in the number of care choices that help support families managing caregiving. Rhode Island had declines of 10% or more in access to home health aides since 2019. And more than 20% of nursing home residents in Rhode Island have low needs, compared to 9% nationally.

A major workforce crisis exists in nursing home care. Across all states, wages for direct care workers are lower than wages for comparable occupations. In Rhode Island, wages are $1.79 lower than other entry level jobs. Nationally, more than half of nursing staff in nursing homes leave their job within a year (53.9% turnover rate). In Rhode Island, the rate is better than the average, at 49.3%.

There is some progress toward innovative and effective alternatives to traditional nursing home models. Ten states, including Rhode Island, made strides in nursing home innovations, such as by Green House® Nursing Home availability and policies, which includes small facilities, private rooms, and other best practices.

Although AARP's LTSS Scorecard contains some good news for Rhode Island, clearly the state of housing and homecare for older adults is at a crisis point.

AARP Rhode Island is calling on legislative leaders to take urgent action on housing options such as accessory dwelling units and bolstering the direct care workforce. Let your state representatives know that a ranking of 41st, 43rd or 51st is unacceptable.