By Cynthia J. McKinney, President, AARP Cordova Chapter No. 5449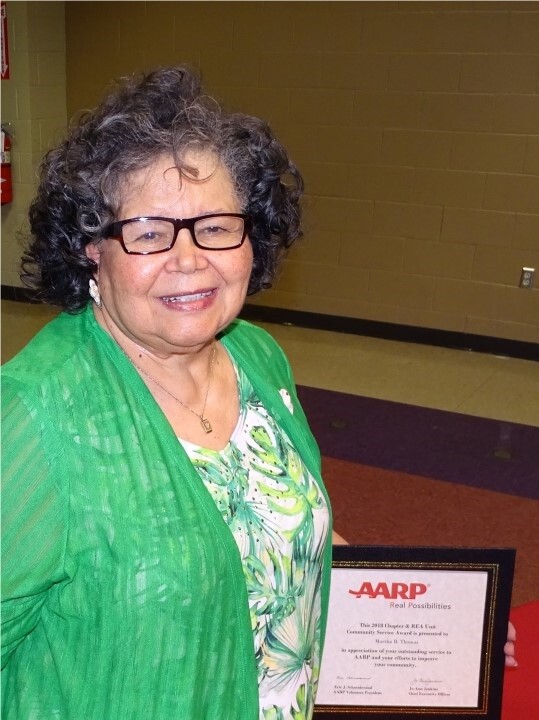 AARP Cordova Chapter recently honored member Martha B. Thomas as a 2018 Community Service Award Recipient.

It easy to understand why "the conference must go on . . ." is a mantra of Mrs. Thomas. This attitude is expected from anyone who has dedicated almost 20 years of their life to creating, nurturing and evolving a service. She was age 60 when she set out to make her vision for the Senior Conference at Oak Grove Missionary Baptist Church a reality.

Almost 20 years later, the Annual Senior Conference at Oak Grove Missionary Baptist Church has never been cancelled. Despite personal and family medical challenges, Mrs. Thomas has always made sure the conference went on. The conference has grown from 14 exhibitors and 56 participants (in 2000) to 45 exhibitors and 170 plus participants in October 2017.

The AARP Cordova Chapter nominated Mrs. Thomas for the Chapter's 2018 Community Service Award not only for her dedication and passion; but because her conference "adds value" to the lives of aging individuals.

"We agree with Mrs. Thomas; the conference must go on," said AARP Cordova Chapter President Cynthia McKinney. "It is an invaluable opportunity for seniors and their caregivers to fellowship, network and connect to professionals that care-- like doctors, financial experts and lawyers."

"Mrs. Thomas, thank you on behalf of the members of AARP Cordova Chapter, for allowing us to be a part of your vision," McKinney continued.