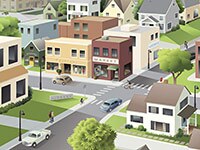 The state's population is aging, and AARP Vermont wants to help communities plan for that change. AARP is working with policymakers, developers and business people on smart approaches to housing, transportation and infrastructure improvements.

In June, AARP and the Vermont Natural Resources Council hosted a Smart Growth Summit at Champlain College. Participants "took away ideas and information that they can act upon, share with colleagues and build into their work," said Kelly Stoddard-Poor, AARP Vermont director of community outreach.

Among the recommendations: Set policies to encourage mixed use development and promote walkability, especially in rural communities.