En español | All registered voters in Washington, D.C. will be sent a mail-in ballot ahead of scheduled elections.

Essential info:
Upcoming elections: Information about the 2024 elections is available on the District elections website.
Mail-in balloting: All active registered voters will be sent a no-excuse mail-in ballot for the general election.
Early in-person voting: You can cast your ballot early and in person at least one week before Election Day at vote centers throughout the city.
Have there been recent changes to voting in Washington, D.C.?
Redistricting has redrawn some of the District's eight wards and 40 Advisory Neighborhood Councils. All registered voters are eligible to vote from home with a mail-in ballot or in person at vote centers in the city regardless of where they reside.

How do I register to vote?
Online: Use the District's online portal to register, check your registration status, or update your name, address and party affiliation.
Mail: Download an application from the Board of Elections website, print and complete it, and mail it to the D.C. Board of Elections at 1015 Half St. SE, Suite 750, Washington, DC 20003. You can also fax your application to 202-347-2648 or email a scanned version to DCRegistrations@dcboe.org.
Same-day registration is available at early vote centers during the early voting period or at polling places on Election Day. Remember to bring proof of your residence, such as your driver's license, U.S. passport or a current utility bill or paycheck. Check online for a list of acceptable IDs.

Does my party affiliation matter when I vote?
You must be affiliated with one of D.C.'s approved political parties (the D.C. Democratic Party, the D.C. Republican Party, D.C. Statehood Green Party and the D.C. Libertarian Party) to vote in primary elections. Unaffiliated voters who wish to vote in the primary can vote by special ballot if their voter registration is updated with a chosen political party up to 21 days before the primary. You can also vote in the primary if you register on Election Day and affiliate with a political party.

How can I get a mail-in ballot?
All registered voters will be mailed a no-excuse absentee ballot to vote in the Nov. 8 general election. Those who will be away from home during the election period can request a ballot be sent to a different address. Here's how to request a mail-in ballot.

By mail or phone: Download and complete a mail-in ballot request application, sign it, and return it to the D.C. Board of Elections by mail or by fax at 202-347-2648. You may also email your application as a scanned attachment to DCabsentee@dcboe.org. Call the Board of Elections office at 202-727-2525 to request that an application be mailed to you.
In person: Request a mail-in ballot at the District's Board of Elections office at 1015 Half St. SE, Suite 750, Washington, DC 20003.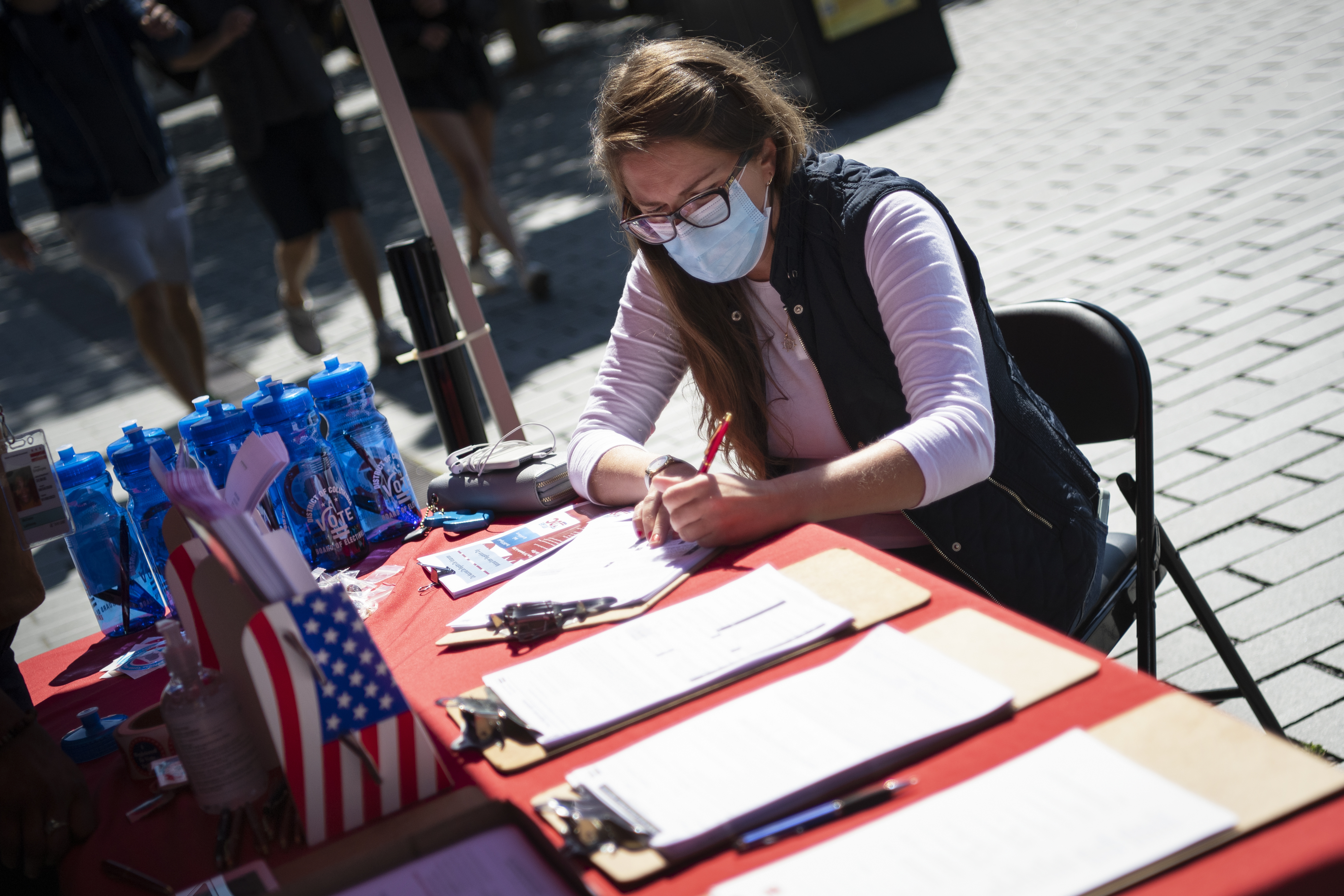 Your completed ballot must be postmarked on or before Election Day and must arrive at the D.C. Board of Elections office no later than seven days after Election Day. The deadline for in-person submission at your polling place is 8 p.m. on Election Day.

Can I track my mail-in ballot?
Yes, use the city's Board of Elections' online tracker to check the status of your ballot.

Can I vote in person before Election Day?
An updated list of early vote centers will be posted on the District's Board of Elections website as Election Day nears.

What do I need to know about voting at the polls on Election Day?
Polls and vote centers are open from 7 a.m. to 8 p.m. Search for your polling place online on D.C.'s Board of Elections website.

Do I need identification to vote at the polls?
Only if you are a first-time voter who submitted a voter registration application without one of the following documents.

Copy of a current and valid government-issued photo identification, including a D.C. driver's license or non-driver's government-issued ID
Copy of a current utility bill
Copy of a current bank statement, government check or paycheck
Any other government-issued document that includes your name and address
Editor's note: This guide was updated on Nov. 28, 2022. The guide was first published on Aug. 3, 2020.

Also of Interest