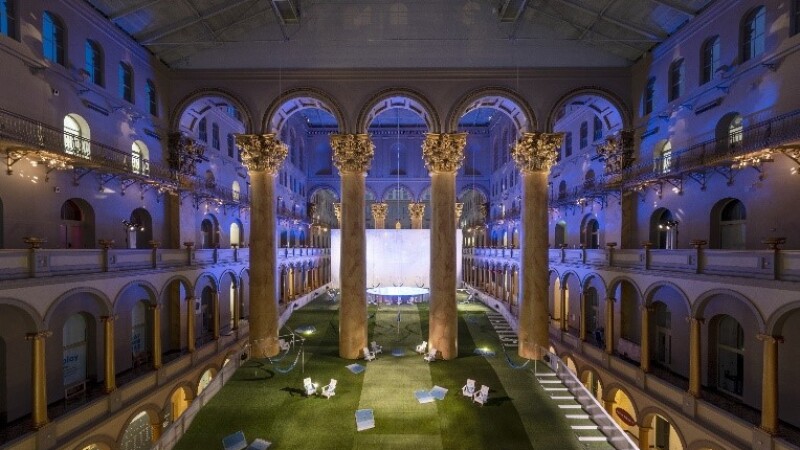 Local AARP Member Discount
AARP is proud to co-present Lawn, an immersive installation at the National Building Museum now through September 2, 2019.
AARP members are eligible for a discount to Lawn. The installation includes a large faux grass area with lots of lounge areas, as well as a variety of interactive experiences such as lawn games fun for all ages!
Admission to the exhibit is $10 for AARP Members with ID (limit one per person), but regularly $16 for Adults, and $13 for Senior (ages 60+).
For more information, visit nbm.org/exhibition/lawn/
Free AARP Movies for Grownups Screenings
On August 1st and August 29th, AARP will be host Movies for Grownups screenings of select films at Lawn. Tickets for the movie nights are FREE, but registration is required!
Event Details

Time: Doors open at 7:00 PM; Movies start at 8:00 PM
Location: The National Building Museum, 401 F Street NW, Washington, DC 20001 (This is an indoor event)
Note: Guests may bring their own folding chairs. The installation includes some seating and the museum will also have blankets available for those who want to stretch out. Outside food and drink are not permitted. There will be snacks available for purchase.
Movies
Thursday, August 1, 2019 - My Girl
My Girl eleven-year-old Vada's world is turned upside down when her widowed mortician father Harry decides to marry cosmetologist Shelly. Vada is a small-town tomboy who spends most of her time playing with her best friend, and worrying that she has contracted the ailments of her father's most recent customers. (Rated PG for thematic elements. Audio assistance is unavailable for this screening.)
Register here: https://aarp.cvent.com/MyGirl_Lawn
Thursday, August 29, 2019 – The Goonies
The Goonies plunges a band of small heroes into a swashbuckling surprise-around-every corner quest beyond their wildest dreams! Following a mysterious treasure map into a spectacular underground realm of twisting passages, outrageous booby-traps and a long-lost pirate ship full of golden doubloons, the kids race to stay one step ahead of a family of bumbling bad guys...and a mild-mannered monster with a face only a mother could love. (Rated PG for adult situations/language and violence. Audio assistance is unavailable for this screening.)
Register here: https://aarp.cvent.com/Goonies_Lawn