West Virginia Senate Bill 158 promotes effective transportation planning, coordination and community development in the Mountain State


CHARLESTON (March 26, 2013) — AARP West Virginia State Director Gaylene Miller today thanked members of the West Virginia Senate for advancing legislation that encourages state adoption of "Complete Streets" policies that consider the safety, mobility and accessibility for all users, including pedestrians, bicyclists and public transportation riders of all ages and abilities.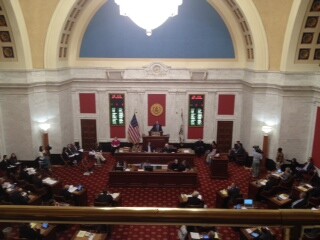 The West Virginia Senate today passed on third reading (33-0-1 vote) Senate Bill 158 (Complete Streets Act legislation), which encourages the West Virginia Division of Highways to adopt a Complete Streets approach in future transportation design and planning in the state. The legislation also creates a 16-member Complete Streets Advisory Board, responsible for making recommendations to state transportation officials for design guidance and tracking the status of Complete Streets implementation and multimodal performance indicators.
"We thank the members of West Virginia Senate – in particular, bill sponsors Sen. Bob Beach (Monongalia, District 13) and Sen. Ron Stollings (Boone, District 7), as well as Sen. Herb Snyder (Jefferson, District 16) – for their efforts to encourage the adoption of a state transportation planning mindset that will improve the livability of our communities for all transportation users," said Miller.
During the past decade, nearly 300 pedestrians and cyclists have died on West Virginia roadways as a result of injuries sustained in motor-vehicle related traffic accidents, according to data from the National Highway Traffic Safety Administration (NHTSA). Between 2000 and 2006, the total human capital costs associated with these types of motor vehicle accidents on West Virginia roadways was approximately $565 million ($80.7 million per year), based on a West Virginia University study that determined costs borne by individuals and corporations in medical costs, emergency services, property damage and lost productivity.
Statewide organizations and advocacy groups joining AARP West Virginia in support of the legislation include: American Council of Engineering Companies (ACEC, WV), Citizens Action Group, Fair Shake Network, Generation Charleston, Generation West Virginia, WV Association of Counties, WV Connecting Communities, WV Healthy Lifestyles Coalition, WV Physical Therapy Association, and WV Public Transit Association.
The bill now moves to the West Virginia House of Delegates for further consideration.
———————
AARPWV Media Contact: Tom Hunter, 304-340-4605, tphunter@aarp.org