Caregiving, consumer protections, retirement security among session goals for 50+ West Virginians
AARP West Virginia's legislative agenda for the 2014 West Virginia Legislature is focused on legislative action in the areas of caregiving, retirement security, elder abuse and consumer protections.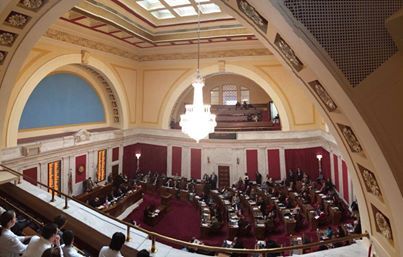 Prior to the 2014 West Virginia Legislative session, AARP West Virginia commissioned a statewide survey, which gathered opinions from West Virginians 45+ on key issues impacting older residents and their families.
AARP West Virginia staff and volunteers are maintaining a very active presence at the State Capitol throughout the 60-day session, working on behalf of nearly 300,000 members across the Mountain State. AARP is working closely with state leaders on the passage of legislation impacting West Virginians 50-plus, which includes:
Supporting Family Caregivers: One of every six West Virginians serves as a family caregiver, with these individuals providing an estimated $2.5 billion in unpaid care each year. Nationally, more than 42 million family caregivers provide an estimated $450 Billion in unpaid care annually for their loved ones. More than 70 percent of West Virginians say they currently or previously provided care for a family member or a friend. AARP is focusing on delegation of certain health maintenance tasks that could otherwise only be performed by a licensed health care professional or family caregiver; and, increased funding for respite care services.
Helping People Stay in Their Own Homes and Communities: AARP believes no one should be forced out of their home in order to receive the care or assistance they need. When asked how they preferred to receive care if they needed it, more than 90 percent of West Virginians 45-plus say they prefer to be at home with assistance. AARP supports initiatives to improve access to Home and Community Based Services (HCBS) and provide appropriate funding support for the Medicaid Aged and Disabled Waiver (ADW) program. AARP is focusing on encouraging state leaders to take advantage of new and existing opportunities to improve access to HCBS, broadening available options to include choice of setting and provider.
Enhancing Retirement Security: Two of every three West Virginians indicate that they are anxious about having enough money for retirement. In fact, 45 percent of working West Virginians don't have access to an Employer-Sponsored Retirement Plan. Nationally, AARP is advocating for innovative state-based solutions to afford more workers the opportunity for workplace retirement savings. AARP is urging West Virginia lawmakers to consider legislation to establish a Voluntary Employee Retirement Accounts (VERA) program here in the Mountain State. Aimed at private-sector employers and employees who are without a retirement plan, participation would be strictly voluntary and the Legislature would be under no obligation to appropriate funds for this program. More than 70 percent of West Virginians sampled by AARP support the establishment of such a retirement option. Working with the West Virginia Association of Retired School Employees (WVARSE), AARP is fighting to protect retirees from reduction or elimination of promised benefits, preserving access to defined benefit plans and cost of living adjustments, and limiting taxation of retirement income.
Protecting Older Americans to Secure Consumer Assets: Elder abuse and financial security continue to be issues of critical importance to older West Virginians and their families. To help safeguard older Americans, AARP supports state laws that strengthen protections against fraud, deception and unfair practices. Approximately 93 percent of West Virginians age 45 and over support increases in civil and criminal penalties for those found guilty of financial exploitation. AARP is focusing on laws that protect consumers, and provide law enforcement with the tools to prosecute and convict criminals who exploit older West Virginians.
Fighting for Consumer Savings and Protections: Home energy affordability, reliability and safety continue to be hot-button issues for West Virginians of all ages. AARP will continue its utilities advocacy in 2014, with an emphasis on safety, affordability, reliability and accessibility to basic, essential utility services in the Mountain State.


"Based on our survey of West Virginians 45-plus, it is clear that state residents are watching with great interest the activity at the State Capitol this session. West Virginians feel that it is important for services that help older adults live independently to be available in their communities, and say they are more likely to vote for a state candidate that would increase funding for home and community based services," said Gaylene Miller, AARP West Virginia state director.

"As our 2014 legislative issues survey suggests, West Virginians are broadly supportive of enhanced financial exploitation protections, caregiving services and supports, and measures to enhance retirement security. Older West Virginians have spoken, and there is a clear expectation among voters that the West Virginia Legislature take action on many of these critical issues during this legislative session," Miller said.

The 60-day regular session of the West Virginia Legislature concludes on Saturday, March 8.

---------------------------------------------

AARP WV Media Contact: Tom Hunter, 304.340.4605, tphunter@aarp.org