In connection with AARP's I Heart Caregivers initiative, AARP West Virginia will host a free screening of the 2014 major motion picture "Still Alice" 7 p.m., Tuesday, June 16, at The Metropolitan Theater, 369 High St., Morgantown.
The event is free and open to the public ; however registration is required. To register, call 844-418-2281 or RSVP online here.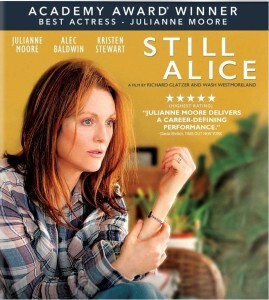 The Academy Award ®-winning film follows a linguistics professor (Best Actress Oscar ® winner Julianne Moore) diagnosed with early-onset Alzheimer's disease, and portrays how her family (Alec Baldwin, Kristin Stewart) approaches caregiving to help her through her struggle.
Sony Pictures Classics and Sony Pictures Home Entertainment are collaborating with AARP Movies for Grownups ® for this nationwide series of screenings to support the I Heart Caregivers initiative, which raises the voices of family caregivers, recognizing and supporting the 42 million Americans who help older parents, spouses and others live independently — including those who struggle with Alzheimer's and other health conditions.
The Morgantown screening event will feature a presentation about AARP's I Heart Caregivers initiative —including the opportunity for family caregivers to share their stories — and be followed by a panel discussion and audience Q&A, highlighting information and resources for caregivers available through AARP, Alzheimer's Association – West Virginia Chapter, and the Blanchette Rockefeller Neurosciences Institute. To learn more, visit www.aarp.org/iheartcaregivers.
------------------------------
AARP WV Media Contact: Tom Hunter, 304.340.4605, tphunter@aarp.org

Movies for Grownups®, which now includes weekly reviews, an award-winning radio program, an annual film festival, and year-round coverage in AARP The Magazine and online, was started in 2002 by the editors of AARP The Magazine. Additional information can be found online at www.aarp.org/movies. Academy Award® and Oscar® are registered trademarks and service marks of the Academy of Motion Picture Arts and Sciences.