AARP West Virginia staff and volunteers are maintaining a very active presence at the State Capitol throughout the 60-day regular session of the West Virginia Legislature, working on behalf of nearly 300,000 members across the Mountain State.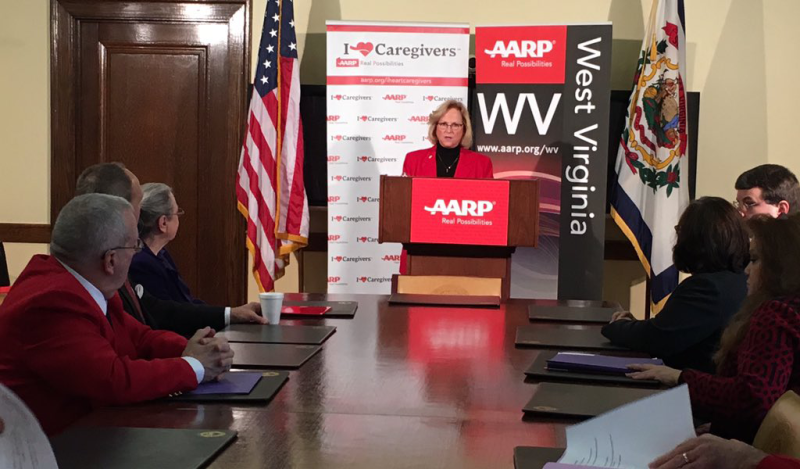 AARP West Virginia state leaders detailed the organization's legislative agenda for the 2016 West Virginia Legislature during a State Capitol news conference on Jan. 21.

"As AARP prepared for the 2016 Legislative Session, we actively engaged West Virginians for input on the issues that are most important to them. We're pleased to share the feedback gathered from this statewide discussion, as we work with lawmakers here at the State Capitol throughout the session," said Gaylene Miller, AARP West Virginia state director.

AARP West Virginia State Director Gaylene Miller was joined by Senate Majority Leader Mitch Carmichael (R-Jackson, 4th District), House of Delegates Senior Issues Committee Chair Del. Ruth Rowan (R-Hampshire, 57th District), and Del. Roger Hanshaw (R-Clay, 33rd District) for a news conference Jan. 21 at the State Capitol.

With a focus on legislative action in the areas of caregiving, broadband services and access, and financial and retirement security, AARP is working closely with state leaders on the passage of legislation impacting West Virginians 50-plus, which includes:

Supporting Family Caregivers: Approximately 300,000 family caregivers – one of every six West Virginians – provide an estimated 263 million hours of care annually to adults in need of assistance. The estimated economic value of these unpaid contributions was approximately $2.8 billion in 2013.

AARP will support family caregivers and their loved ones by advancing laws and policy changes that will expand their options for care by removing barriers that prevent Advanced Practice Registered Nurses (APRN's) from using the fullest extent of their education and training, and by increasing the number of medical tasks that can be delegated to home care workers.

"By eliminating barriers facing key primary care providers – nurse practitioners and other advanced practice registered nurses – we can improve access to health care, create a greater focus on primary and preventive care, and improve care coordination for thousands of family caregivers across the Mountain State," said Gaylene Miller, AARP West Virginia state director.

Strengthening Communities Through Broadband Development: Surveys show the vast majority of individuals want to stay in their homes for as long as possible as they age, allowing them to continue to contribute to their communities in meaningful ways. A livable community depends on affordable utilities and access to technology. Many older West Virginians live in unserved and underserved broadband areas.

Broadband can be a powerful means for addressing the needs of an aging population. It can ease access to health care services, enabling caregivers to take advantage of tele-health technologies to assist them in their caregiving role.

AARP supports consumer access to reliable and affordable service, preserving key consumer protections, and innovations to guide broadband deployment in communities across West Virginia.

Enhancing Retirement Security: AARP is fighting to protect retirees from cuts to the benefits and cost of living adjustments they earned over a lifetime of hard work, and preserve access to defined benefit plans which act as an economic engine in communities across the Mountain State. AARP also supports the fair taxation of retirement income to help ensure that retirees get to keep the income they have worked hard to earn and save.

Protecting Older West Virginians Against Fraud and Financial Exploitation: Working with the West Virginia Financial Exploitation Task Force, AARP supports state laws that strengthen protections against fraud, deception, and unfair practices; and equip consumers with the tools needed to make informed choices and to protect themselves.

"AARP is dedicated to enhancing the quality of life for all as we age so that people live with dignity and purpose and fulfill their goals and dreams. There are nearly a half-million older West Virginians – like me – whose lives and communities will be impacted by the legislative and policy decisions that will be made during this 60-day session," said AARP West Virginia State President Rich Stonestreet.

The 60-day regular session of the West Virginia Legislature concludes on Saturday, March 12.