Cavaliers' three-sport student athlete earns statewide honor
Jordan Tincher of Greenbrier West High School has been selected as the AARP West Virginia/MetroNews Scholar Athlete of the Week for the week of October 12.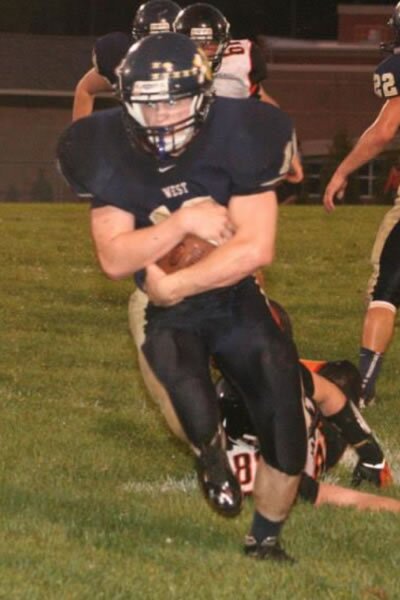 A senior, Jordan is a 4.0 g.p.a. honors student and ranked at the top of his class. He is a member of the National Honor Society and the Greenbrier County Leadership Team, and has participated in the U.S. Attorney's Office Ambassadors for Justice program. He is the son of Steven and Kimberly Tincher of Rainelle.
A two-way starter for Greenbrier West Coach Lewis McClung's Cavaliers, Jordan has been a member of three WVSSAC football playoff teams – including the school's 2013 West Virginia Class A Runner-Up team. He is a three-year member of the Cavaliers' wrestling team, helping capture the 2013 Class AA/A State Championship and earning individual Top 5 State finishes in 2012 and 2014. He is also a three-year member of the Greenbrier West track team, qualifying for the WVSSAC State Track Championships in individual and team events as a freshman, sophomore and junior.
On a community level, Jordan is actively engaged in volunteer and service activities in Greenbrier County through the Big Sewell Baptist Church and various community groups. He serves as a volunteer with the Read Aloud Program at Rainelle Elementary School, The Greenbrier Classic, and Greenbrier County Schools' Summer Technology Program. He also serves as a coach and volunteer with the Western Greenbrier Youth Wrestling program.
Following his graduation this year, Jordan plans to pursue a dual degree in electrical engineering and computer science at West Virginia University Institute of Technology.
During the 2014 Fall Sports season, one high school student athlete will be selected each week as the AARP West Virginia Scholar Athlete of the Week and recognized on the popular West Virginia MetroNews High School GameNight program, which airs 9:30 p.m. – midnight each Friday night on nearly 40 radio stations across the Mountain State .
West Virginia student athletes in Grades 11 and 12 with a minimum 3.0 grade point average are eligible for the award. Nominees should excel in one or more athletic program, and be active within their community through service and community involvement. Nomination forms may be completed online at http://wvmetronews.com/scholar-athlete-of-the-week.
------------------------------------
AARP WV Media Contact: Tom Hunter, 304.340.4605, tphunter@aarp.org