Minutemen three-sport athlete earns statewide honor

Dylan Gump of Lewis County High School has been selected as the AARP West Virginia/MetroNews Scholar Athlete of the Week for the week of October 25.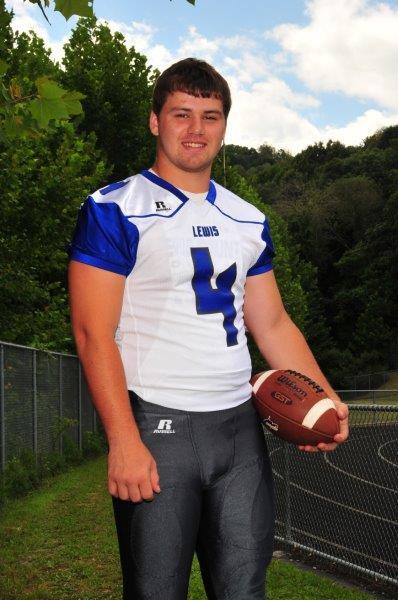 A senior, Dylan is a 3.75 g.p.a. AP Honors student. He is a member of the National Honor Society and active in Fellowship of Christian Athletes. Dylan is the son of David and Debbie Gump of Weston.
Dylan is a three-sport standout for the Minutemen. He is a starting defensive end/tight end for Coach Dustin Cogar's Lewis County football team, earning All-Big Ten Conference honors as a junior. He is a two-year starter at power forward for the LCHS varsity basketball team, and a two-time Class AAA All-State honoree and an All-Big Ten Conference honoree as a member of the Minutemen baseball team.
On a community level, Dylan is actively engaged in volunteer and service activities in Lewis County through St. Matthew United Methodist Church and his school.
He has served as a volunteer on service and mission trips, working on summer housing projects for the elderly with The Pittsburgh Project and assisting with hunger relief efforts in the Washington, D.C.-area.
Dylan also serves as a volunteer coach with Lewis County High School's "Powder Puff" football program, helping to raise awareness and funds for breast cancer research.
Following graduation, Dylan plans to pursue a pharmacy degree and hopes to continue his athletic career on the collegiate level.
During the 2015 Fall Sports season, one high school student athlete will be selected each week as the AARP West Virginia Scholar Athlete of the Week and recognized on the popular West Virginia MetroNews High School GameNight program, which airs 9:30 p.m. – midnight each Friday night on nearly 40 radio stations across the Mountain State .
West Virginia student athletes in Grades 11 and 12 with a minimum 3.0 grade point average are eligible for the award. Nominees should excel in one or more athletic program, and be active within their community through service and community involvement. Nomination forms may be completed online at http://wvmetronews.com/scholar-athlete-of-the-week.
-----------------------------------------
AARP WV Media Contact: Tom Hunter, 304.340.4605, tphunter@aarp.org