Vikings' two-sports standout receives statewide honor
Trevor Tucker of Ripley High School has been selected as the AARP West Virginia/MetroNews Scholar Athlete of the Week for the week of November 17.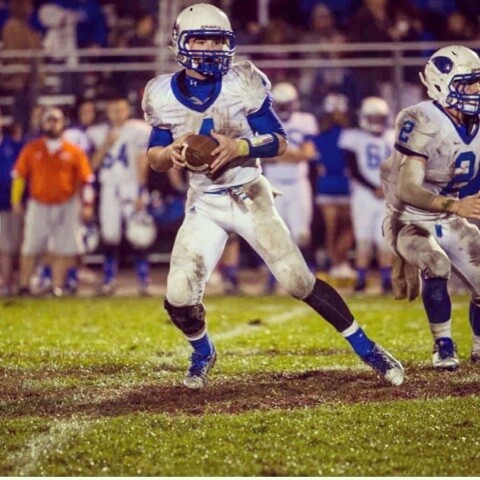 A junior, Trevor is a 4.05 g.p.a. honors student and a National Honor Society member. He has been recognized on numerous occasions as a Student of the Month, and is actively involved in Student Government, Mu Alpha Theta math honor society and History Club. He is the son of Terry and Becky Tucker of Ripley.
A leader in the classroom and on the athletic field, Tucker has excelled at the Jackson County school. Trevor rebounded from a serious knee injury that caused him to miss the 2012 football season, leading the Vikings in 2013 as the team's starting quarterback. He finished the 2013 season with more than 1,300 passing yards and nearly 1,000 rushing yards, ranking him among the Mountain State Athletic Conference offensive leaders. Trevor is also an outfielder and pitcher for Coach Shane Casto's Viking baseball team.
On a community level, Trevor is actively involved in volunteer and service activities in the Ripley area. He is actively involved in volunteer activities with his youth group at Calvary United Methodist Church, participating annually in Coat Drive, Adopt-A-Family, Food Pantry and various community charity events and activities.
Trevor is currently completing dual-credit coursework as a Ripley High student. He aspires to attend a United States Military Academy, and plans to pursue an Engineering degree.
During the 2013 Fall Sports season, one high school student athlete will be selected each week as the AARP West Virginia Scholar Athlete of the Week and recognized on the popular West Virginia MetroNews High School GameNight program, which airs on nearly 40 radio stations across the Mountain State each Friday night (9:30 - midnight) during the High School football season.
West Virginia student athletes in Grades 11 and 12 with a minimum 3.0 grade point average are eligible for the award. Nominees should excel in one or more athletic program, and be active within their community through service and community involvement. Nomination forms may be completed online at http://wvmetronews.com/scholar-athlete-of-the-week – or are available at www.aarp.org/wv.
------------------------------
AARPWV Media Contact: Tom Hunter, 304.340.4605, tphunter@aarp.org