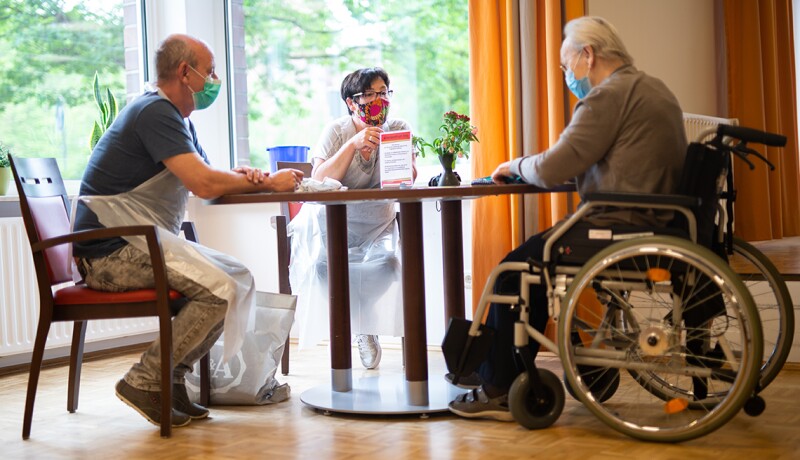 Nursing homes and other long-term care facilities have gradually reopened to visitors, allowing residents to reconnect with their loved ones after nearly two years of pandemic-related restrictions.​

Twenty months after initially recommending America's 15,000 nursing homes shut their doors to visitors to guard residents against COVID-19, the Centers for Medicare & Medicaid Services (CMS) on Nov. 12 issued new guidance suggesting facilities open visits for "all residents at all times."

Visits should be offered regardless of residents' and visitors' vaccination status — though outdoor visits are still preferred when any of the parties isn't fully vaccinated. The new guidelines also open the door for quarantined residents to accept visitors, provided those coming to the facility don't have symptoms or an active case of COVID-19.

"We are pleased that the CMS is taking a person-centered approach to expanding visitation so that residents can exercise their rights and avoid the isolation and other challenges that too many have experienced during the pandemic," said AARP's Rhonda Richards, a senior legislative representative. "But it's important to remain vigilant and follow important infection prevention measures."

CMS gradually restored visitation access in recent months as cases and deaths fell, though both ticked up again with the spread of the delta variant. The government cited widespread vaccine uptake as one reason officials believe it's safe to resume more regular visits. More than 86 percent of U.S. nursing home residents are fully vaccinated, though the rate is lower among nursing home staff.

But many states have interpreted the CMS guidelines as recommendations rather than requirements, with some states crafting their own rules. There have at times been huge differences between states and even among facilities in the same state. Some have required visitors to fill out additional paperwork, sign visitation agreements or present negative COVID-19 test results before entering the facility. State officials across the country are still weighing the latest CMS guidance.

​What kind of nursing home and long-term care visits are allowed in West Virginia?
Outdoor visits are encouraged when weather permits, but indoor visits are only allowed at facilities that have gone 14 days without an outbreak and are located in counties with low levels of COVID-19 community spread. Visitors will have their temperature taken upon arrival and must wear masks and practice physical distancing.

Where can I learn more?
See guidance from the West Virginia Department of Health and Human Resources.