During the 2015 West Virginia Legislative session, AARP West Virginia was successful in championing passage of House Bill 2100 - The Caregiver, Advise, Record, Enable (CARE) Act.

The CARE Act is a commonsense solution that supports family caregivers when their loved ones go into the hospital. The legislation requires upon hospitalization that health care facilities:

Record the name of family caregivers on the medical record of a loved one;
Inform the family caregiver when their loved one is to be discharged back home; and,
Give the family caregiver education and instruction of the medical tasks, such as medication management, injections, wound care and transfers, they will need to perform at home.


The West Virginia House of Delegates approved the legislation on a 98-o vote on February 19; the West Virginia Senate approved the bill on 33-0 vote on March 9. Governor Earl Ray Tomblin signed the CARE Act into law on March 27, 2015

Oklahoma became the first the state in the nation to make the CARE Act law last year; New Jersey followed shortly. In 2015 as caregivers across the country continue to call for support, the CARE Act has become law in four additional states: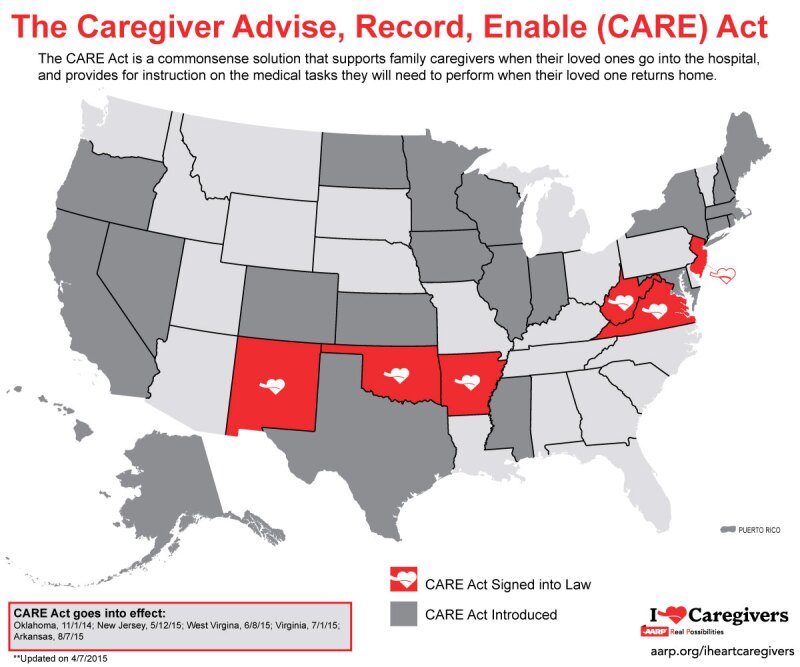 Read more about The CARE Act and its impact across the nation here: http://blog.aarp.org/2015/04/13/family-caregiver-share-stories-speak-out-for-change/