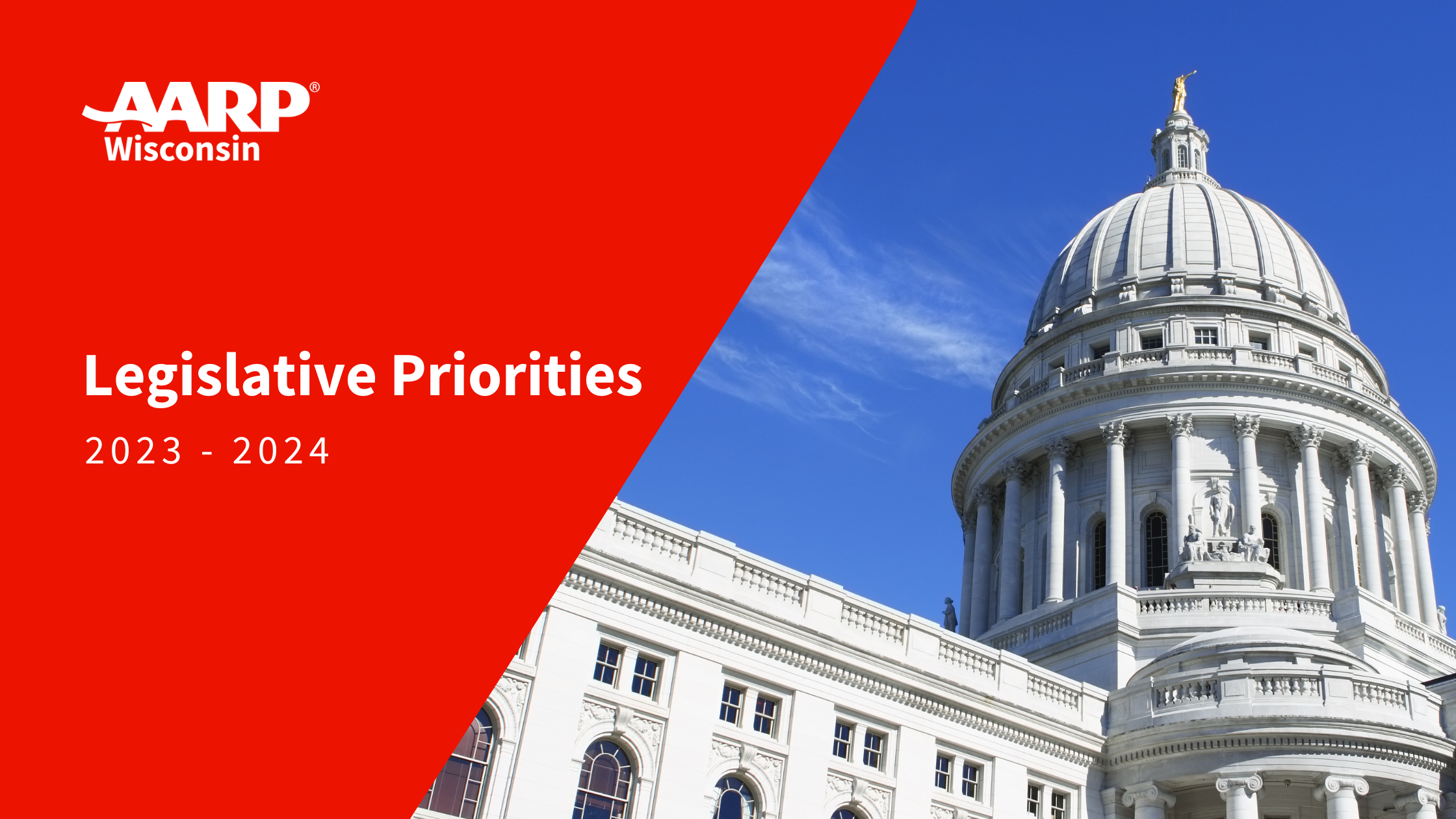 AARP Wisconsin enhances the lives of Wisconsinites 50+ through national, state and local advocacy; education, outreach and programming; and community volunteer service. Our priority issues are listed below.

If you'd like more in-depth information about our priorities, you can view this document to learn more.

If you have questions about the policy work that AARP Wisconsin does, please contact us at wistate@aarp.org.

Creating a Caregiver Tax Credit
Nearly 600,000 Wisconsinites serve as family caregivers, providing their loved ones with essential care that enables them to remain living in their own homes and communities as long as possible. However, many are unpaid and face significant strain. In fact, the average family caregiver spends about $7,000 out of pocket each year to provide this care.

AARP supports – The creation of a nonrefundable Caregiver Tax Credit that would reimburse certain family members up to $500 each for up to 50% of the expenses they incur each year related to providing care for loved ones. This would allow more freedom, flexibility, and financial relief for caregivers.

Expanding Medicaid
Close to 1.4 million Wisconsinites utilize Medicaid, totaling close to $9 billion in Medicaid benefits. It is essential that Medicaid programs are protected and expanded to best serve our population.

AARP supports – The full expansion of Medicaid to 138% of the poverty line. Accepting Medicaid expansion funds can also help improve reimbursement rates for the long-term care workforce and facilities, particularly those that provide home and community-based care.

Helping Workers Save for Retirement
Approximately half of Wisconsin's workforce does not have access to a retirement plan at work. This will leave far too many Wisconsinites struggling to make ends meet when they choose to retire.

AARP supports – Enacting a state-facilitated retirement savings option to help Wisconsinites save for the future. This basic "work-and-save" plan will enable workers to set aside a small amount of their paychecks and build nest-eggs that allows them to live their best possible lives in retirement.

Reimbursing Fraud Victims
Scams and fraud continue to be a financial threat to many older Wisconsinites. AARP wants to arm everyone with the tools they need to fight all forms of elder abuse, including financial exploitation.

AARP supports – The creation of a new Restitution Fund and the expansion of recipient eligibility. This fund would take money the government receives from fraud enforcement actions and make it available to victims of scams, who have no other means to recoup their lost money.

Strengthening Broadband
High-speed internet has become the technological foundation of modern society, yet 15% of people age 50-plus do not have access to it, and 60% of that population say the high cost of broadband is also an issue. Strong internet is critically important to all segments of society and in many cases - such as preventing social isolation or providing access to telehealth services - can be lifesaving.

AARP supports – Investments that will improve high-speed internet services and broadband infrastructure throughout Wisconsin by addressing key barriers such as affordability, accessibility, quality of service, and digital skills development.

Helping Communities be Livable for All Ages
We believe that communities should provide safe, walkable streets; age-friendly housing and transportation options; access to needed services; and opportunities for residents of all ages to participate in community life.

AARP supports – Improving the housing situation for older Wisconsinites by continuing our advocacy for the Community Reinvestment Act. We also support efforts to improve roadway safety and infrastructure and plans to improve safety and pathways for pedestrians and bicyclists.

Improving Access to Voting
AARP supports – Fair and straightforward election procedures that make it as easy as possible for Wisconsinites to exercise their right to vote.