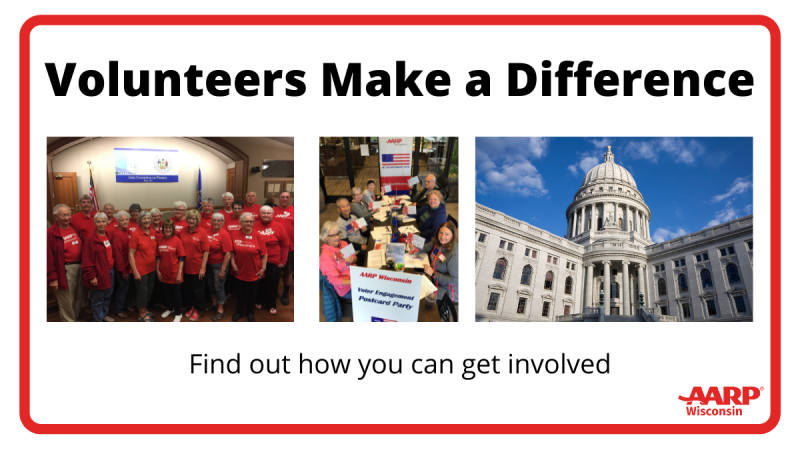 At AARP Wisconsin, we are fortunate to work with an amazing group of volunteers who bring their passion and expertise to make life better for older Wisconsinites and their families. Our volunteers come from different careers and backgrounds but they have one thing in common – they enjoy giving back to their community through AARP.

Our volunteers have advocated for legislation that would support family caregivers, bring down prescription drug prices, help people save for retirement, and protect vulnerable populations. We also helped educate older Wisconsinites on how to stay safe during the pandemic.

While our volunteers do the serious work to make a difference in the lives of older Wisconsinites, we also know how to have fun! We've hosted museum tours, trivia nights, and virtual lunch get-togethers.

We'd love to have you become part of our volunteer family. Please consider the following volunteer opportunities and CLICK HERE to indicate your interest about learning more.

Community Outreach/Table events. Do you like meeting new people? Volunteers represent AARP at legislative fairs, health & safety expos, and other community fairs and festivals across the state.

Advocacy/Legislative Visits. If you are passionate about advocating for the issues that matter most to the 50+ and their families, our volunteers make their voices heard with representatives at both the state and federal level. Whether it's making calls, visits to local legislators, or heading to the Capitol for Lobby Day, our volunteers are key in protecting older Wisconsinites.

Voter Engagement. When there are critical issues on the line in elections, AARP volunteers engage candidates and the public to make sure older voters have the information they need to make voting decisions.

Fun Events. Our volunteers want to have fun! We're looking for folks who want to host and enjoy activities like ice cream socials, happy hours, trivia nights and more.