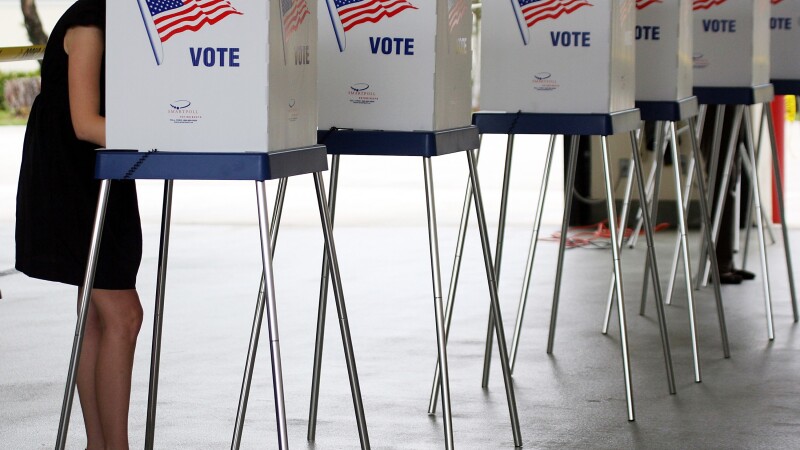 Nearly two-thirds of Wisconsin voters aged 50-plus are worried about getting the coronavirus, a sharp jump from the 53 percent who said the same a month prior, according to a new AARP Wisconsin poll that suggests concern about the virus is growing in the Badger State.

The poll, released on Thursday, shows that 92 percent of older voters who support former Vice President Joe Biden — and 37 percent of President Donald Trump's supporters — are either very or somewhat worried about contracting the coronavirus. Both groups have seen double-digit increases in COVID-19 concern since AARP first published a series of battleground state polls in mid-September.

"Any candidate who wants to win needs to talk about their plans to protect the health and financial security of 50-plus voters," Sam Wilson, director of the AARP Wisconsin state office, said in a statement.

The poll was conducted mostly after Trump was diagnosed with the virus and hospitalized over the weekend.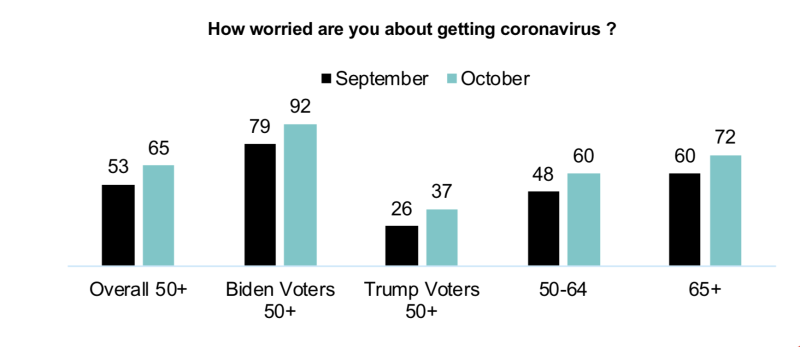 The October poll shows Biden leads Trump 49 percent to 46 percent among likely Wisconsin voters over the age of 50. Trump carries an 11-point lead among older men (52 percent to Biden's 41 percent), while Biden carries a 14 percent lead among older women (55 percent to Trump's 41 percent). Biden leads Trump 54 percent to 43 percent among likely voters over the age of 65.

Among likely voters, 51 percent trust Trump more than Biden to rebuild a U.S. economy that has cratered in recent months as the pandemic forced nonessential business closures and led to tens of millions of layoffs and furloughs nationwide. But likely voters said they trust Biden more than Trump to handle every other issue that they were asked about — including healing racial tension, protecting older Americans from the coronavirus, strengthening Social Security and protecting Medicare, looking out for middle- and working-class people, making health care more affordable and working effectively with both parties.

The poll also found a partisan split in voters' plans to cast their ballots this year. Nearly 60 percent of Biden supporters and fewer than 20 percent of Trump supporters plan to cast an absentee ballot this year. Meanwhile, just 21 percent of Biden supporters and 65 percent of Trump supporters plan to vote in person on Election Day.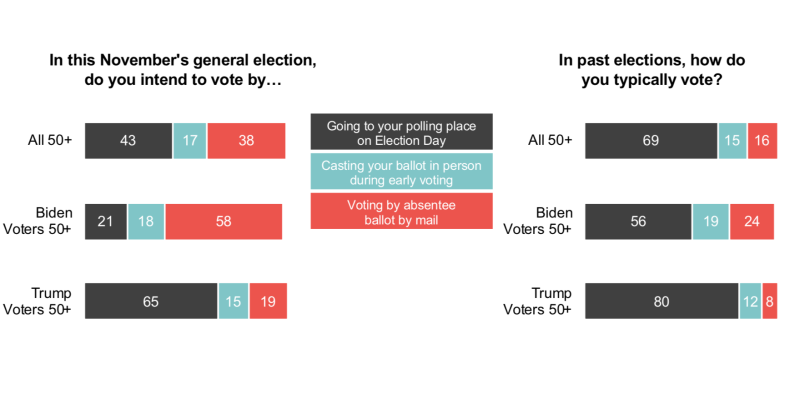 AARP Wisconsin commissioned Benenson Strategy Group to conduct telephone interviews with likely voters aged 50-plus from Oct. 1 to Oct. 5. The pollsters interviewed 658 people. The results have a margin of error of plus or minus 3.82 percent.

You can read more about the results of the poll here.

Also of Interest