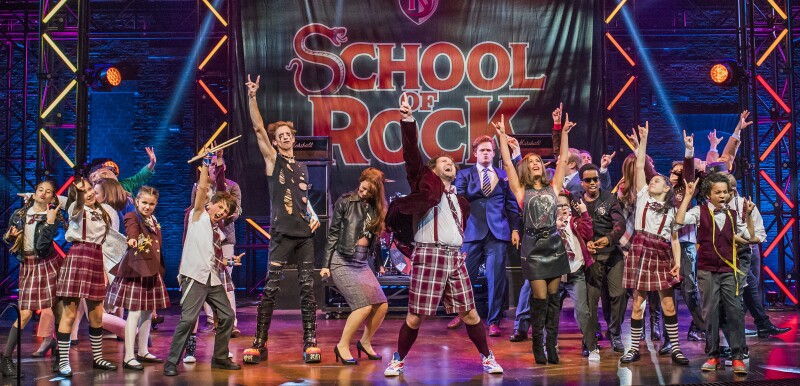 We invite you to connect with AARP Wisconsin for special discounted matinee performances of "School of Rock" for AARP members and their guests on Saturday, November 25 at 2:00 p.m. and Sunday, November 26 at 1:00 p.m., and at the Marcus Center for the Performing Arts, 929 North Water St., Milwaukee.
School of Rock is a New York Times Critics' Pick. Based on the hit film, this hilarious new musical follows Dewey Finn, a wannabe rock star posing as a substitute teacher who turns a class of straight-A students into a guitar-shredding, bass-slapping, mind-blowing rock band.
This high-octane smash features 14 new songs from Andrew Lloyd Webber, all the original songs from the movie and musical theater's first-ever kids rock band playing their instruments live on stage.
Discounted prices for these performances are as follows:
--Center Orchestra (Rows L-T) – Regular price is $89. AARP discounted price is $59.
--Side Orchestra – Regular price is $74. AARP discounted price is $49.
--Rear Orchestra and Front Loge – Regular price is $64. AARP discounted price is $34.
--Rear Loge and balcony – Regular price is $38. AARP discounted price is $28.
You can obtain your discounted tickets online at www.marcuscenter.org/mcaccess. Use the discount code FUN50 or call 414-273-7121 ext. 213. These performances are among the many ways AARP is engaging with our members in local communities across Wisconsin.
When you attend, be sure to stop by the AARP table to learn how AARP is helping Wisconsinites age 50-plus live their fullest life.
While you're at our table, be sure to pick up your free coupon for $5 off concessions at the theater that day. Please check back to www.aarp.org/wi throughout the year for discounts for live theater, sporting events, free film screenings and more.
Photo by Tristam Kenton