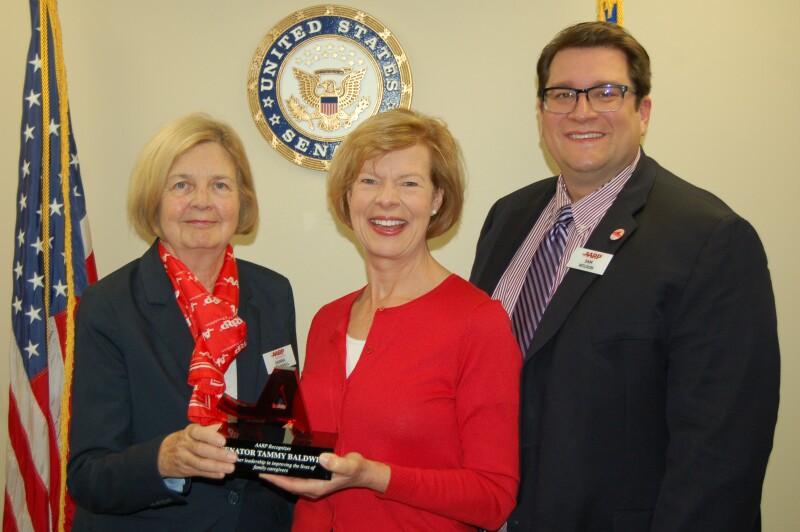 We were thrilled to meet with U.S. Senator Tammy Baldwin at her office in Madison to present her with a 2016 "Champions of the 50+" legislative leadership award for her significant achievements during the 114 th Congress that benefit the lives of those age 50-plus and their families.

We honored the Senator for improving the lives of family caregivers by sponsoring and securing unanimous passage in the Senate of the Recognize, Assist, Include, Support, and Engage (RAISE) Family Caregivers Act, which would require the development of a national strategy to support family caregivers.

Truly, the work Senator Baldwin has done to improve the lives of Wisconsin and American families as we age, and help to care for family members who are aging, will give current and future generations the opportunity to live their best lives. She has put partisanship aside to find solutions that have a substantial impact on the lives of Wisconsinites.

Senator Baldwin had some wonderful comments to share about the award and the issue of caregiving, saying…

"I am honored to receive this award from AARP and their members across the country and throughout Wisconsin This effort is especially personal to me, as I was raised by my maternal grandparents and later served as my grandmother's primary caretaker as she grew older.

"We have a shared responsibility to guarantee that everyone has access to quality, affordable health care, and the ability to live and age with support and dignity. That is why we worked on a bipartisan solution to support family caregivers with the goal of ensuring that everyone has access to the care and assistance they need.

"If we are serious about ensuring that our older adults and loved ones with disabilities receive the highest quality care in their own homes, we must formally recognize and support family caregivers as an official member of the health care and long-term care team," she said.

A group of AARP Wisconsin staff and volunteers presented the award to Senator Baldwin at her office in downtown Madison. She is pictured with AARP Wisconsin State President Donna McDowell (left) and State Director Sam Wilson (right).