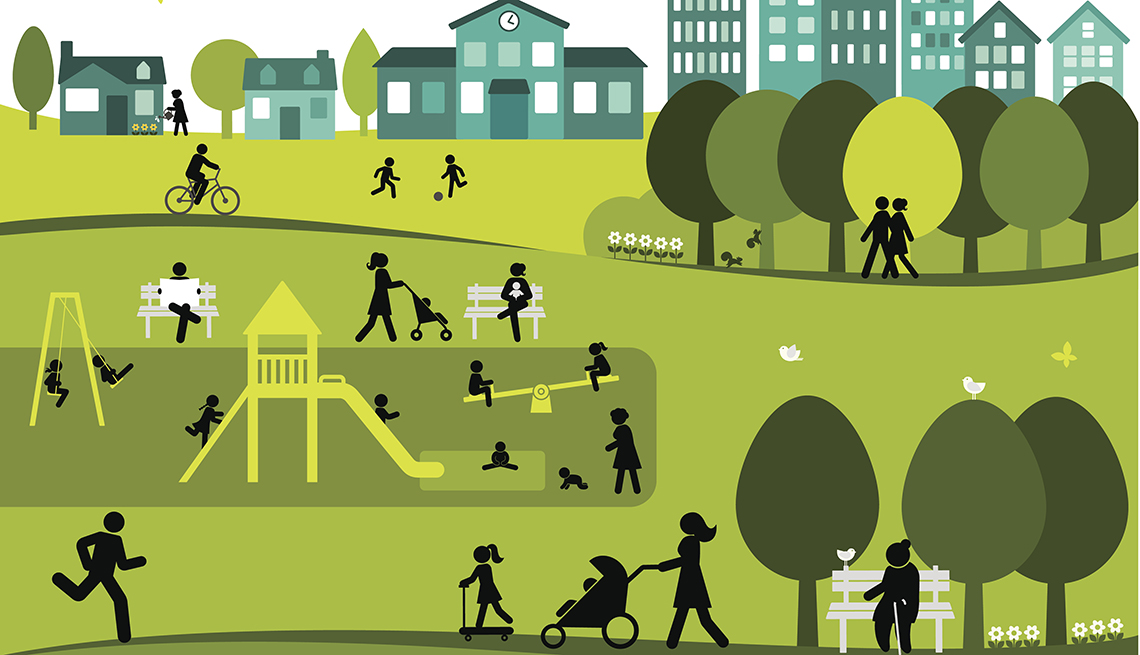 It took only a little inspiration, paint and money from AARP Wisconsin to turn an empty parking lot on Milwaukee's east side into a neighborhood patio and socially distanced gathering space.

Last summer, as the COVID-19 pandemic began reshaping community life, Elizabeth Brodek, director of the East Side Business Improvement District, was searching for ways to keep locally owned restaurants open.

The Small Dollar, Big Impact mini-grant program launched by AARP Wisconsin provided $1,000—just enough to quickly rally a dozen artists to paint picnic tables and to convert the lot to a space for socializing and dining.

The grant, combined with donations, gave each artist $500.

Rebecca Segal, a Milwaukee kindergarten teacher and artist, used her small grant to cover a table with bright geometric designs. She said the project gave a boost to neighbors of all ages.

"That was the first time I felt like a normal person since quarantine started. I hadn't laughed in a while," Segal, 34, said of the camaraderie that came about among the artists as they worked in the open air on their tables.

The Small Dollar, Big Impact program will continue to make one $1,000 grant monthly to spur grassroots projects around Wisconsin. It is hoped that can foster community life in the midst of the pandemic and groups will try out ideas that other neighborhoods can easily adopt, said Amber Miller, outreach director for AARP Wisconsin.

Transforming unused space

"We'd love to see projects with intergenerational impact that use overlooked spaces, like pocket parks," she said.

Darrin Wasniewski, another outreach director who works on the program with Miller, said, "It doesn't take a million dollars to make a difference. Here's a little bit of money to try an idea out."

Segal said the project's call for women, LGBTQ adults and artists of color helped her overcome an initial hesitation to apply.

"It really encouraged me to apply because I felt qualified in a way I hadn't before," she said.

And the project prompted family and friends to buy lunch at an adjacent restaurant just to spend time at her table.

A similar initiative transformed unused space in Beaver Dam.

In July, when the pandemic had shut down local businesses, the Beaver Dam Area Chamber of Commerce came up with the idea to convert the Slumberland Furniture store's parking lot into a drive-in movie theater.

Some funding had been provided by the city and a local company, but an AARP Wisconsin grant helped make the plan a reality, said Tracy Propst, the chamber's executive director.

The project had a total budget of $3,500, and local radio station Good Karma Broadcasting pitched in with movie-license purchases, a sound system and promotion.

The parking lot became a socially safe spot for catching classic movies like The Goonies and Jurassic Park. Residents watched from their cars, trucks and lawn chairs.

"It's a pretty big deal for a community like ours," Propst said.

Small Dollar, Big Impact grants are available to nonprofits and government entities whose concepts match AARP's goals for a more livable community.

To apply, organizations can complete a form at aarp.org/wi.

Joanne Cleaver is a writer in Portland, Maine.

More on Community Programs

What Is a Livable Community?