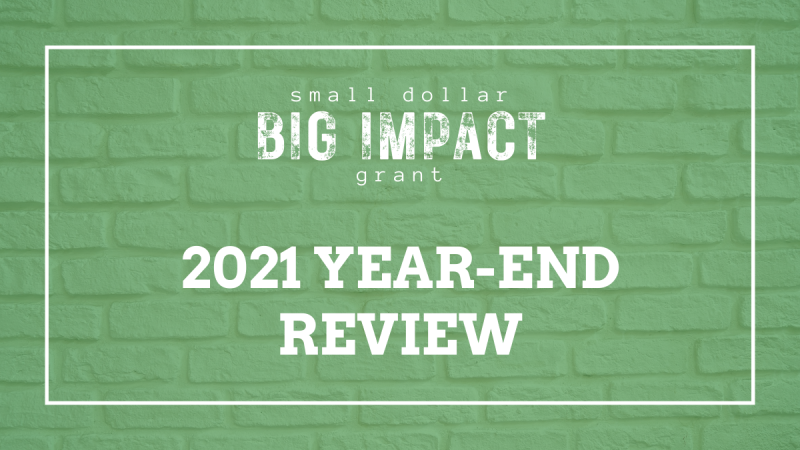 Looking back on a year of impact
Small Dollar, Big Impact grants are exactly what the name describes – simple, short-term, low-cost solutions that could have remarkable impacts on the shaping of neighborhoods and cities. Take a look back at the recipients of the SDBI grant from 2021.

To learn more about this program, visit www.aarp.org/wisdbi.

You can also view recipients from 2020 here.

Grant #1
o Darlington Ice Lounge
This proposal by the Darlington Chamber/Main Street Program will provide a fun, inviting, recreational space that will allow families and residents of all ages to spend quality time outdoors together while remaining socially distant. The grant money will help cover some of the costs associated with lighting, deck
chairs, signage, and a firepit at the lounge.

"This is a great opportunity to bring our Darlington community together at a safe yet sociable distance while enjoying our Wisconsin winters for seasons to come," Jason Funkhouser, Director of the Darlington Chamber/Main Street Program, said.

Grant #2
o Shawano Pathways
Shawano Pathways will create two new walking trails in Shawano County. One will be located along the Mountain Bay Trail, just west of Sturgeon Park, and the second will be located at Alpine Shores Park. Specifically, these areas will become G.R.A.C.E. (Grateful, Release, Acceptance, Challenge, and Embrace) Trails, which organizers say are trails meant to move people toward the life they were meant to live.

The funds will help the group create two separate meandering trails along with two small footbridges, two roofed kiosks, signage and benches. This G.R.A.C.E Trails initiative is designed to help people who might be struggling during the COVID pandemic.

Grant #3
o Downtown Janesville Dog Stations
Town Square Park in Janesville is designated as a year-round dog-friendly park, whereas other parks/trails are closed to dogs from May-September. The design committee of Downtown Janesville, Inc. plans to use the $1,000 grant to order and install two dog waste stations.

"This space is meant to be enjoyed by both residents and visitors of all ages, including dogs, and we want to make sure everyone feels welcome to this beautiful new space," Emily Arthur, Executive Director of the Business Improvement District said.

Grant #4
o Juneau "Movies in the Park"
The Juneau Parks and Recreation Department plans to use the grant money to host outdoor movies in Juneau City Park; bringing the community together and giving citizens a free fun family activity.

Shamus O'Reilly, Director of the City of Juneau Parks and Recreation Department, said the funds will help offset the startup costs of hosting outdoor movies, including obtaining the necessary equipment to get the program running and keep it free for the residents of Juneau and surrounding areas.

O'Reilly said his department strives to create programs that enhance the Juneau community. "My philosophy is a program for every person and a person in every program. To create this environment, we are always looking for new opportunities to better serve our community by offering amenities and programs that give added value to the lives of the citizens of Juneau.

Grant #5
o Eagle River Revitalization Program
The Eagle River Main Street Program will use the $1,000 grant to purchase a permanent electrical box in a downtown space so that music – including bands and DJ's – can hook up their speakers, while cart vendors can access the electrical power they need to serve refrigerated drinks.

"We're trying to create a 'third space' in an empty lot downtown where people can sit and relax for a while," said Martha Geiseman, Executive Director of the Eagle River Main Street Program. "Having power there will help us to utilize this area for events throughout the summer season and provide a beautiful winter display for the Christmas Holiday as well."

Grant #6
o Spooner Railroad Park Grills
The $1,000 grant will enable The Friends of the Railroad Park, Inc. (FORRP) to purchase and install three "Pilot Rock Heavy-Duty Jumbo Steel Park-Style Charcoal Grills" in the park, located in the heart of the historic railyard area just off downtown Spooner.

Railroad Park has been transformed by the addition of a new 36-by-48-foot railroad themed pavilion. "The park has become a very important part of our small community, hosting story hours, yoga, class reunions, memorials, wedding rehearsals, and many picnics," Terri Reiter, Secretary/Treasurer of FORRP and Chair of the Railroad Park Board (RPB) said. "The addition of the outdoor grills will provide more than a way to make meals, but an opportunity for families, local organizations, and visitors to enjoy spending time together and learning about our unique and beautiful community."

Grant #7
o Dane County Library Service Thematic Outreach Kits
The Dane County Library Service will use the $1,000 grant to update thematic outreach kits that are distributed to dozens of nursing homes, senior centers, adult day cares, assisted living and other senior living facilities throughout Dane County.

"The kits receive a lot of love and are always in need of being spruced up," said Mary Driscoll, Outreach Librarian for the Dane County Library Service. "The grant will help us keep our kits in good repair so we can provide exciting materials that help activity directors spark conversation and memories with their residents."

o Downtown La Crosse Planter Beautification Project
A proposal by Downtown Mainstreet Inc. to decorate dozens of planters in downtown La Crosse with colorful public art pieces was selected.

Currently, the 91 planters located throughout the downtown include colorful summer flowers and foliage. Using the $1,000 grant from AARP Wisconsin, Downtown Mainstreet will continue a project that calls for paying local artists for their time and materials to decorate the planters with mostly mosaic or clay pieces in an effort to add color and warmth to the downtown area.

Terry Bauer, Executive Director of Downtown Mainstreet, said the feedback from the community so far has been all positive. "They are really noticeable. People are enjoying them and rallying behind the project."


Grant #8
o Milwaukee Riverworks adding plaques to artist murals
The grant proposal is for plaques to be installed alongside artists' murals and other projects on the Beerline Trail. It was submitted by Darryl Johnson, Executive Director of the Riverworks Development Corporation, who said, "Our work is all about the community working together to improve the quality of life for everyone."

The Beerline Recreational Trail has represented unity, art and creativity for over 10 years, Johnson explained. Leaders of its development, as well as local residents, recognize the importance that the art plays through storytelling, inspiration and creative placemaking.


Grant #9
o Sauk County ADRC proposal to deliver Christmas comfort gifts to Meals on Wheels clients
Marina Wittmann, Aging Program Coordinator for the Sauk County ADRC, said
she and the rest of the staff and volunteers are "really excited to receive the grant" so they can begin the process of brainstorming some ideas for the gift bags that will be delivered to all 250 of their Meals on Wheels clients – probably a week or so before Christmas.

"The best part will be seeing the clients' faces when we make the deliveries," she said. "This shows we care about them more than just by delivering meals to them. This will bring a little joy to their lives this year."

o Eras Senior Network, Inc. to send clients info about latest COVID-19 scams
Eras Senior Network, a non-profit organization based in Waukesha County, is serving the community in many ways during the pandemic. In addition to providing supportive services like transportation to medical appointments, help with seasonal yard services, and grocery deliveries, Eras sends out information about COVID-19 scams through weekly wellness calls to seniors and adults with disabilities living in both Waukesha and Milwaukee counties.

Heather Uzowulu, Development Director for Eras, said the $1,000 grant will support a mailing to all 4,700 of Eras' clients, providing important information about COVID-19 scams that will serve as discussion topics during wellness calls. The grant should cover the entire cost of creating, printing and mailing the letters.