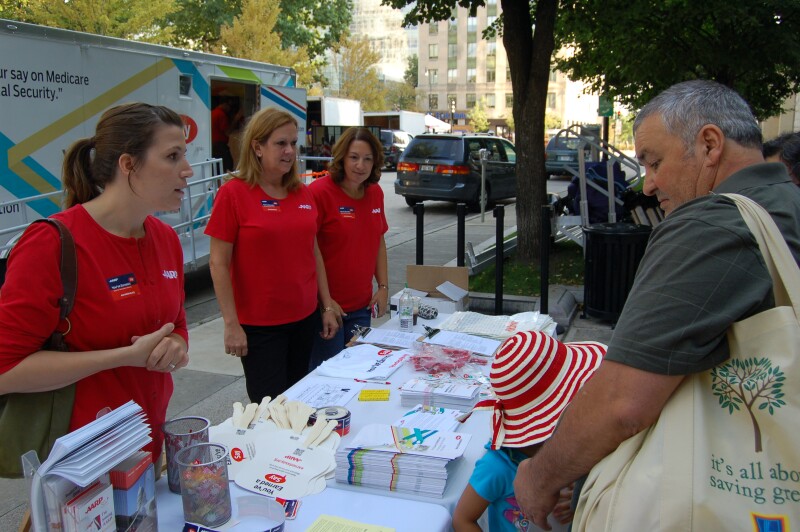 Earlier this fall, AARP Wisconsin delivered a report titled Wisconsinites Have Their Say about Medicare and Social Security to Members of Congress and all candidates who were running for congressional offices.
The report conveyed the opinions of more than 73,000 Wisconsinites who participated in You've Earned a Say – a national conversation about how to protect Social Security and Medicare for today's seniors and strengthen them for future generations.
"The reason we delivered this report was so that candidates and sitting lawmakers could hear directly from their constituents about the critical need to strengthen these vital programs," said AARP Wisconsin State Director Sam Wilson.
"Now that the election is over and all the political rhetoric has died down, we believe it is time for elected officials on both sides of the aisle to sit down together and work hard on bipartisan solutions to the challenges facing Social Security and Medicare."
Wisconsinites echoed those comments loud and clear, stressing their desire for lawmakers to work together on these programs.
"Through You've Earned a Say, we heard from citizensall across Wisconsin who told us that when it comes to Medicare and Social Security, Washington just isn't listening," Wilson said. "Our goal is to make sure our newly-elected and re-elected legislators remain true to their words and start working together."
Last spring, AARP Wisconsin launched its state You've Earned a Say effort s with a kickoff in La Crosse while other AARP state offices had similar launches in cities across the country. In the ensuing months, the Wisconsin AARP office and its 100-plus volunteers visited dozens of communities, holding community conversations, leading tele-townhall conversations, and collecting opinions from folks at festivals, farmer's markets, senior centers and other events.
"People of all ages and across party lines believe Medicare and Social Security are critical to the health and retirement security of older Americans and yet all voters were hearing from the candidates were attack ads and 30-second soundbites," Wilson said. "They told us they wanted more. They wanted to engage in meaningful discussions about the future of these programs. And that's what You've Earned a Say provided to everyone that participated."
"The President and Congress now have the opportunity to show bipartisan leadership in addressing the long-term challenges to Social Security and Medicare. Though the elections have passed, there's still time for Wisconsinites to have their say by visiting www.earnedasay.org."
Through surveys, voter's guides, debate sponsorships, and ongoing You've Earned a Say events, AARP worked hard before the election to elevate the voices of Wisconsinites and provide them with nonpartisan information about candidates' positions on issues important to our members and the general public.
"Just because the election is over does not mean we're through listening to our members or advocating for issues that benefit the 50-plus population in Wisconsin and across the country. If anything, we're just getting started," Wilson said.
To get involved in AARP Wisconsin's advocacy in your community, please call 1-866-448-3611 or visit www.aarp.org/wi