En Espanol | Alabama voters who are concerned about the coronavirus pandemic and want to avoid the polls on Election Day can safely cast their ballots from home this year:

Secretary of State John Merrill is allowing registered voters who determine that voting in person is "impossible" or "unreasonable" because of the pandemic to vote absentee instead for the November general election and for the Aug. 25 municipal elections.
"Amid coronavirus concerns, it is important to remember that Alabamians who are concerned about contracting or spreading an illness have the opportunity to avoid the polls on Election Day by casting an absentee ballot," Merrill said in a statement.
Voters should check the box labeled "I have a physical illness or infirmity which prevents my attendance at the polls. [ID REQUIRED]" on the absentee ballot application.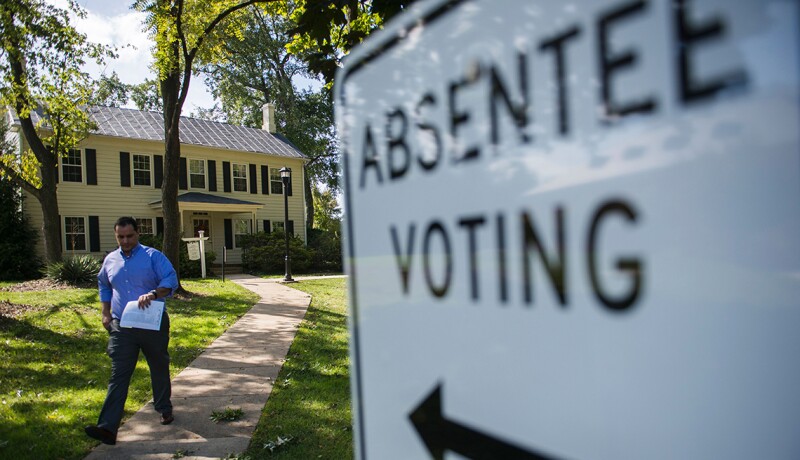 Here's what else you need to know:

How do I register to vote?

You can register online, by mail or in person. If you have a valid Alabama driver's license or a non-driver's identification card you can register online at the secretary of state's website. If you don't have either, you can download a registration application from the website and mail it to your county board of registrars. You can also call or visit your board of registrars to get a registration application. The deadline to register in time for the November general election is Oct. 19.

You can also check your registration status and update your registration information on the secretary of state's site.

How can I get an absentee ballot? Are there important deadlines?

Download an absentee ballot application to request the form or contact your county absentee election manager. The absentee ballot application must be received by Oct. 29 for the November general election. If your application is approved, the absentee election manager will mail you a ballot — or hand it to you if you're there in person. To be counted, your completed ballot must be postmarked by Nov. 2 and received by noon on Nov. 3, Election Day. If hand delivered to your county absentee election manager, it must arrive by 5 p.m. on Nov. 2.

Unless the courts rule otherwise, voters need two witnesses or a notary to sign an affidavit (sworn statement) that must be mailed along with the absentee ballot.

A lawsuit against the state, which is winding its way through the courts, accuses Alabama election officials of failing to take adequate steps to protect the fundamental right to vote during the pandemic. The plaintiffs want the state to eliminate the witness signature requirements and the voter's obligation to provide a photocopy of an acceptable ID.

The lawsuit is also asking the state to allow curbside voting. Previously, a federal judge ruled that the state could not prevent counties from setting up curbside voting in the July primary. However, the state appealed, and the U.S. Supreme Court issued a 5-4 decision blocking the lower court's ruling.

How do I know my absentee ballot is secure?

In addition to the mailing envelope, the absentee ballot is enclosed within a secrecy envelope and an affidavit envelope. Once the ballot is received, election officials will put it in a safe and secure location until Election Day. In the presence of any poll watchers, poll workers will examine the affidavits on Election Day. The secrecy envelopes containing the actual ballots are set aside to protect the identity of the voters. The ballots are later fed into a tabulating machine.

When is Election Day? When are polls open?

Tuesday, Nov. 3. Polls are open from 7 a.m. to 7 p.m.

Can I vote in person before Election Day?

Alabama has no in-person early voting. But if you apply for and receive an absentee ballot before Election Day, you can submit it any time prior to Nov. 3.

What form of identification do I need to vote?

You'll need photo ID, such as a valid Alabama driver's license, non-driver ID, or U.S. passport — a full list of acceptable IDs is on the secretary of state's website. Photo ID is required, except for service members and their spouses and dependents and U.S. citizens residing overseas.

What is being done to make polling places safe from coronavirus?

Poll workers will wear gloves and use sanitizing wipes and disinfectant spray. Hand sanitizer will be on hand for poll workers and voters. Some polling places may provide masks.

Will I be able to vote in the same place as I always have?

State election officials anticipate all 1,980 polling places will be open. Find your polling place on the secretary of state's site.

What are the key races in my state?

U.S. president
U.S. Senate: Incumbent Doug Jones (D) vs. Tommy Tuberville (R)
U.S. House: All 7 seats
There are no regular elections for state legislature this year. However, there are special elections to fill vacated seats in House districts 33 and 49.
Voting rules and procedures may change before Election Day. We'll update this story if they do, so bookmark this page and check back.

AARP is urging older Americans to ask the candidates 5 key questions:

Just over half of all older Social Security beneficiaries rely on the program for at least 50 percent of their income. If elected, how will you ensure that current and future Social Security benefits are not cut as part of deficit reduction?
Half of the people with traditional Medicare spend at least a sixth of their income on health care. If elected, how will you protect Medicare from benefit cuts, as well as lower health care costs and ensure seniors continue receiving the affordable health care they have earned?
COVID-19 has caused death and suffering for too many older Americans who require long-term care. If elected, how will you make sure seniors can access safe and affordable long-term care at home, as well as in facilities like nursing homes and assisted living?
Also of Interest