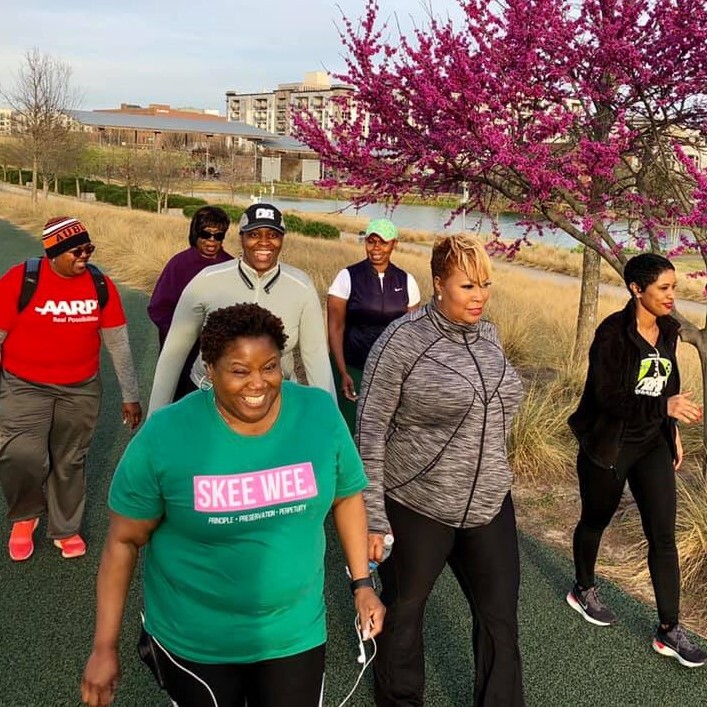 Join AARP Alabama for a new walking program at Railroad Park (1600 1st Ave S, Birmingham, AL 35233). Jerri Haslem will lead the pack as we walk our way to better health.
The group meets at the pavilion, Monday and Tuesday evenings at 6:00 PM and Thursday morning at 6:00 AM.
The self-paced walk is an opportunity to exercise and meet new people while enjoying the scenery of Railroad Park or The Rotary Trail. Join us and start making strides toward a healthier you.
Let us know if you're planning to participate. Classes are free but we do ask that you register for each date you plan to attend by clicking on the date below. You can also call 877-926-8300.



March 2019
Monday, March 18 @ 6:00 PM
Tuesday, March 19 @ 6:00 PM
Thursday, March 21 @ 6:00 AM
Monday, March 25 @ 6:00 PM
Tuesday, March 26 @ 6:00 PM
Thursday, March 28 @ 6:00 AM

April 2019
Monday, April 1 @ 6:00 PM
Tuesday, April 2 @ 6:00 PM
Thursday, April 4 @ 6:00 AM
Monday, April 8 @ 6:00 PM
Tuesday, April 9 @ 6:00 PM
Thursday, April 11 @ 6:00 AM
Monday, April 15 @ 6:00 PM
Tuesday, April 16 @ 6:00 PM
Thursday, April 18 @ 6:00 AM
Monday, April 22 @ 6:00 PM
Tuesday, April 23 @ 6:00 PM
Thursday, April 25 @ 6:00 AM
Monday, April 29 @ 6:00 PM
Tuesday, April 30 @ 6:00 PM
May 2019
Thursday, May 2 @ 6:00 AM
Monday, May 6 @ 6:00 PM
Tuesday, May 7 @ 6:00 PM
Thursday, May 9 @ 6:00 AM
Monday, May 13 @ 6:00 PM
Tuesday, May 14 @ 6:00 PM
Thursday, May 16 @ 6:00 AM
Monday, May 20 @ 6:00 PM
Tuesday, May 21 @ 6:00 PM
Thursday, May 23 @ 6:00 AM
Monday, May 27 @ 6:00 PM
Tuesday, May 28 @ 6:00 PM
Thursday, May 30 @ 6:00 AM

June 2019
Monday, June 3 @ 6:00 PM
Tuesday, June 4 @ 6:00 PM
Thursday, June 6 @ 6:00 AM
Monday, June 10 @ 6:00 PM
Tuesday, June 11 @ 6:00 PM
Thursday, June 13 @ 6:00 AM
Monday, June 17 @ 6:00 PM
Tuesday, June 18 @ 6:00 PM
Thursday, June 20 @ 6:00 AM
Monday, June 24 @ 6:00 PM
Tuesday, June 25 @ 6:00 PM
Thursday, June 27 @ 6:00 AM
July 2019
Monday, July 1 @ 6:00 PM
Tuesday, July 2 @ 6:00 PM
Thursday, July 4 @ 6:00 AM
Monday, July 8 @ 6:00 PM
Tuesday, July 9 @ 6:00 PM
Thursday, July 11 @ 6:00 AM
Monday, July 15 @ 6:00 PM
Tuesday, July 16 @ 6:00 PM
Thursday, July 18 @ 6:00 AM
Monday, July 22 @ 6:00 PM
Tuesday, July 23 @ 6:00 PM
Thursday, July 25 @ 6:00 AM
Monday, July 29 @ 6:00 PM
Tuesday, July 30 @ 6:00 PM

August 2019
Thursday, August 1 @ 6:00 AM
Monday, August 5 @ 6:00 PM
Tuesday, August 6 @ 6:00 PM
Thursday, August 8 @ 6:00 AM
Monday, August 12 @ 6:00 PM
Tuesday, August 13 @ 6:00 PM
Thursday, August 15 @ 6:00 AM
Monday, August 19 @ 6:00 PM
Tuesday, August 20 @ 6:00 PM
Thursday, August 22 @ 6:00 AM
Monday, August 26 @ 6:00 PM
Tuesday, August 27 @ 6:00 PM
Thursday, August 29 @ 6:00 AM
September 2019
Monday, September 2 @ 6:00 PM
Tuesday, September 3 @ 6:00 PM
Thursday, September 5 @ 6:00 AM
Monday, September 9 @ 6:00 PM
Tuesday, September 10 @ 6:00 PM
Thursday, September 12 @ 6:00 AM
Monday, September 16 @ 6:00 PM
Tuesday, September 17 @ 6:00 PM
Thursday, September 19 @ 6:00 AM
Monday, September 23 @ 6:00 PM
Tuesday, September 24 @ 6:00 PM
Thursday, September 26 @ 6:00 AM