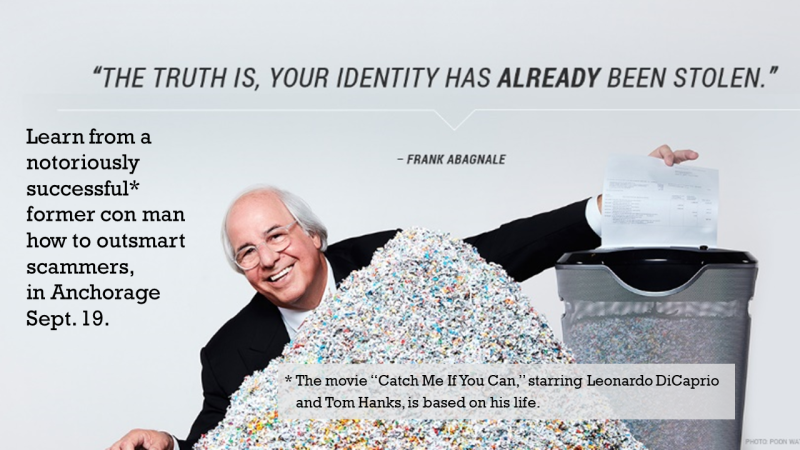 We learn best when we're entertained and engaged, so who better to share serious scam prevention tips than a master storyteller? As a teenage con man, Frank Abagnale fabricated personas of a doctor, lawyer and pilot so convincingly that he was able to travel the world and cash more than a million dollars in fraudulent checks before (spoiler alert) he was caught and did time in prisons in three countries.
You can hear him in Alaska on Sept. 19.
He reinvented himself as a security consultant, and has worked with the FBI for four decades. He is also a fraud prevention ambassador with AARP's Fraud Watch Network, traveling around the country to inform and empower the public.
Fraud continues to increase as a topic of concern for Americans, and a source of major revenue for scam organizations. Consumers reported losing $1.48 billion (with a "b" ) to fraud last year, according to the Federal Trade Commission, an increase of 38 percent over 2017.
To help Alaskans stay a step ahead, AARP Alaska is hosting Abagnale on Sept. 19 as a public service. He'll share his story (the basis for a best-selling book and a hit movie), and his insights for protecting your identity, in Anchorage from 6:30-8:30 p.m. at the Wendy Williamson auditorium on the University of Alaska Anchorage campus.
Doors open at 5:30; give yourself time to visit with consumer protection agencies who will have representatives in the lobby ahead of time.
The event is free; his advice is invaluable. Reserve your seat!
Register to see Frank Abagnale in person: https://local.aarp.org/aarp-event/aarp-ak-an-evening-with-frank-abagnale-anchorage-ak-september-19-2019-xjnqw49rcp7.html?usetown

Alaskans in the rest of the state can hear him by phone from 1:30-2:30 p.m. the same day -- watch our Facebook page events section for details on how to register in coming weeks.
And just for fun, we'll be screening the movie based on his life, "Catch Me If You Can," starring Leonardo DiCaprio as Abagnale and Tom Hanks as the FBI agent chasing him. You can catch it at 5:30 p.m. Sept. 9 at the Bear Tooth Theater in Anchorage, or 5:45 p.m. Sept. 12 at the Valley Cinema in Wasilla. Register here for the Anchorage screening: https://local.aarp.org/aarp-event/aarp-ak-catch-me-if-you-can-anchorage-ak-september-9-2019-cdnwfzsl58k.html?usetown
Register here for the Wasilla screening: https://local.aarp.org/aarp-event/aarp-ak-catch-me-if-you-can-wasilla-ak-september-12-2019-xtn4lkpsh48.html?usetown

We'll be following up on Abagnale's presentation with a shred event in Anchorage. Come dispose of outdated sensitive documents from 10:30 a.m.-1:30 p.m. Thursday, Sept. 26 in the Loussac Library parking lot. (Thank you, wonderful Loussac Library partners!)
Vital Records Control (formerly Shred Alaska) will park their trucks at the south end of the lot, towards Cuddy Family Park. You are welcome to bring up to 5 banker's boxes (approximately one large trash bag) of paper to shred. The event is free; registration is requested and will enter you in a drawing to win a home shredder.
Register here for the shred event: https://local.aarp.org/aarp-event/aarp-ak-shred-day-anchorage-ak-september-26-2019-jmnhh5twlds.html?usetown

*** Need help now? Call AARP's Fraud Watch Network, 877-908-3360, to talk to a real person, or visit the website: https://www.aarp.org/money/scams-fraud/.
You'll find helpful information on many common scams and important prevention steps you can take.***