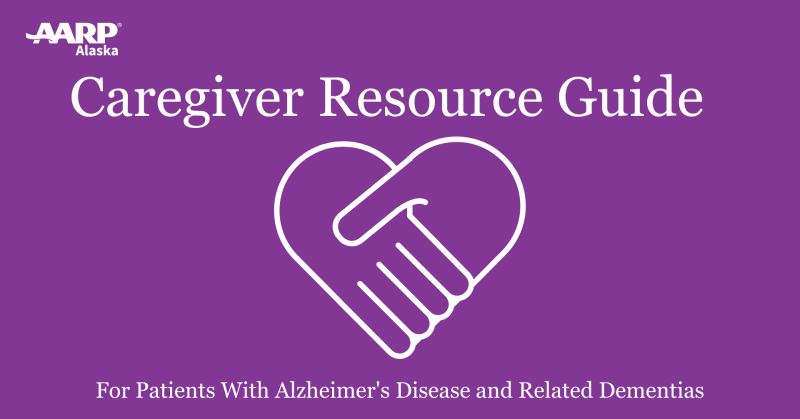 With the fastest growing senior population in the United States and over 12,500 Alaskans living with Alzheimer's disease and related dementias (ADRD) as of 2020, providing proper support for those affected is a crucial issue for our state. The Alaska Mental Health Trust has recognized ADRD as a public health priority, releasing "A Call to Action: Alaska's 10-Year Map to Address Alzheimer's Disease and Related Dementia" in January 2021 and working with Champney Consulting to create the Alaska Dementia Action Collaborative. This coalition of public and private partners is committed to preparing Alaska to support resident impacted by dementia and the many challenges this public health crisis presents. 

AARP Alaska worked with the Alaska Dementia Action Collaborative and sponsored the development of a 44-page Caregiver Resource Guide, which is available here. The guide is essential for family members, friends, neighbors, or anyone who knows and cares about someone with ADRD. Through anecdotes from Alaskan residents and professional advice, the manual outlines the five stages of recognizing and caring for a loved one who is developing ADRD: Worried and Wondering, Definitely Concerned, Obvious Changes – Now What, I Need More Help, and Acceptance and Support.  Each phase presents different challenges and questions, which the Caregiver Resource Guide addresses. More importantly, the guide provides a collection of resources to help caregivers and family members navigate medication management, financial planning, choices about care and facilities, and just about any other challenge you might face on this journey. 

AARP Alaska and the Alaska Dementia Action Collaborative understand the difficulty of caring for and supporting a loved one diagnosed with Alzheimer's disease and related dementias. ADRD affects friends and family in addition to those diagnosed, but no matter how difficult it can be, your loved one needs you more than anything. So, while you support them, we will be here to support you with any information you may need.

If you believe you or a loved one may be developing early-onset Alzheimer's disease, schedule a free memory screening with a dementia consultant at Alzheimer's Resource of Alaska.