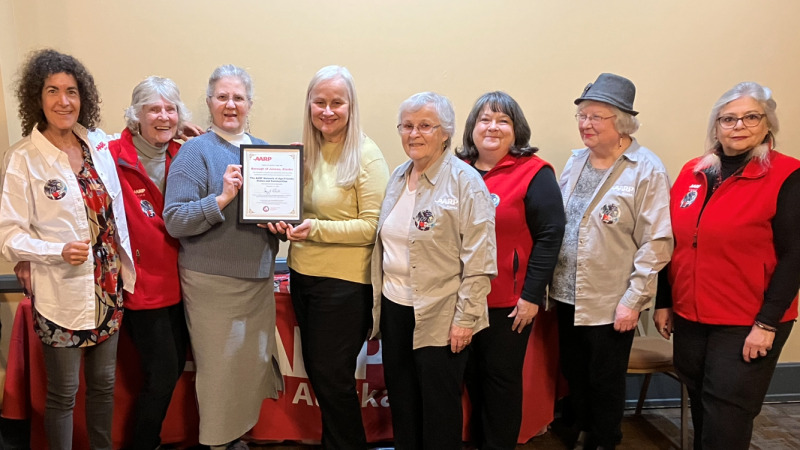 Juneau is officially the second Alaskan community to join AARP's Network of Age-Friendly States and Communities (NAFSC). Anchorage was the first, making it the 678th community to enroll in the NAFSC as of the fall of 2022.

Mayor Beth Weldon and Juneau assembly members (particularly the Public Works members Carole Triem, Wade Bryson and Michelle Hale, along with director Katie Koester) demonstrated a commitment to actively work with residents and local advocates to make our city a safe and fulfilling place to live and age. Mayor Beth Weldon played a key part in Juneau's enrollment, providing a letter of commitment to support this initiative. An age-friendly leadership team composed of members of the Juneau AARP CAT team, and local volunteers from the Juneau Commission on Aging, worked with Mayor Weldon, City Manager Rorie Watt, Deputy Director of Parks and Recreation Michele Elfers, the Juneau Chamber of Commerce, and Juneau United Way to complete the NAFSC application, launching the first five-year cycle of improvement for our Juneau community.

Juneau is now publicly recognized for its commitment to becoming age-friendly and will receive access to resources for identifying and assessing community needs, as well as technical assistance, expert-led webinars, and connections to a national network of over 650 enrolled communities. The common thread is the belief that the places where we live are better able to support people of all ages when local leaders commit to improving the quality of life for the very young, the very old, and everyone in between.

With Juneau's successful enrollment, the JCOA (Juneau Commission on Aging) along with the local AARP Community Action Team (CAT) will look to build local capacity and learn about the major barriers facing older Juneau residents. Future work for Juneau will include efforts in some or all of the NAFSC "Domains of Livability," dependent on findings of current local conditions. The NAFSC identifies eight age-friendly domains: outdoor spaces and buildings; transportation; housing; social participation; respect and social inclusion; work and civic engagement; communication and information; and community and health services.

The JCOA and Juneau CAT teams will gather insights on the experiences of older Alaskans from Juneau and Douglas to create a community needs assessment via a series of "listening sessions" beginning in May 2023. May is "Senior Awareness" month and the JCOA and CAT look forward to engaging our elders to bolster the age-friendliness of our community. Using the results, the city administration and age-friendly volunteer teams will develop an action and evaluation plan, implement and assess the plan's impact, and include the voices of older Juneau folks in all stages of planning and implementation moving forward.

Juneau already has several age-friendly programs, initiatives and opportunities in place, such as Meals on Wheels and the Bridge Adult Daycare program (CCS). But there's more to be done to create a livable, age-friendly community that promotes neighborhood cohesion and maximizes ways for residents to be active and engaged with neighbors, family and friends.