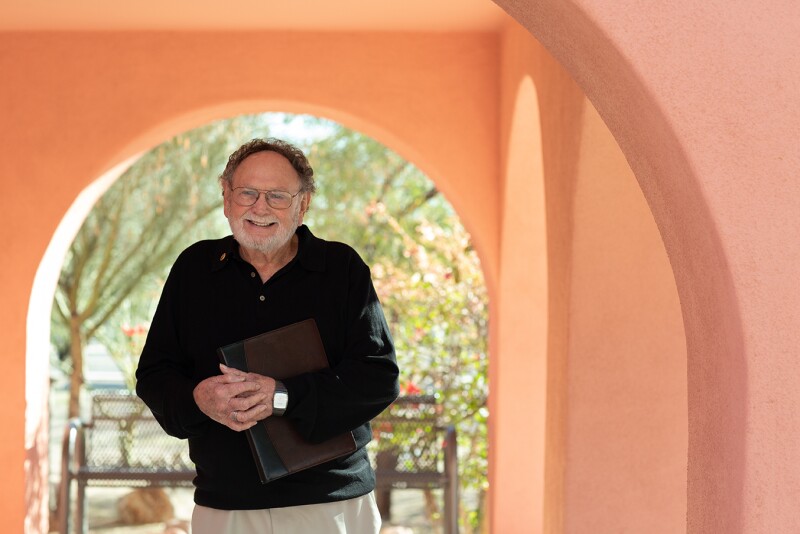 Por Miriam Davidson

Como expresidente de la Society of St. Vincent de Paul en Phoenix, Frank Barrios ha recaudado mucho dinero a través de los años para los que se encuentran sin un lugar donde vivir.

Pero pocas contribuciones han sido tan significativas como las que una vez recibió enfrente de un supermercado en una zona de bajos ingresos de la ciudad.

"Había muchas personas sin techo en el área", recuerda Barrios, de 76 años. "Varias de ellas buscaron en sus bolsillos y pusieron todo el dinero que tenían en nuestra caja de limosnas".

Barrios es uno de los defensores de personas sin hogar en Arizona a quienes les preocupa el creciente número de adultos mayores sin vivienda. Recientemente ayudó a recaudar $16 millones para un refugio transitorio de 60 camas, que abrió en el centro de Phoenix el pasado mes de mayo.

Llamado Ozanam Manor (en inglés) por el fundador de la Society of St. Vincent de Paul, el refugio de la organización católica sin fines de lucro es principalmente para personas mayores de 50 años.

Entre los adultos mayores, estar sin hogar es un problema complejo y creciente. Una población que envejece es un factor, pero también existen otras razones. Los defensores afirman que los alquileres más altos, largas listas de espera para las viviendas asequibles, las crisis médicas, la pérdida de empleos, la demencia, la violencia doméstica y el fraude figuran entre las muchas razones por las cuales las personas mayores terminan sin un lugar donde vivir.

"Hemos observado un aumento en el número de dichas personas", dice Lisa Glow, directora ejecutiva del refugio Central Arizona Shelter Services (CASS; con sitio web en inglés) en Phoenix , de 470 camas, el más grande del estado. "Hace dos años, los adultos de 55 años o más solo constituían el 23% de los que se quedan en nuestro refugio. Ahora, constituyen el 31%".

El aumento entre las personas mayores de 62 años que se quedaron en CASS el año pasado es aún más alarmante.

Aproximadamente dos tercios de esos clientes se quedaron sin hogar recientemente. Sin embargo, puede ser más difícil ayudarlos que a los que se encuentran sin techo crónicamente, explica Glow, porque no han estado sin vivienda el tiempo suficiente para cumplir con los requisitos para recibir ciertos servicios para los que no tienen donde vivir.

"No hay suficientes programas de respaldo", dice ella. "Hay listas de espera de dos años para las viviendas para adultos mayores, no hay suficientes vales para viviendas ni suficientes viviendas asequibles para adultos mayores a las que puedan regresar tras estar sin techo".

Cómo abordar el problema

A través de su programa de comunidades amigables con las personas mayores y otras iniciativas, AARP Arizona está trabajando para evitar que las personas se queden sin hogar y promover las viviendas asequibles.

"Es doloroso ver el aumento de adultos mayores sin hogar", dice Dana Kennedy, directora estatal de AARP Arizona.

La organización se ha asociado con el Departamento de Servicios de Veteranos de Arizona (en inglés) para promover Be Connected (en inglés), un programa que conecta a los veteranos y a los miembros activos de las fuerzas armadas, además de a sus familias, con servicios de apoyo y recursos.

AARP Arizona también apoya la Diana Gregory Outreach Services Foundation (en inglés), una organización que proporciona verduras frescas a los veteranos sin vivienda.

El número de adultos mayores sin hogar también está aumentando en Tucson. Jim Murphy, de 82 años, voluntario de AARP y presidente del equipo de acción del programa ELDER Alliance Age-Friendly/Livable Community, está ayudando a coordinar los esfuerzos para lidiar con el problema de la vivienda. En un foro reciente sobre la falta de viviendas asequibles para adultos mayores, varias personas compartieron sus historias.

Murphy habló de un veterano de la Segunda Guerra Mundial que estaba a punto de quedarse sin hogar tras perder su trabajo como cuidador de casas. Otro señor mayor compartió que vivió en su camioneta por cinco años antes de mudarse a una habitación subvencionada.

Le dijo al grupo: "Ahora no paso frío. Estoy seguro. Tengo mi propio baño y no tengo que caminar una milla para encontrar uno".

Miriam Davidson es escritora radicada en Tucson.

¿Necesitas o sabes de alguien que busca información sobre asistencia del gobierno? Consulta este recurso práctico.