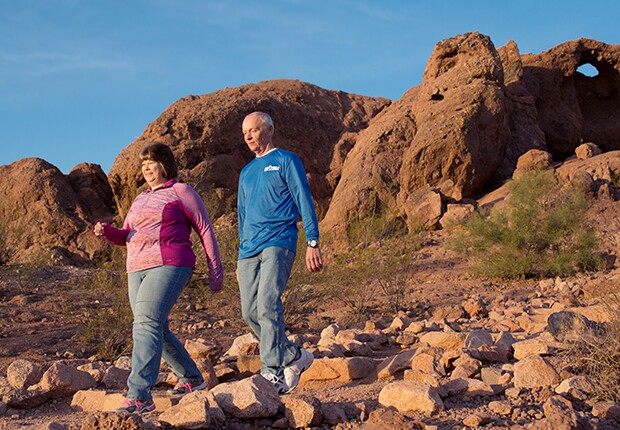 By Miriam Davidson

Retired factory workers Claude and Melissa Foley, together 30 years, were never "super athletic," said Melissa, 52. "But we try to keep moving because we know what happens if you don't."

Claude, 62, said that seeing his sedentary grandmother's health decline made him want to stay active, even though he's disabled after years of making soles for shoes and fiberglass bathtubs.

"My arms don't work very well, but my legs do," said Claude, who goes for a walk every morning.

The Phoenix couple are bringing their can-do spirit to volunteer roles with Phoenix in Motion 2018, a yearlong series of activities sponsored by AARP Arizona to help older adults stay active.

The Foleys will lead a 1-mile family walk on March 11 over the course at the JW Marriott Phoenix Desert Ridge Resort & Spa's Wildfire Golf Club. AARP is sponsoring the walk as part of LPGA Family Fun Day—also featuring a rock concert and movie night—before the club hosts the Bank of Hope Founders Cup tournament.

AARP is also organizing and cosponsoring Phoenix-area activities for people of all abilities and skill levels, including hikes, park exercise, a bicycle safety clinic and a triathlon.

AARP's participation in the tournament entitles those with proof of membership to free admission on the first day of competition, March 15. To register, go to aarp.cvent.com/AZLPGA32018. Daily admission is $20 online or $25 at the gate.

The Founders Cup tournament honors the LPGA's 13 original members, event spokeswoman Tracy Hupko said. One of the founders, 90-year-old Shirley Spork, is set to play in the pro-am.

"How many sports can you still play when you're 90?" Hupko said. "Golf bridges generations."

Current LPGA stars likely to play in the tournament include defending champion Anna Nordqvist, Paula Creamer, Cristie Kerr and Phoenix native Cheyenne Woods.

For more on the tournament, go to lpgafounderscup.com.

Challenge for triathletes
The course for an "entry-level" triathlon on March 17 in Paradise Valley consists of a 400-meter swim and an 8-mile bike ride, followed by a 2.4-mile run.

Diane Drazinski, 60, who teaches chemistry at Mesquite High School in Gilbert, was once "super athletic." She went to Arizona State University on a basketball scholarship. But over the years, her health deteriorated. After a diagnosis of adult-onset asthma and a long, painful rehab from knee-replacement surgery five years ago, she set a goal of becoming a triathlete.

"It became a mental and physical challenge," said Drazinski, of Phoenix, who has participated in two Tri for the Cure triathlons, which are cosponsored by AARP. Her fitness regimen helps control her asthma and "makes me feel a heck of a lot younger than 60."

More than 7,000 women have participated in the 12 years of Tri for the Cure, which supports breast cancer research and survivors. This year, in a first, a men's triathlon will be held as well. For more information and to register, go to triforthecureaz.com.

AARP Arizona will also hold a bicycle clinic, focusing on safe riding and repairs, at the Spoke & Wheel restaurant in Phoenix, 8525 N. Central Ave., on April 14, from 10 a.m. to 2 p.m.

More events, including hikes and exercise in the parks, are planned for the fall in coordination with the FitPHX program in Phoenix. To see a list of activities, go to local.aarp.org/phoenix-az/aarp-events/ or call 866-389-5649 toll-free.

Events may require entrance fees.

Miriam Davidson is a writer living in Tucson.