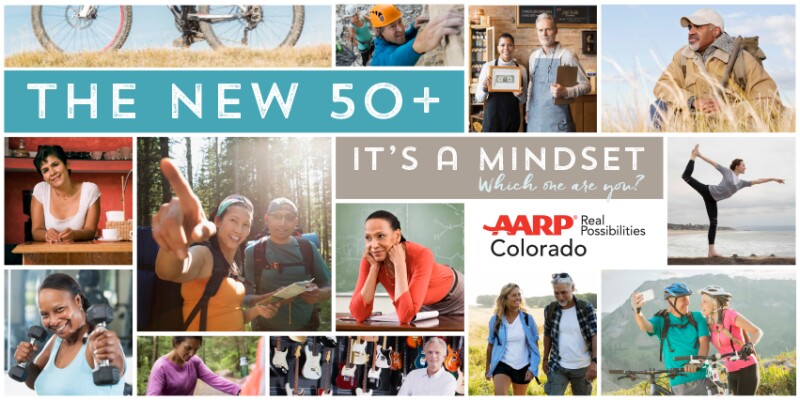 The New 50+, "It's a Mindset" says 'we're better than ever' and AARP is here to urge active adults to learn more, play more and exceed all expectations.
AARP Colorado knows the best years begin at 50 and we are out to prove it by working with some of the most amazing people in the state – people who are climbing 14ers, running marathons, starting new businesses and passing on what they know to younger generations. The new 50+ is out there and we at AARP are cheering them on by supporting their adventures and coming up with a few of our own.
Some of the AARP New 50+, "It's a Mindset" activities include the following:

Bacon and Bourbon Festival, Denver, CO – January 27, 2018
Colorado Rockies Game, Captain's Deck, Coors Field – May 27, Rockies vs. Cincinnati Reds*
Yoga on the Rocks June 9, 16, 23, 30, July 28, August 4, 11, 18
Cover Rock Music Festival, Avon, CO – June 22 – 23*
Denver Bike to Work Day, Denver, CO – June 27
Winter Park Jazz Festival, Winter Park, CO – July 21-22*
Tour de Steamboat Bike Ride, Steamboat Springs, CO – July 22
Colorado Rockies Game, Mez on the Rox, Coors Field – August 25, Rockies vs. St. Louis Cards*
27th Annual Colorado Mountain Wine Fest, Palisades, CO – Sept. 15
United States Air Force Football Game Tailgate, Colorado Springs, CO – October 27*
AARP knows there is a trend underway, in which more people 50 and older are more active, both physically and mentally, than ever before. People aren't slowing down. In fact, they are preparing themselves to do more of the things they love.
It's time for new adventures, careers, degrees, or even a new look. The New 50+, "It's a Mindset" is a program by AARP Colorado that encourages people to challenge the perceptions of aging and show others what being 50 and older really means.
*AARP member discount is available